Sponsored by Penguin Random House & Underlined.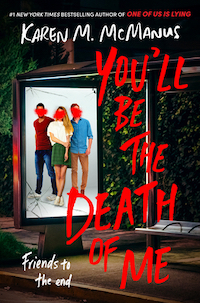 From Karen M. McManus, the bestselling author of One of Us Is Lying, comes a brand-new pulse-pounding thriller. Three old friends relive an epic ditch day, and it goes horribly—fatally—wrong. In one chance move, their day turns from dull to deadly. And it's about to get worse. It turns out Ivy, Mateo, and Cal still have some things in common . . . like a connection to the dead kid. And they're all hiding something. Could it be that their chance reconnection wasn't chance after all?
Welcome to Read This Book, a newsletter where I recommend one book that I think you absolutely must read. The books will vary across genre and age category to include new releases, backlist titles, and classics. If you're ready to explode your TBR, buckle up!
One thing you must know about me is that I love Christmas content, and that I enjoy a good time loop story. So a Christmas time loop novel that's also a romance? That's my catnip right there! This book was one I read last holiday season on audio while baking cookies, and I highly recommend picking it up to get into the Christmas spirit, if that's your jam!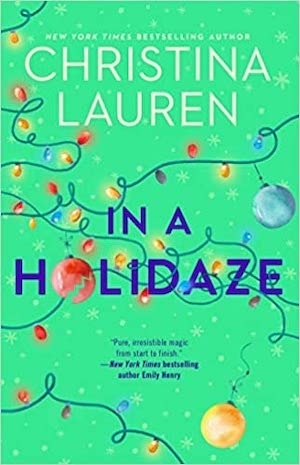 Every year, Mae and her family head to a cabin in Utah for the Christmas holidays, where they spend the week with her parents' college friends/chosen family and their two sons. It's been a really rough year for Mae, who has always had a crush on Andrew, but after a drunken Christmas night, it's not Andrew she sleeps with—it's his younger brother Theo! Mae wakes up the next day feeling absolutely miserable at how she's messed things up, and then she gets even worse news: The cabin is being sold, and this was their last Christmas there. Desperate, she wishes for the universe to show her how to be happy…and she wakes up on her flight to Utah, at the start of the holiday she's just lived through.
At first, Mae thinks she knows just the perfect way to steer her holiday break to a happier conclusion, but things don't go as planned, and when she starts having to repeat her holiday again and again, she has to learn to let go of her expectations and try and do what's right for everyone, even if it means giving up things she values most.
This was my first Christina Lauren book, but I liked it so well I'll definitely seek out others. Mae is a down on her luck heroine who you definitely feel for—a year's worth of sad events and frustrating turns have left her in a funk, and she makes some choices she's not proud of. But I also really liked that her chance at a holiday do over didn't start to turn around until she took control of the things in her life that were causing her unhappiness rather than try and steer others to actions she thought would make everyone happy. I also loved the cast of characters and how her parents' friend group fought for their holidays together, even when divorce and major life changes changed their relationships with each other, and how they modeled that kind of enduring friendship to their kids. The relationship between Mae and Benny, her parents' bachelor friend who serves as an uncle to Mae, was also really sweet and provided some unexpected magic to some of Mae's problems.
Overall, this book is grounded enough in real-life relatable issues that I was able to click with it and really sympathize with Mae, but it was also just magical enough to whisk me away, which is the perfect balance for Christmas books and movies, in my opinion. I loved the tension between Mae and Andrew, and how the moments she least expected were the ones that ultimately brought them together.
Bonus: It's a great audiobook listen, narrated by Patti Murin!
Don't forget you can get three free audiobooks at Audiobooks.com with a free trial!
Happy reading!
Tirzah
---
Find me on Book Riot, Hey YA, All the Books, and Twitter. If someone forwarded this newsletter to you, click here to subscribe.