Sponsored by Carina Adores – For Readers Who Love Love.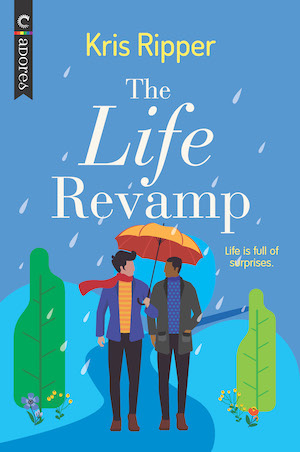 "Ripper's smart, sexy, and banter-filled final Love Study romance (after The Hate Project) gets the loving polyamorous 'V' dynamic just right." —Publishers Weekly, starred review. All Mason wants to do is fall in love, get married and live happily ever after. The hunt is beginning to wear him down until he meets Diego, and everything sparks between them. There's just one thing: Diego is already married and living his happily-ever-after, which includes outside courtships. Mason thought he knew what would make him happy, but it turns out the traditional life he'd expected has some surprises in store.
There was no Our Queerest Shelves send last week because of U.S. Thanksgiving, but did I let that stop me? No. I packed this newsletter full of everything from the last two weeks, so settle in for a long one. All the censorship news is sectioned off, so feel free to skip it if you aren't in the headspace to read about homophobia and transphobia right now. (There are a few good news stories in there, though.)
The holiday season especially can be difficult for incarcerated people. That's why this week, I want to highlight the charity Books Beyond Bars UK, which connects LGBTQIA incarcerated people with books they request. You can find out more on their website and you can help by donating.
If you know of an LGBTQIA+ charity you'd like to see highlighted in Our Queerest Shelves, please let me know!
---
Gifts for Queer Book Lovers
If you're reading this, you will likely want to buy something on this list for yourself. And why shouldn't you? If you know others who also love LGBTQ books, these will make great gifts, but also: treat yourself. Celebrate queer books, whether you're proclaiming your rainbow reading tendencies in public or decorating your reading nook. Let's dive right into these great gifts for queer book readers.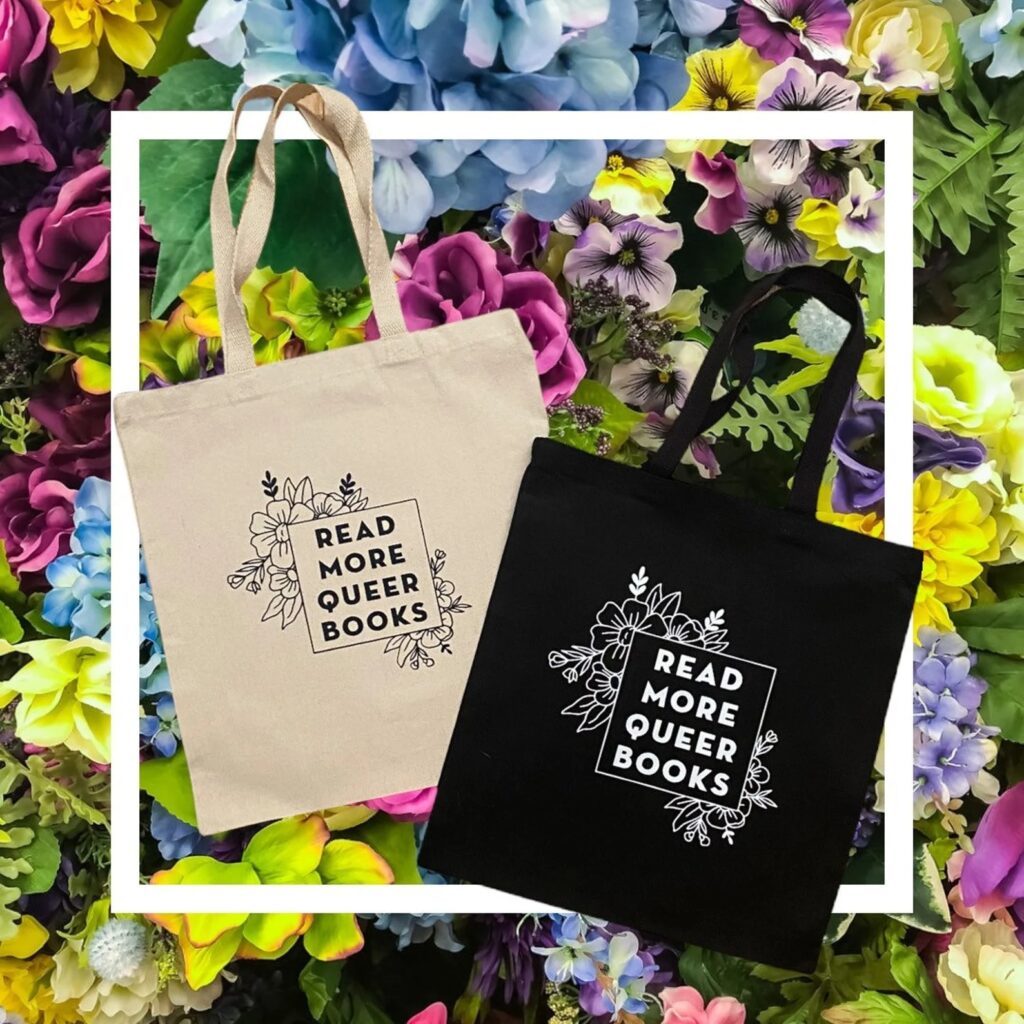 You can't much more apt than this Read More Queer Books tote. Will it make someone fall in love with you at the bookstore/library? I mean, it can't hurt! $13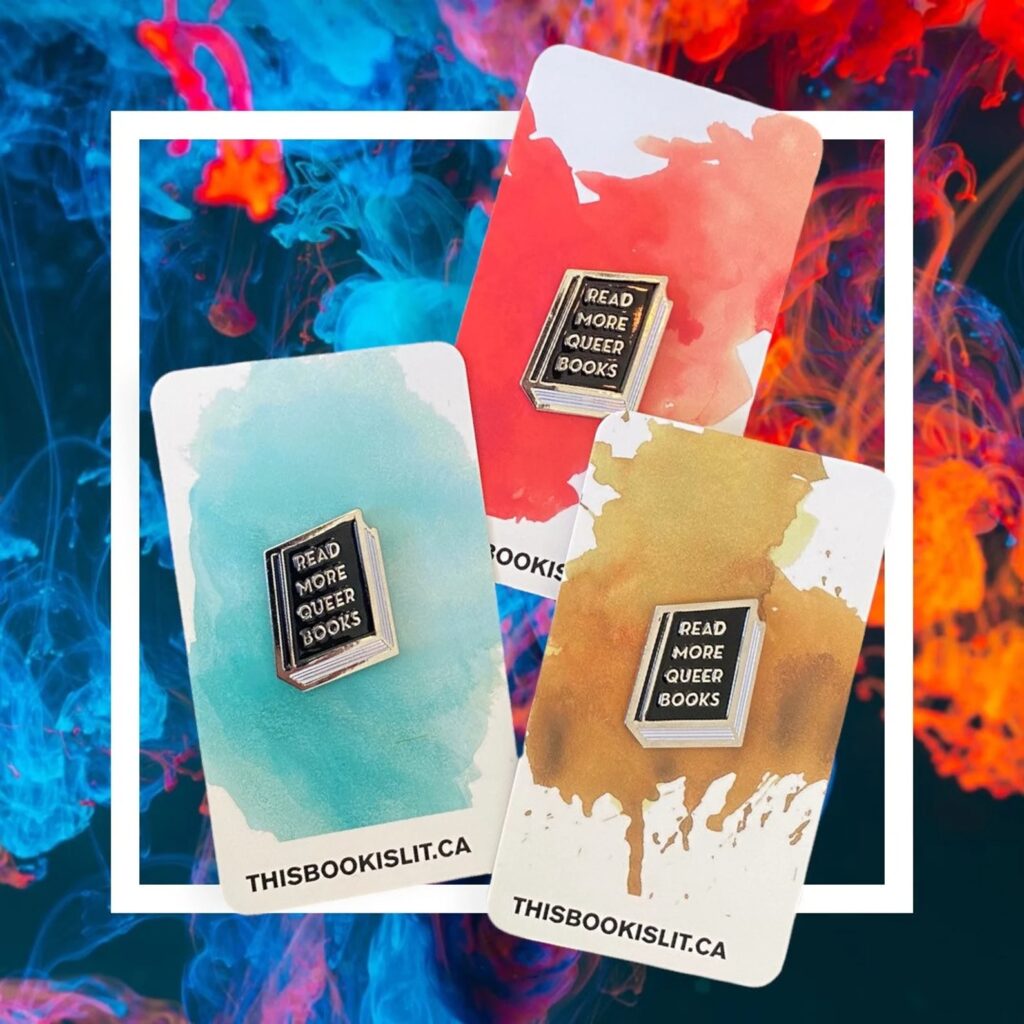 If you already have a favourite tote, you can get this Read More Queer Books enamel pin instead! $5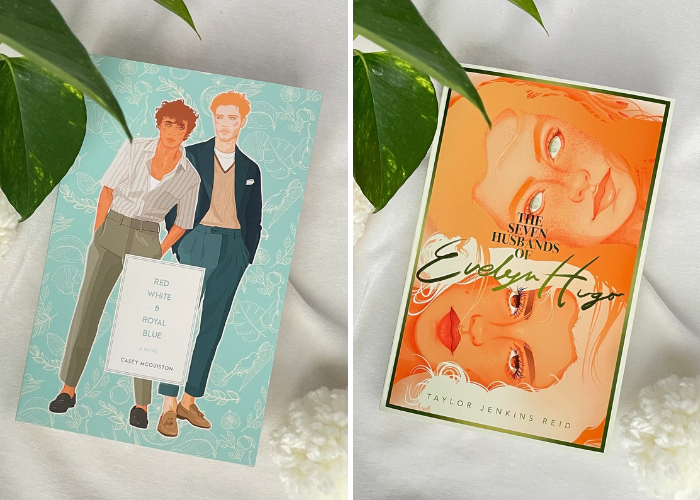 If you've stumbled on queer BookTok at all, you know that Red, White, and Royal Blue and The Seven Husbands of Evelyn Hugo have passionate fanbases. You can get these fan art dust jackets for $18 each, or the same artist does prints inspired other books, including They Both Die at the End, for $16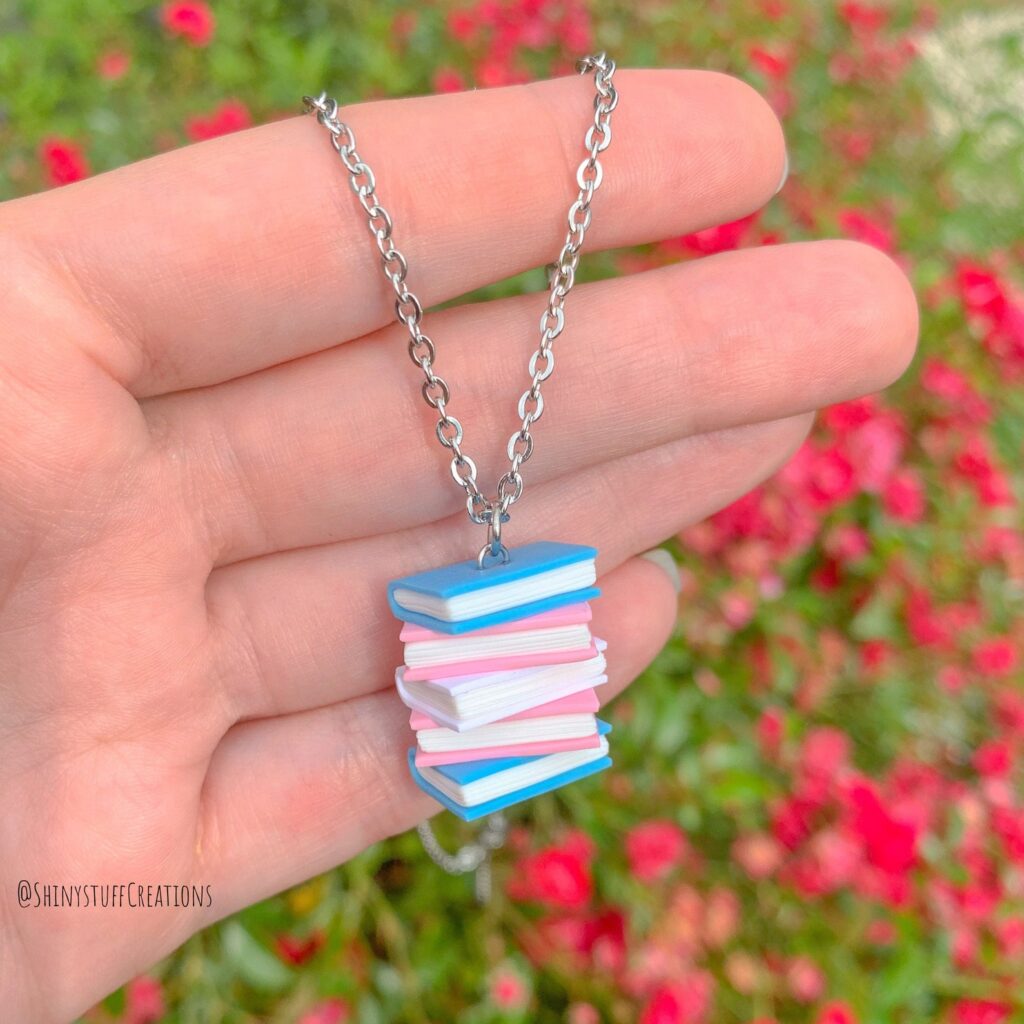 These stack of books necklaces are available in the colors of tons of pride flags, and there are also keychain ($18) and earring ($25) versions! This one is the trans flag. $22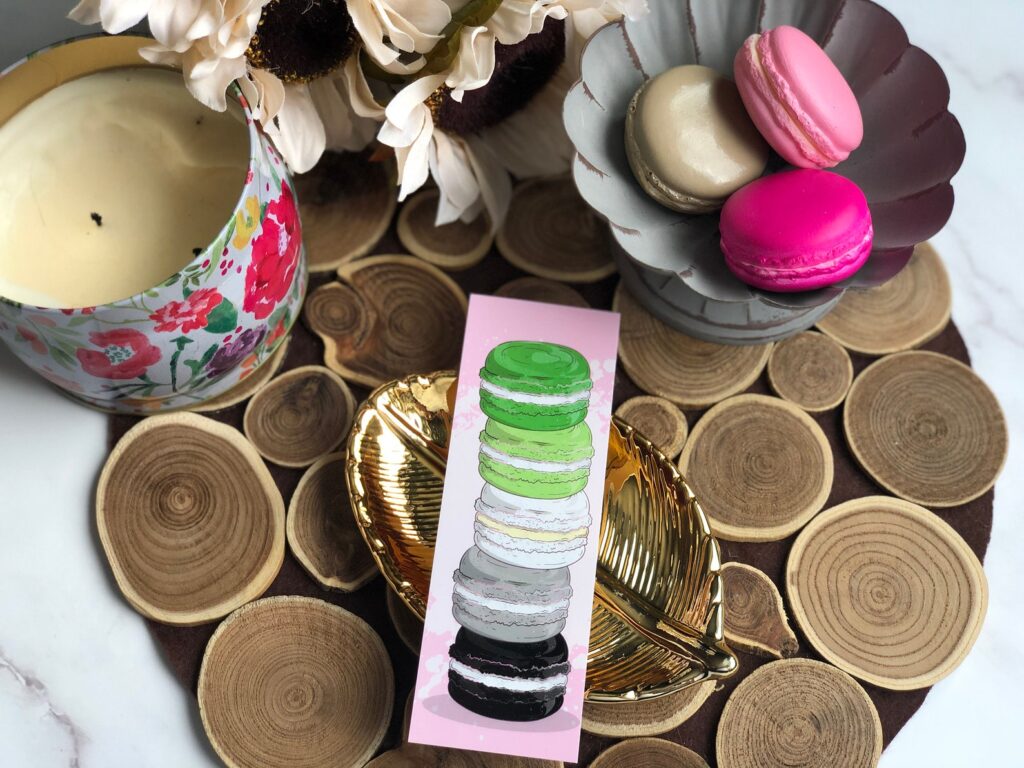 I can't handle how adorable these Pride macaron bookmarks are. There's gay (rainbow), lesbian, bisexual, pansexual, asexual, demisexual, aromantic, trans, non-binary, genderqueer, and genderfluid versions! $3 each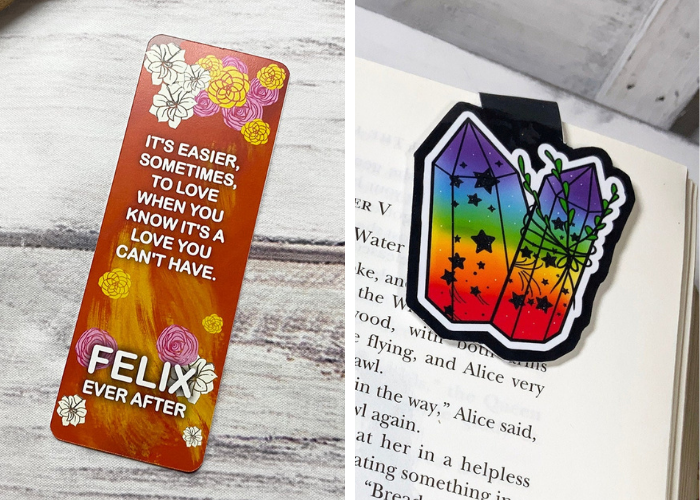 A few more bookmark options! On the left is a bookmark with a quote from Felix Ever After ($3). On the right is a magnetic rainbow crystal bookmark ($5), because if you aren't a crystal queer, you definitely know one.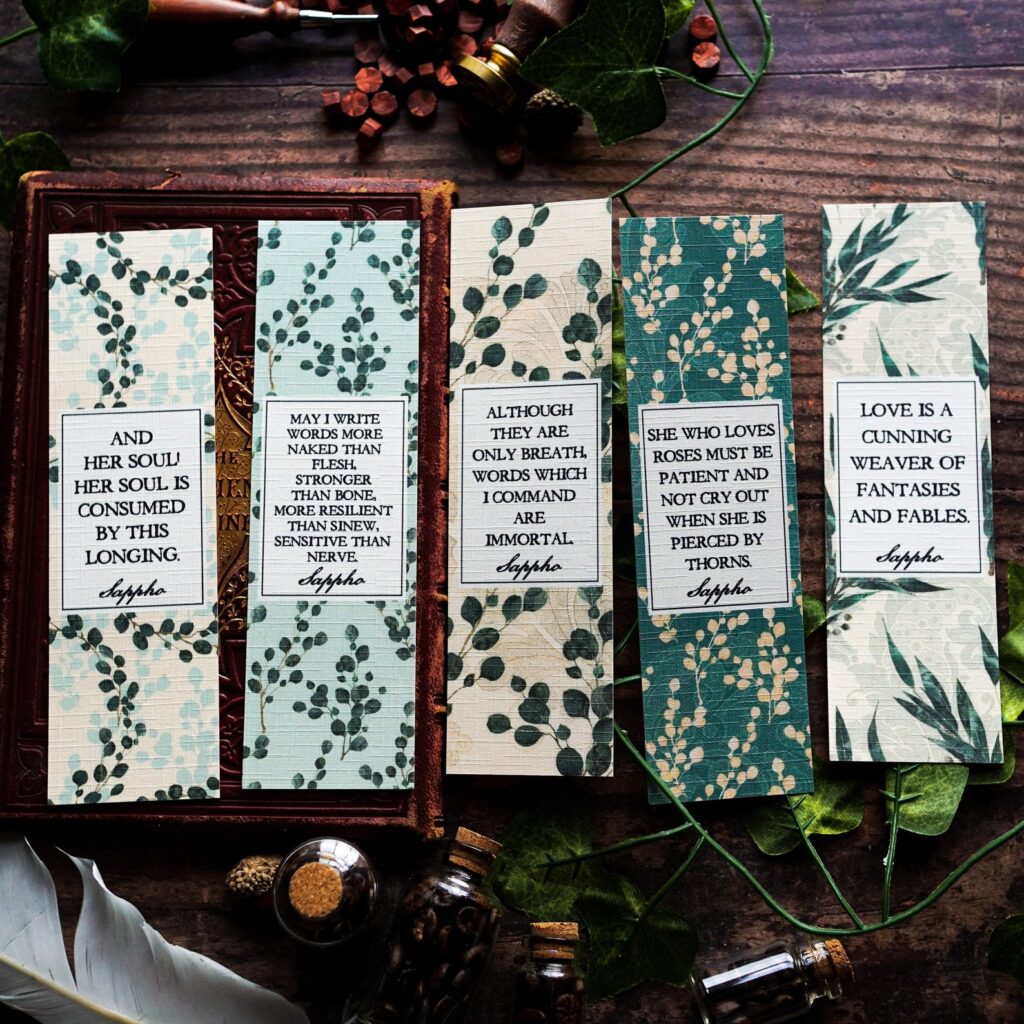 And finally, these gorgeous bookmarks with quotes from Sappho's poetry. $3 each or $11 for the set. Might I suggest also checking out my previous round up of Sappho decor and accessories?
And if none of that strikes your fancy, maybe you want to go with one of these lesbian pulp decorations or accessories.
LGBTQ Book Bans and Challenges
All the Links Fit to Click
Don't forget you can get three free audiobooks at Audiobooks.com with a free trial!
LGBTQ Book Riot Posts
New Releases This Week (and Last Week)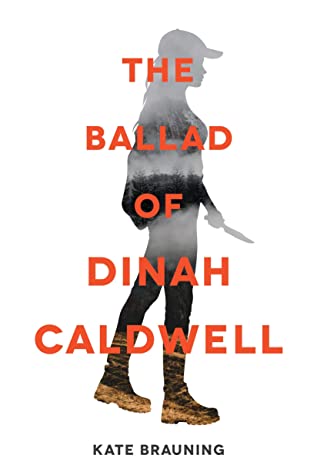 The Ballad of Dinah Caldwell by Kate Brauning (Bisexual YA Thriller, F/F/M Relationship)
Dinah had it hard enough already, barely squeaking by with her mother on a subsistence farm. But then her mother was murdered to take their land, and she's vowed revenge on the wealthy rancher who did. He's put a $10,000 bounty on her head, which makes things more difficult. But she has two people on her side: her best friend, Kara, and Johnny, a young bootlegger with his own axe to grind against the rancher. Together, they'll either tear down the whole rotten system–or die trying.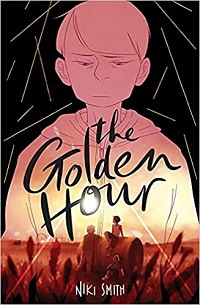 The Golden Hour by Niki Smith (Queer Boy Middle Grade Graphic Novel)
Manuel is struggling with PTSD and anxiety after witnessing a school shooting. He anchors himself with his cellphone camera, but it's being paired with Sebastian in a school project that helps the most. He finds Sebastian's home on on cattle farming fields to be calming, and he decides to help his new friend prepare for the county fair. Along the way, he also finds his first love. This is from the author of The Deep & Dark Blue, another great LGBTQ middle grade graphic novel!
The Last One by Fatima Daas (Sapphic Fiction)
Just River by Sara B. Fraser (Queer Fiction)
The Bone Shard Emperor (The Drowning Empire #2) by Andrea Stewart (F/F Fantasy)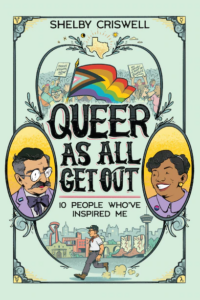 Graveneye by Sloane Leong and Anna Bowles (F/F Horror Graphic Novel)
Passport by Sophia Glock (Sapphic YA Graphic Memoir)
The Emphatically Queer Career of Artist Perkins Harnly and His Bohemian Friends by Sarah Burns (Queer Biography)
Queer as All Get Out: 10 People Who've Inspired Me by Shelby Criswell (Nonfiction)
---
That's it for me this week! Until next time, you can find me at my bi and lesbian book blog, the Lesbrary, as well as on Twitter @danikaellis. You can also hear me on All the Books or you can read my Book Riot posts.
Happy reading!
Danika