Sponsored by ThriftBooks, the best place for holiday gifts for Mystery lovers.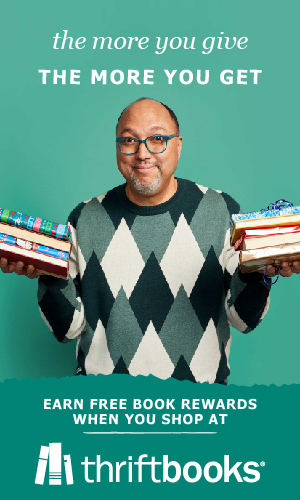 This holiday, find the gift they will love. With millions of new and used books, ThriftBooks has an endless selection of books at the best prices. From childhood classics to new, undiscovered worlds of adventures, there is something for everyone and every budget. And with the ThriftBooks ReadingRewards program, every purchase gets you a step closer to a free book reward. Shop ThriftBooks.com today for the holiday gift they won't return. ThriftBooks.com. Read more. Spend less.
Hello mystery fans! I'm trying to squeeze in as much end-of-year reading as I can and I'm really glad I got to these two: one will take you to a remote cabin and the other to a traveling circus.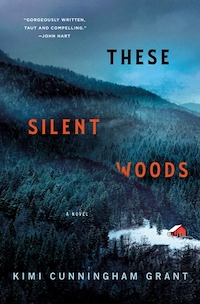 If you want suspense, atmospheric, a remote setting, and a character-driven narrative with an ending you'll be thinking about long after finishing, this is absolutely your next read. It's the kind of novel where you fall in love with a character(s) but immediately realize that the situation can only unravel, or explode, and that tension continues to build until the end.
In the Appalachian woods, Cooper lives with his eight-year-old daughter Finch. Only two people know where they are: a nosy neighbor Cooper doesn't trust and a friend who comes once a year to bring Cooper and Finch all the supplies they'll need to survive another year. Except Cooper's friend doesn't show up this year, and the neighbor keeps making Cooper uneasy. Then a young woman Cooper and Finch spotted in the woods disappears. As we slowly come to learn how Cooper and Finch came to live in this remote cabin, fearing the outside world finding them, their delicately structured life begins to unravel, forcing Cooper to realize he won't be able to continue living in this bubble he's created…
Finch is such a wonderful character who is empathetic, curious, and smart. She does her best to listen to Cooper's warnings but she's also a child looking for more than their tiny circle. I loved watching Cooper and Finch's relationship and found myself deeply absorbed into their world and life while listening to the audiobook.
(TW PTSD/ fat shaming/ panic attack/ animal deaths, killings related to survival)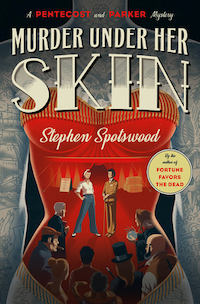 Murder Under Her Skin (Pentecost and Parker #2) by Stephen Spotswood
This is the second book in a recent historical mystery series with two leads that are opposite in personality that gives a nod to classic noir and Sherlock and Holmes. In the first book, Fortune Favors the Dead, we learn how Willowjean "Will" Parker meets Lillian Pentecost, the most famous woman PI in the US, and comes to become her apprentice in early 1940s New York.
Now it's 1946 and we get the absolute pleasure of following Will through a case that is very personal. After running away from home as a teen, she found a home in a traveling circus before coming to work with Lillian. But with the tattooed lady from the circus murdered and her knife-throwing mentor being accused, while performing in Virginia, she has to figure out how to set aside her personal feelings and find the truth… and maybe gain a crush along the way.
This is a fun whodunnit with the backdrop of a traveling circus and two wonderful leads that perfectly compliment each other in their differences.
(TW brief suicide mention, detail/ brief mention of past domestic and child abuse/ addiction/ ableism)
Don't forget you can get three free audiobooks at Audiobooks.com with a free trial!
From The Book Riot Crime Vault
5 Winter Mysteries That are Cozier Than a Cup of Tea
---
Browse all the books recommended in Unusual Suspects previous newsletters on this shelf. See upcoming 2021 releases. Check out this Unusual Suspects Pinterest board and get Tailored Book Recommendations!
Until next time, keep investigating! In the meantime, come talk books with me on Twitter, Instagram, Goodreads, and Litsy–you can find me under Jamie Canavés.
If a mystery fan forwarded this newsletter to you and you'd like your very own, you can sign up here.