Sponsored by Vault Comics – the best in Sci-Fi, Fantasy, & Horror Comics!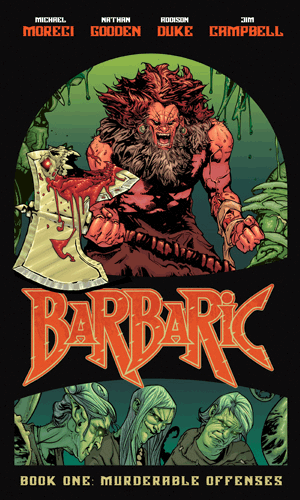 What happens when you throw a cursed barbarian, his talking axe, and a witch together?
It's just … Barbaric!
Owen the Barbarian is cursed to do good with the remainder of his life. His bloodthirsty talking weapon, Axe, has become his moral compass. Together they wander the realm, foredoomed to help any who seek assistance. But there is one thing Owen hates more than a life with rules: Witches. And now one needs help.
By writer Michael Moreci & artist Nathan C. Gooden!
BARBARIC Volume 1: Murderable Offenses
Hardcover Graphic Novel AVAILABLE NOW!