Sponsored by Shop ThriftBooks Free Book Bonanza and earn up to 5 free books!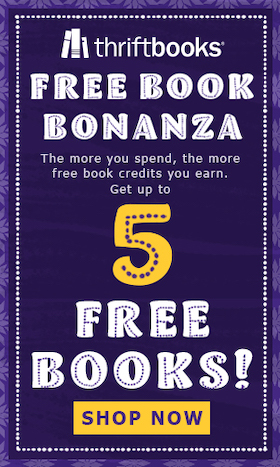 Don't miss out on ThriftBooks.com's first ever Free Book Bonanza! The more you shop, the more free books you'll earn, up to 5 free books! ThriftBooks.com has all the best gifts for those on your list. Shop Children's, YA, New Releases, Bestsellers or rare and vintage books; the latest Movies and TV DVDs and Blu-ray; popular and classic Vinyl albums, and the latest video games. And with the ThriftBooks ReadingRewards program, every purchase earns points for even more free book rewards! Shop ThriftBooks.com today for your gifting needs and enjoy free books for yourself. ThriftBooks.com. Read more, spend less.
Hey readers! Another week, another batch of new kids books!
In this playful picture book, Marcy can't help but create messes wherever she goes. But with her grandparents visiting, Marcy's mama is determined to get her room clean, and Marcy knows just what to do.
In a tribute to the late Amy Krouse Rosenthal, her daughter Paris pens this newest Uni the Unicorn installment. Uni, the only unicorn who knows kids exist, finally visits the real world with her best friend. But no one else can see Uni, until they too start to believe in magic.
In this lovely picture book that's also a sensitive portrayal of death and dying, readers follow the life of a fox. First we watch as the fox teaches her cubs how to survive in the wild. Eventually the fox dies, but her death is more than an ending, it's also a beginning.
In this fun novel, Portico is secretly Stuntboy, who protects the other residents of his apartment building, including his parents. Despite Stuntboy's efforts, he can't keep his parents from fighting or stop the anxious worries that come with it.
In this graphic novel, Livy struggles to fit in at her new school. Her only companion is Viola, the shadowy manifestation of Livy's anxiety. When Livy starts making friends, it seems like Viola may not be around much longer, but new stresses make Viola more prominent than ever. To learn how to live with her, Livy will have to finally ask for help.
Don't forget you can get three free audiobooks at Audiobooks.com with a free trial!
Good news! We're hiring for an Advertising Sales Manager. Do you like books and comics? Does helping advertisers reach an enthusiastic community of book and comics lovers intrigue you? This might be your job. Apply by December 5, 2021
---
Until next week!
Chelsea