Sponsored by Amazon Publishing.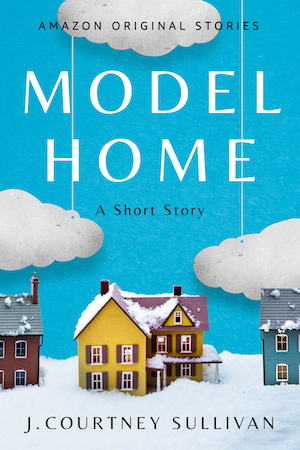 Katie has it all: the successful home makeover show with her sweet-natured husband Damian; the adorable tween daughters; and a designer mansion. But out of the spotlight, reality TV isn't reality. Her marriage is disintegrating, her daughters despise her, and all her money can't repair the damage. Now, with Damian ready to quit after one last holiday episode, Katie can kiss her artificial world goodbye. But if there's one thing a pro like Katie knows how to do, it's negotiate. From bestselling author J. Courtney Sullivan comes a sharp-witted new short story. Prime members read and listen free.
Hello, star bits, and happy Tuesday! It's time to talk books! For all of you fans of The Shadow of the Wind by Carlos Ruiz Zafón, his posthumous collection of stories set in the world of the Cemetery of Forgotten Books series, The City of Mist, is out today. And there's These Precious Days: Essays by Ann Patchett and the most recent Outlander novel: Go Tell the Bees That I Am Gone by Diana Gabaldon . At the top of my list of books to pick up is A Snake Falls to Earth by Darcie Little Badger, author of Elatsoe, and I'm very curious about You've Got Red on You: How Shaun of the Dead Was Brought to Life by Clark Collis.
And speaking of today's great books, for this week's episode of All the Books! Patricia and I discussed Notable Native People, The Matter of Black Lives, Little Pieces of Hope, and more books that make great gifts.
Today I am going to tell you about a few great books out today that you may have heard me mention on the podcast recently. These would make great gifts! But before I talk about books: We're hiring an Advertising Sales Manager! If you like books and comics, and enjoy helping advertisers reach an enthusiastic community of book and comics lovers, this might be the job for you. Apply by December 5, 2021!
And now, it's time for everyone's favorite gameshow: AHHHHHH MY TBR! Here are today's contestants: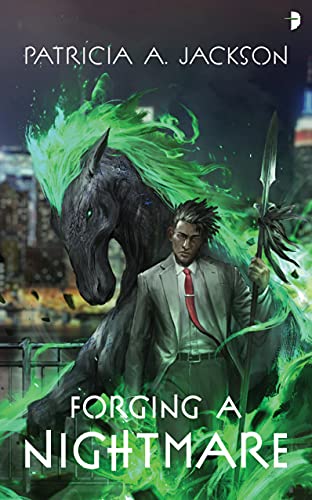 This fun, fast-paced book is a dark urban fantasy novel about an FBI agent who is investigating a serial killer whose victims all have something in common: they have six fingers and six toes. These people are believed to be Nephalims, also known as fallen angels. Michael Childs is said FBI agent, whose search for a murderer leads him to a Marine sniper, Anaba Raines. Anaba is also not who she first appears to be, and during their partnership, Michael also uncovers something shocking about himself. I call this novel Good Omens mashed up with The Black Stallion, with a dash of Loki. And it's as awesome as it sounds. MORE, PLEASE. (CW for gore, violence, and murder.)
Backlist bump: The Immortals (Olympus Bound #1) by Jordanna Max Brodsky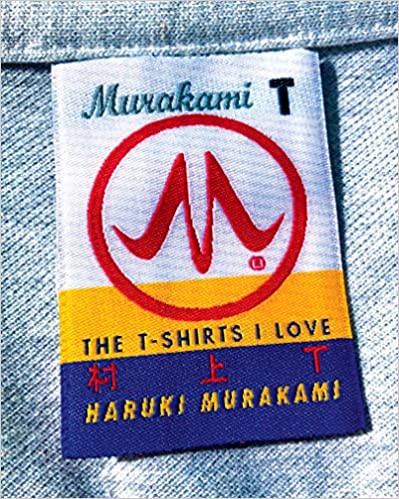 World-famous author Murakami, known for such books as Kafka on the Shore and The Wind-up Bird Chronicles, has created a great little photo book of his T-shirt collection. His collection includes shirts with animals, alcohol brands, bands, bookstores, and of course, a few featuring the author himself. (He has one that says "Keep calm and read Murakami." The images are accompanied by stories about the shirts, such as where he got them and why he loves them. It's a great gift for people who love T-shirts, photo books, Murakami, or all three!
Backlist bump: Sputnik Sweetheart by Haruki Murakami, Philip Gabriel (Translator) (My favorite Murakami.)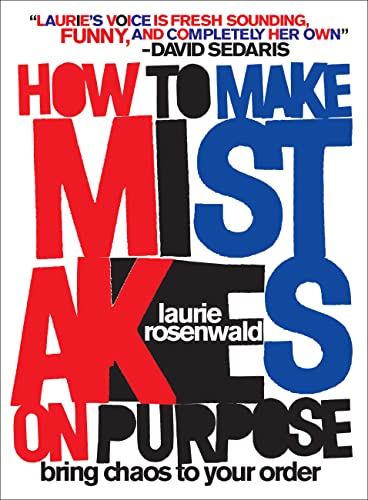 And last, but not least, this cool book based on Rosenwald's popular workshop. It's a fun guide to being your most original you, and how being yourself—and some human error—can lead to creativity. The book also has pages of visual aids and tips for unlocking your untapped potential. Chapters include "Your Pointless Quest for Perfection" and "Sometimes Not Trying Works Better Than Trying." I definitely want to get a finished copy of this for myself.
Backlist bump: Embrace Your Weird: Face Your Fears and Unleash Creativity by Felicia Day
Don't forget you can get three free audiobooks at Audiobooks.com with a free trial!
On your mark…get set…add to your TBR!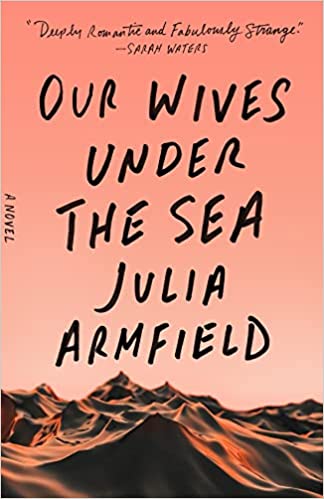 Our Wives Under the Sea by Julia Armfield (Flatiron Books, July 12, 2022)
I feel like I should just write "AHHHH" for twenty lines here, or a million heart eye emojis, because nothing I say will do this novel justice. It's a genre-bending queer love story about a married couple, Leah and Miri. Leah is a scientist who left for a routine submarine expedition, but instead her sub went missing for a long, long time.
When she finally returns to her wife, Miri, Leah is changed. She turns all the faucets on all the time, she hangs out in the tub—she's just not herself. It's told between Leah's time on the ocean floor, and then her return to Miri, who is desperately seeking answers to what happened and what to do now. This is a freaking remarkable novel! You will hear me call my favorite book of 2022 more than once, because it's so good, I can't even handle it. (CW for mentions of body horror, suicide, loss, grief, and animal death.)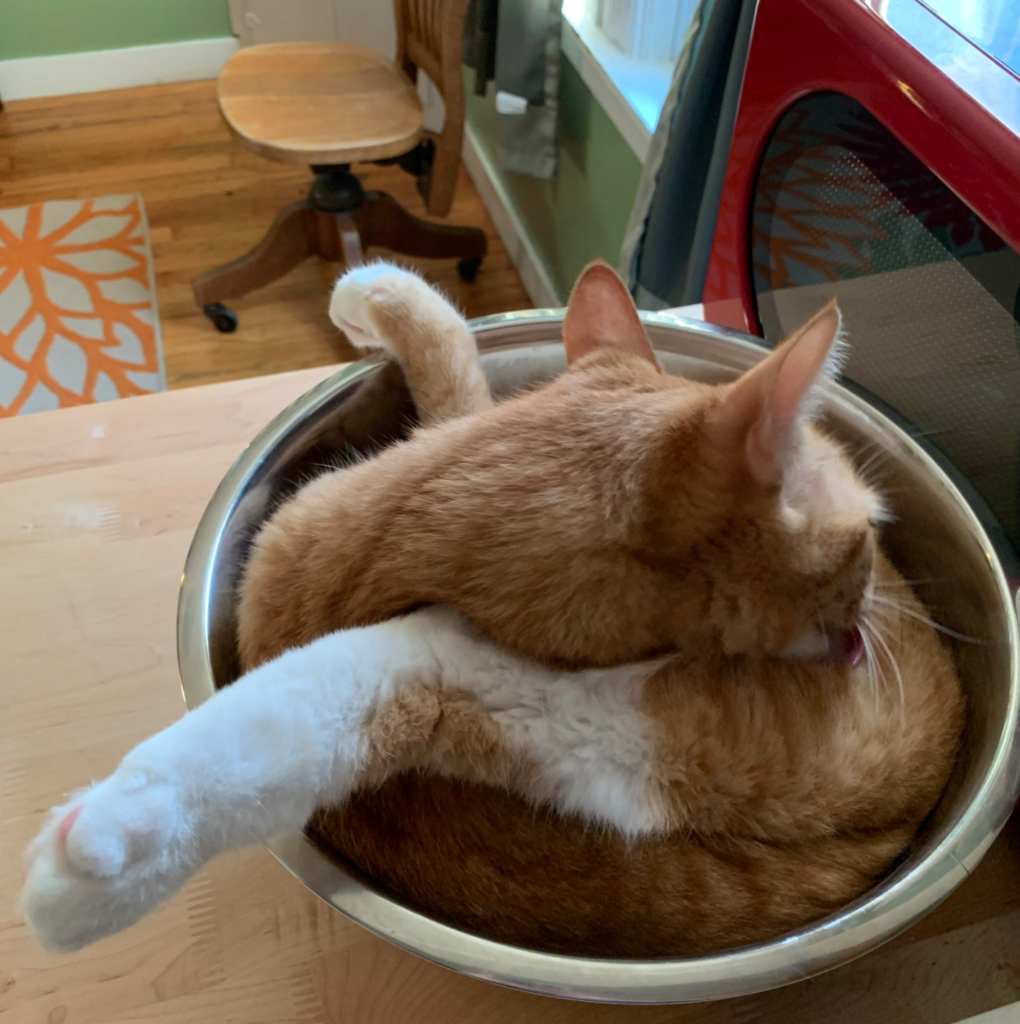 This week: I am currently reading Man, Fuck This House by Brian Asman and Don't Say We Didn't Warn You by Ariel Delgado Dixon. Outside of books, I've started rewatching Schitt's Creek (if you like this show, you MUST get Best Wishes, Warmest Regards), and the song stuck in my head is Ooh Ahh (My Life Be Like) by GRITS (feat. TobyMac). And as promised, here is a cat picture! I don't know how Zevon does it, but he loves to twist himself up like a pretzel while he's already folded up into the bowl!
---
Thank you, as always, for joining me each week as I rave about books! I am wishing the best for all of you in whatever situation you find yourself in now. And yay, books! – XO, Liberty ❤️