Sponsored by Tor Books.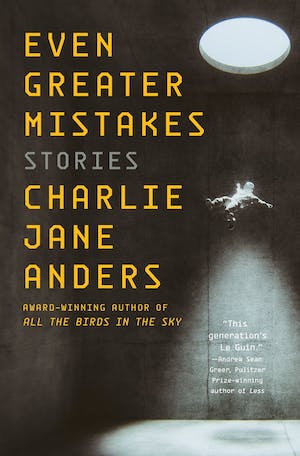 In her short story collection, bestselling author Charlie Jane Anders (All the Birds in the Sky) upends genre cliches and revitalizes classic tropes with heartfelt and often pants-wettingly funny social commentary. The stories in this collection, by their very outrageousness, achieve a heightened realism unlike any other. Anders once again proves she is one of the strongest voices in modern science fiction, the writer called by Andrew Sean Greer "this generation's Le Guin."
I'm back! I had a very relaxing week off, and I'm glad to see Our Queerest Shelves was in good hands with Jess. I had a hot stone massage for the first time! It was great, though that might be because I have a high heat tolerance and like my showers just on this side of scalding, so it was soothing. I can't promise this newsletter will be soothing, though, because book bans of LGBTQ books are on the rise in the U.S.
Which is the perfect segue into today's charity, Pride and Less Prejudice, which provides LGBTQ-inclusive books to K-3 classrooms. This is a great, productive way of opposing censorship in schools. Here's their donation page to help out!
---
LGBTQ BookTok Accounts To Follow
I'm going to be honest with you, there's a lot of bad queer book news this week. A lot of censorship, a lot of homophobia and transphobia. I could write a dozen ranting think pieces about them (and I just might), but right now, I want to do what I always do when I feel overwhelmed: scroll through TikTok.
Of course, I started following queer BookTok accounts when I downloaded the app, because of who I am. Now I'm bombarded with all kinds of stuff (birates, feminist pottery, hoola hoopers — even some people dancing, occasionally), but my home on TikTok is queer BookTok. I have only dipped my toe in and am not an expert, but here are some of the creators I really enjoy, and I think you will, too!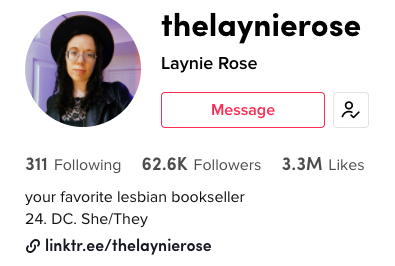 Of course, I had to start with Laynie Rose of TheLaynieRose. Her sound is where I got the title of my post about queer BookTok: "It's Gay and It Slaps:" TikTok's Favorite LGBTQ Books. They are a lesbian bookseller who talks about queer books she's read and loved (especially YA), the bookselling life, and some of their personal life.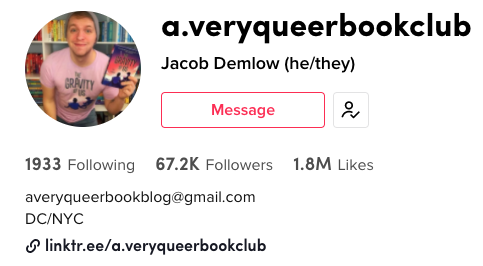 One of the most popular queer BookTok creators is Jacob of A Very Queer Book Club. He does lots of short, upbeat videos about queer books, usually under 30 seconds.
I appreciate Drea of DreaReads introducing some negative criticism to queer BookTok as well. Although she talks about the book she loves, she also calls out bigotry on TikTok and harmful representation, including in queer books.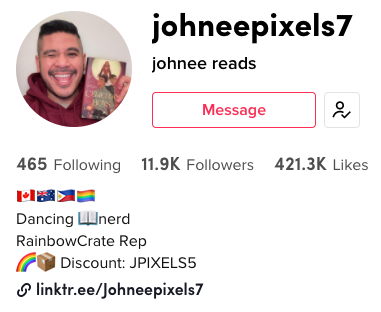 Johnee of JohneePixels7 bring such enthusiasm to his videos that you can't help but smile when you watch them. His videos include a lot of humor as well as great LGBTQ book recommendations.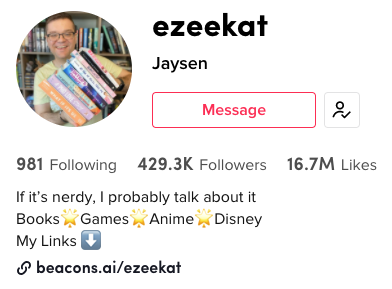 And of course I couldn't leave out Jaysen of Ezeekat. His videos are fun, funny, and frequent! In additional to queer books, he also talks about anime, Disney, games, his other nerdy interests.
Those are just a few of the great BookTok accounts that champion queer books, but hopefully that helps you discover some awesome creators! Now I just need to try to talk myself down from starting to make my own videos… this is BookTube all over again…
Don't forget you can get three free audiobooks at Audiobooks.com with a free trial!
LGBTQ Book Ban News
A South Carolina Governor sent a letter to South Carolina Superintendent of Education asking her to "begin a comprehensive investigation into the presence of obscene and pornographic materials in public schools in South Carolina," naming Gender Queer as an example.
After attempted bans of LGBTQ books from their schools, LGBTQ students in Kenai, Alaska plead for a safe learning environment.
Central York LGBTQ students speak out against the attempted bans of LGBTQ books in the district: "What I witnessed happen here at last week's meeting was unnerving and unsettling, not just because of the hate that was expressed, but because nobody here seemed to bat an eye or care at all. But if this can continue, as students we will not put up with the blatant disregard for our well-being and our safety because many parents view us as a threat."
A Denton, Texas library had to cancel its Rainbow Storytime for safety concerns after they received backlash for featuring trans-inclusive books like Red: A Crayon's Story by Michael Hall.
After a school board member last week advocated for burning LGBTQ books, dozens of students, librarians, and others came forward to defend the books in the next meeting, leading to 4 and a half hours of public discussion. At midnight, there were still people waiting to speak, but the meeting was ended. There was also a petition for the school board member's removal that gathered over 1,000 signatures.
North Kansas City has banned two LGBTQ books from school libraries: Fun Home and All Boys Aren't Blue.
The National Coalition Against Censorship spoke out about the censoring of Gender Queer in Pennsylvania's Wissahickon School District.
All the Links Fit to Click
LGBTQ Book Riot Posts
New Releases This Week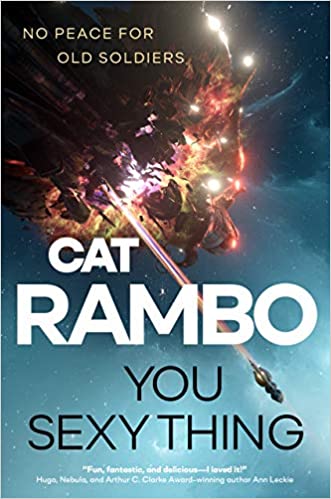 You Sexy Thing by Cat Rambo (Sapphic Space Opera)
This queer space opera is being pitched as Farscape meets The Great British Bake Off. I was already intrigued by the title, but now? Sold. Niko and her former unit just want to retire from combat and run their kitchen, The Last Chance, in peace. Instead, they get pulled on board a sentient spaceship that thinks it's being stolen and have to do battle with a sadistic pirate king.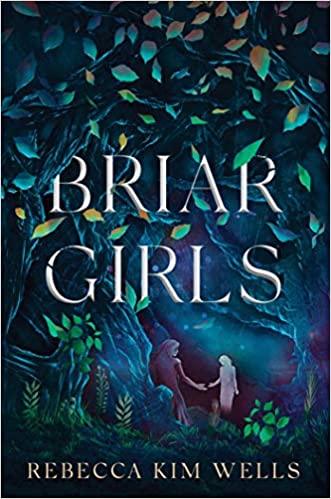 Briar Girls by Rebecca Kim Wells (Bisexual YA Fantasy)
Lena hasn't had a great life. Anyone she touches dies, which has meant that her family has been on the run to keep her in hiding. Then, she meets a girl who emerges from The Silence, a magical and deadly forest. Miranda is from Gather, a city of magic, and she promises that a cure for Lena's curse can be found there. All she has to do is help Miranda to find and awaken the sleeping princess, who is destined to overthrow the corrupt power that controls Gather. But Miranda is hiding things from her, and everyone she meets in The Silence has their own secrets and motives.
Marry Me by Melissa Brayden (F/F Romance)
Sweet Surprise by Jenny Frame (F/F Romance)
Holiday Wishes & Mistletoe Kisses by M. Ullrich (F/F Romance)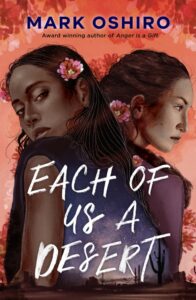 Sasha Masha by Agnes Borinsky (Queer, Gender Questioning YA Contemporary) (Paperback Release)
The Year I Stopped Trying by Katie Heaney (Sapphic YA Contemporary)
Our Violent Ends (These Violent Delights #2) by Chloe Gong (M/M, Trans YA Fantasy)
Each of Us a Desert by Mark Oshiro (F/F YA Fantasy) (Paperback Release)
Adachi and Shimamura Vol. 7 by Hitoma Iruma, illustrated by Non (F/F Light Novel)
There Are Trans People Here by H. Melt (Trans Poetry)
---
That's it for me this week! Until next time, you can find me at my bi and lesbian book blog, the Lesbrary, as well as on Twitter @danikaellis. You can also hear me on All the Books or you can read my Book Riot posts.
Happy reading!
Danika