Sponsored by Tor Teen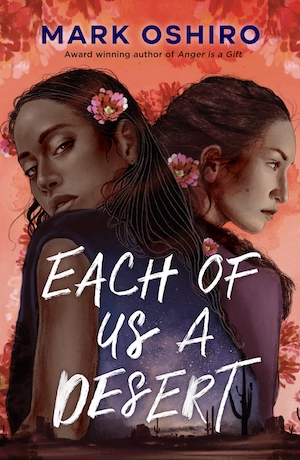 From award-winning author Mark Oshiro comes a powerful coming-of-age fantasy novel about finding home and falling in love.
Xochitl is destined to wander the desert alone, speaking her troubled village's stories into its arid winds. Her one desire: to share her heart with a kindred spirit.
One night, Xo's wish is granted—in the form of Emilia, the beautiful daughter of the town's murderous conqueror. When the two set out on a magical journey across the desert, they find their hearts could be a match… if only they can survive the nightmare-like terrors that arise when the sun goes down.
Hey YA Readers!
On the latest episode of Hey YA, Erica and I talked about recent and upcoming YA nonfiction titles and during the discussion, I talked about Brandy Colbert's recent release Black Birds in the Sky. It's an incredible read about the Tulsa Massacre of 1921, highlighting Tulsa's Black Wall Street and the thriving Black communities there and in other parts of Oklahoma. This book is packaged in an extremely appealing way for both young adult readers who may not usually gravitate toward nonfiction, as well as those who do, and the book being available on shelves at Target gives it both big visibility for the category of YA nonfiction but also for its look at a topic that's been under-explored in classrooms (and likely will continue to be, thanks to anti-"Critical Race Theory" legislation). Black Birds In The Sky a riveting and vital read — and it's one of a number of excellent YA releases on the topic this year. Across The Tracks: Remembering Greenwood, Black Wall Street, and the Tulsa Massacre by Alverne Ball and Stacey Robinson explores this history in their graphic novel released in May, while Hilary Beard adapted the work of Tim Madigan's The Burning: Black Wall Street and the Tulsa Race Massacre of 1921 for young adults earlier this year, too.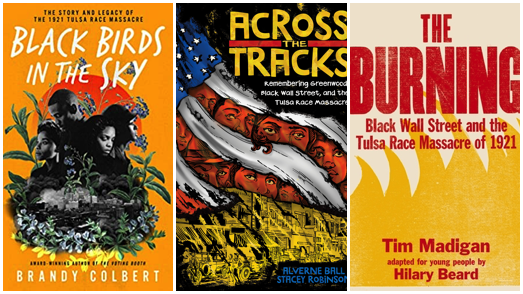 When I finished Colbert's book, I fell down a number of research rabbit holes, which is one of the things that makes nonfiction so great. I'm someone who is fascinated by stories we don't get to hear, and usually, those stories are from and by marginalized communities. Wherever you live, especially in the United States, you'll find these histories around you. For me, finishing the book reminded me of my endless fascination with Cairo, Illinois (pronounced Kay-roe), a community at the confluence of the Ohio and Mississippi Rivers. It's a town that's dealt with a significant loss of population over the last half century or more, and it's one that's been rattled by its racist history. Equally fascinating, though, is the discrimination within the town led Black residents to choose to develop their own suburb outside Cairo called Future City. There's very little information about that town's history, though thanks to its geography, it, like Cairo, has struggled to withstand flooding. It's not flourished nor grown and though a handful of residents still live there, it's essentially a ghost town.
Ron Powers discusses Cairo, Future City, and other Illinois communities that have a notable racist past in his 1991 adult nonfiction book Far From Home: Life and Loss in Two American Towns, but it's one of the only titles out there exploring communities like it. James W. Loewen, another white author who did earlier this year, dug into communities across the country that were — and some which still are — sundown towns in his adult title Sundown Towns: A Hidden Dimension of American Racism. This book, as well as Powers, talk a bit about Anna, Illinois, which ProPublica took a deep dive into in 2018, specifically looking at its racist history and the acronym associated with its name.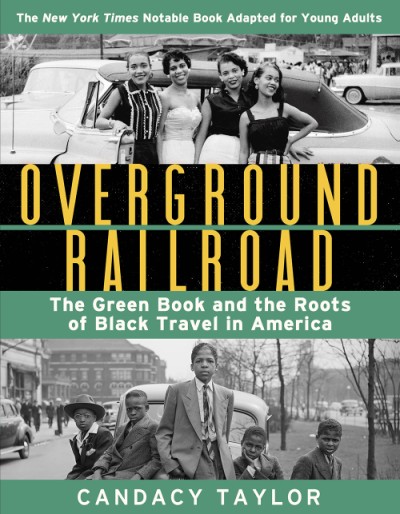 It's not hard to understand why, then, tools like The Green Book were vital resources for Black Americans in the 20th century. Candacy Taylor's forthcoming adaptation for young readers of her own adult book, Overground Railroad: The Green Book and the Roots of Black Travel in America (January) offers a look at not just the essential role the Green Book played for Black people who wanted to travel, but that it also served as a tool of resistance — those who had their businesses listed as places where racial segregation wasn't de facto or de jure took a courageous stand.
Some Black people believe a modern adaption of The Green Book wouldn't be a radical idea today.
As racial violence continues, finding places that are safer to rest in, to dine in, and to patronize is crucial. Places like Cairo and Anna were among the communities unsafe for Black people to pass through, let alone rest in, and as Colbert and others explained in their books on the Tulsa Massacre, even in communities where Black life flourished, the undercurrent and indeed, the retaliation against Black excellence, remained.
A not-small number of these communities still exist today.
Young adult nonfiction is flourishing right now, and it's not hard to understand why. Not only are the titles timely, but they're timeless, and as the above-mentioned explore, they offer a window from the past into the whys and hows of modern society. We haven't moved much from what allowed The Tulsa Massacre to happen, and certainly, we haven't made travel across the country safer for marginalized people — the reality is, so many have forgotten the real and grave dangers that Black people especially encounter going about daily life in a white supremacist driven America. So many of us don't recognize or think about the fact communities like Cairo and Anna, as well as Tulsa and countless others that can be named and those which can't, not only have a charged history but that history remains part of the fabric which makes them what they are today.
And indeed, even where there was and is hope for utopian communities for people of the global majority in America, those stories haven't been told, haven't been recorded, and remain under explored in literature, in research, and in the public view.
This is where books like Colbert's do tremendous service, especially for young readers. They offer a look at under-told stories of the past, encouraging exploration into one's own backyard, and, as the case is in America, a reminder that this country has been colonized, and even groups which are marginalized now have a tangled and complicated relationship with the Native and Indigenous communities from whom this land was stolen and settled.
---
Thanks for hanging out today and I hope you'll find the time to dig into the stories of your own community between picking up the incredible books above.
We'll see you on Thursday for your YA news and new books.
Until then, happy reading!
— Kelly Jensen, @heykellyjensen on Instagram.
Don't forget you can get three free audiobooks at Audiobooks.com with a free trial!