Sponsored by HarperCollins.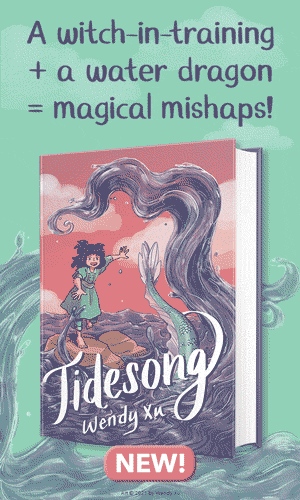 Sophie is a witch prepping for her entrance exams to the Royal Magic Academy, even though her magic is shaky at best. Frustrated with training, Sophie attempts a spell that goes wrong, accidentally trapping a water dragon named Lir on land. Lir has no memory of where he came from, but is everything Sophie isn't—beloved by Sophie's family and skilled at magic. With his help, Sophie might just ace her exams, but that means standing in the way of Lir's attempts to regain his memories. Sophie knows what she's doing is wrong, but without Lir's help, can she prove herself?
Hey readers! I'm back with another batch of new releases!
In this picture book, written in verse, a young girl is assigned a family tree project. When she can only trace her family back three generations, she and the rest of her family gather to hear about their history, how their ancestors were taken captive and sold into slavery and how those born on the water survived.
In this joyous picture book celebrating Japanese culture, a girl and her large and varied family spend the day at the big bath house, taking part in all the usual rituals before sinking into the bath.
Don't forget you can get three free audiobooks at Audiobooks.com with a free trial!
Aspiring artist Maisie has always imagined growing up to take over her family's art shop. But when the shop falls on hard times, Maisie's dreams seem to only become more impossible. Determined to help, Maisie departs to London to find her estranged older brother— who cut off ties with their family years ago— thinking he may be the key to saving their shop. Instead, she uncovers painful truths about her family and has to decide if she's able to forgive.
This young reader's adaptation of Killers of the Flower Moon translates the story for the younger set, retelling the heartrending story of a series of murders in the Osage Nation during the 1920s. As the death toll rises, the FBI gets involved (including a Native American undercover operative) to unveil a shocking conspiracy, fueled by racism and greed, to steal from the wealthy Osage people.
---
Until next week! – Chelsea