Sponsored by HarperPerennial, publisher of You Feel it Jut Below the Ribs by Jeffrey Cranor and Janina Matthewson.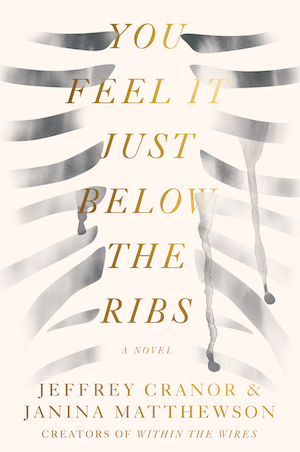 A haunting and provocative fictional autobiography set in an alternate 20th century. Born at the end of the old world, Miriam grows up during The Great Reckoning, a decades-long war that nearly decimates humanity. When the war finally ends, The New Society arises. To ensure a lasting peace, The New Society forbids anything that may cause tribal loyalties, including traditional families. Suddenly, everyone must live disconnected and unattached. A researcher at heart, Miriam becomes involved in implementing this detachment process, but the harmful effects of her research become too much for her and she devises a secret plan to destroy the system from within.
Welcome to Check Your Shelf. My husband informed me today (Sunday) that there are only six Sundays left in the year, and he was just trying to convey the fact that time is passing quickly, but my first thought was "Oh good, the football season is almost over!" Because that's apparently how I tell time now.
So…books anyone?
---
Collection Development Corner
Publishing News
Beloved NPR books editor Petra Mayer has died.
Covid-19 skeptics and publisher Chelsea Green filed a lawsuit against Elizabeth Warren, claiming that the letter she sent to Amazon about spreading Covid misinformation violates their First Amendment rights.
The Mayo Clinic Press is delving into children's books.
Best-selling author Anna Todd is teaming with Wattpad Books to launch a new publishing imprint.
"Too late to stand up to Amazon:" Book industry insiders back the Biden administration's bid to stop a publishing mega-merger.
After 22 years, the Best American Travel Writing anthologies will no longer be published.
New & Upcoming Titles
Nightfire announces another novella from Cassandra Khaw, to be published in May 2023.
Scottie Pippen wrote a memoir, and apparently it takes serious aim at Michael Jordan.
We're getting a prequel to E. Lockhart's We Were Liars!
Senator Joe Manchin is reportedly pursuing a book deal. (Because apparently he doesn't have anything more important to focus on right now…)
Alexis Schaitkin (Saint X) is publishing a new novel next year.
Recent thrillers that grapple with being a Black woman in the workplace.
Weekly book picks from Crime Reads, LitHub, The Millions, New York Times, and USA Today.
November picks from Bitch Media, Crime Reads (international crime fiction), Kirkus, New York Times, and Tor.com (SFF YA).
Fall picks from Entertainment Weekly (romance) and Seattle Times.
Best books of 2021 from Barnes & Noble, Esquire, Oprah Daily, and Parade (YA).
New romance novels coming out in 2022.
What Your Patrons Are Hearing About
The Sentence – Louise Erdrich (Entertainment Weekly, Minnesota Star Tribune, New York Times, NPR, Oprah Daily, USA Today, and Washington Post)
My Body – Emily Ratajkowski (The Atlantic, Entertainment Weekly, Esquire, People, USA Today, Vogue, Washington Post)
Will – Will Smith (Entertainment Weekly, New York Times, USA Today, Washington Post)
The Waiting – Keum Suk Gendry-Kim (LA Times, NPR)
On the Riot
3 new YA books about cheerleading.
What are the key elements of a murder mystery?
What does consent look like in romance novels today?
Why should children read dark books?
Why do so many kids read V.C. Andrews?
The treatment of homelessness in contemporary fiction.
Don't forget to check out Book Riot's new podcast Adaptation Nation, all about TV and film adaptations of your favorite books!
All Things Comics
Disney+ confirms the WandaVision spinoff, Agatha: House of Harkness.
Orange Marmalade and 9 other must-read school romance manhwa.
On the Riot
Delicious comic books about food.
9 comics and manga set in space.
Great YA comics from 2021 you don't want to miss.
Audiophilia
Spotify is getting into the audiobook business.
Pushkin Industries pushes audiobook conventions.
Libro.fm's top 10 best-selling audiobooks of 2021.
6 audiobooks with "symphonic storytelling."
10 intriguing November audiobook picks.
Audiobooks under three hours for readers with short attention spans.
Don't forget you can get three free audiobooks at Audiobooks.com with a free trial!
On the Riot
7 more audiobooks for Indigenous Heritage Month.
Book Lists, Book Lists, Book Lists
Children/Teens
10 board books starring babies.
22 YA books to read if your school won't teach Critical Race Theory.
Adults
6 historical fiction books with a magical twist.
14 must-read holiday romances.
5 books about Princess Diana if you're obsessed with the royals.
7 novels that grapple with illness.
7 novels about only children.
11 diverse histories of America's wars.
NaNoWriMo books to help you get writing this November.
7 deliciously scary books, recommended by Erik Larson.
On the Riot
8 children's books about feelings.
20 of the best mystery books you've never heard of.
15 books to spark love like The Heart Principle.
Dark mysteries & thrillers to keep you up all night.
10 books to read if you enjoyed the Goosebumps series as a kid.
8 dramatic novels about reality TV.
Level Up (Library Reads)
Do you take part in Library Reads, the monthly list of best books selected by librarians only? We've made it easy for you to find eligible diverse titles to nominate. Kelly Jensen created a database of upcoming diverse books that anyone can edit, and Nora Rawlins of Early Word is doing the same, as well as including information about series, vendors, and publisher buzz.
---
Catch you on Friday!
—Katie McLain Horner, @kt_librarylady on Twitter.