Sponsored by Tor Teen.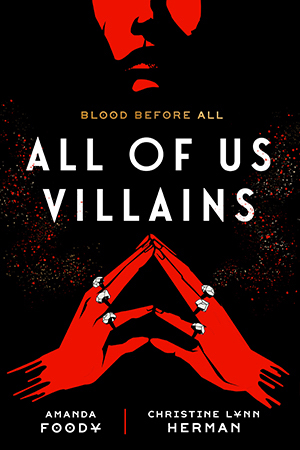 All of Us Villains is a dark tale of ambition and magick from blockbuster co-writing duo Amanda Foody and Christine Lynn Herman. Every generation, seven families in the city of Ilvernath each name a champion to compete in a tournament to the death. The prize? Exclusive control over a secret wellspring of high magick, the most powerful resource in the world. This year, thanks to a salacious tell-all book, the seven champions are thrust into the spotlight, granting each of them new information, new means to win, and most importantly, a choice: accept their fate or rewrite their story.
Happy Tuesday, book friends! I hope you had an amazing weekend. I watched all of What We Do in the Shadows, which I quite enjoyed, and read some great books. Today, I am looking forward to picking up You Feel It Just Below the Ribs by Jeffrey Cranor and Janina Matthewson, and All the Feels by Olivia Dade. And I will definitely be buying multiple copies of Wish It Lasted Forever: Life With the Larry Bird Celtics by Dan Shaughnessy for several family members. (Don't worry, they don't read this, lol.)
And speaking of today's great books, for this week's episode of All the Books! Tirzah and I discussed You Sexy Thing, Tidesong, ExtraOrdinary, and more.
And now, it's time for everyone's favorite gameshow: AHHHHHH MY TBR! Here are today's contestants:
This should be required reading for everyone. This book expands on the project started in the New York Times in 2019, the 400th anniversary of the arrival of the first slave ships in America. It covers the history of the United States with the contributions of Black people and the history of slavery as the center focus, something that is usually left out of history books, even today. It features contributions from some of today's most incredibel writers, including Yaa Gyasi, Darryl Pinckney, Claudia Rankine, Jason Reynolds, and Jesmyn Ward. Grab a copy or two as soon as you can, because it's going to go fast.
Backlist bump: Four Hundred Souls: A Community History of African America, 1619-2019 by Ibram X. Kendi (Not quite backlist yet, but too important not to mention.)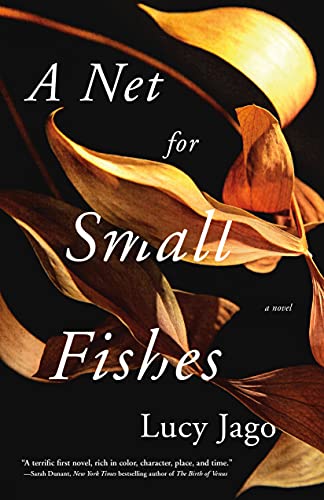 And calling all history fans: This is an excellent debut historical novel based on the true scandal of the Jacobean court. It's about the friendship between Frances Howard, the wife of the Earl of Essex, and Anne Turner. Bonds are made and broken in an instant in the court, and friendships and fortunes can change in the drop of a fancy hat. The women struggle to take charge of their own futures and write themselves a happy ending, but risking everything means they could lose it all.
Backlist bump: Hamnet by Maggie O'Farrell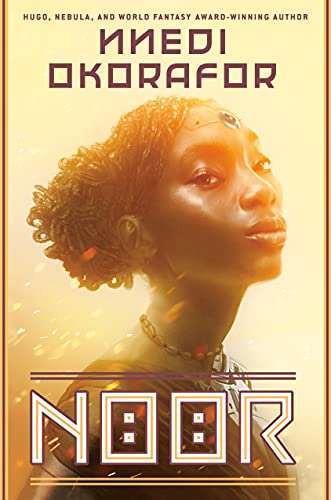 Noor by Nnedi Okorafor
And the amazing author of Binti, Remote Control, and more, is back with this great novella! Set in a near-future Nigeria, it's about a young woman named Anwuli Okwudili, who has several body augmentations, and ends up on the run across the deserts of Northern Nigeria after a bloody confrontation at the local market. Who can AO trust, and how will the story of this technologically advanced woman end? It's a great book that takes on race, class, and colonialism in a fast-paced adventure story. You'll read it so fast, you'll get whiplash!
Backlist bump: Remote Control by Nnedi Okorafor
Don't forget you can get three free audiobooks at Audiobooks.com with a free trial!
On your mark…get set…add to your TBR!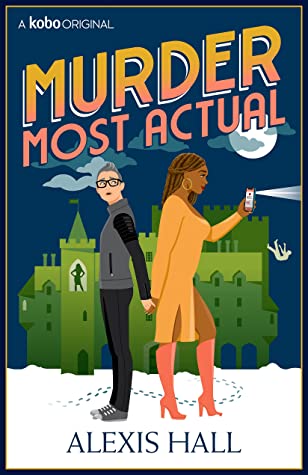 Murder Most Actual by Alexis Hall (Kobo original, out now.)
This is not an upcoming book, but one that is available now exclusively through Kobo! And it is a freaking DELIGHT. Liza and her wife, Hanna, are having relationship troubles, so Hanna booked them a romantic getaway at a castle in Scotland. Which is part of why they're having troubles—Liza feels like Hanna never asks her what she wants, she just goes ahead and does stuff, like booking them a trip. Hanna is a financial advisor who makes mad bank and works a lot of hours, and she is beginning to resent all the time Liza spends working on her true crime podcast, which grows in popularity each week, because it cuts in on their free time. Is a weekend in a remote location with a bunch of stuffy aristocrats the answer for their marital woes?
Because you know what might not be good for a relationship in trouble? A giant snowstorm that traps everyone in the castle, including a mysterious femme fatale with designs on Liza and an unknown murderer, who has started offing the guests. There's no escape and no way to call for help. But now Liza now has the chance to show Hanna her podcast isn't just a hobby and solve an actual case, and she and Hanna will learn what lengths they will go to in order to keep each other safe.
This is a fun satirical take on Agatha Christie and classic locked room mysteries. Hall does an excellent job nailing down all the situations and characters you find in those stories. But he also adds a couple of twists, including two things I really loved that I can't mention because they're spoilers, so you'll have to hit me up after you read it.
(CW for violence and murder, mentions of infidelity and suicide.)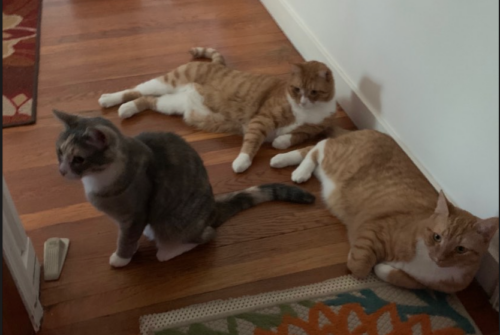 This week: I am currently reading The Verifiers by Jane Pek and Glass Coffin (The Darkwood Series Book 3) by Gabby Hutchinson Crouch. Outside of books, I've started rewatching Pushing Daisies for the umpteenth time, and the song stuck in my head is Twenty Miles To NH (Part 2) by The National. And as promised, here is a cat picture! This past week, Millay turned 11 and Farrokh and Zevon turned 3, so here is a rare picture of all three of the birthday fur babies. ❤️
---
Thank you, as always, for joining me each week as I rave about books! I am wishing the best for all of you in whatever situation you find yourself in now. And yay, books! – XO, Liberty ❤️