Sponsored by Amazon Original Stories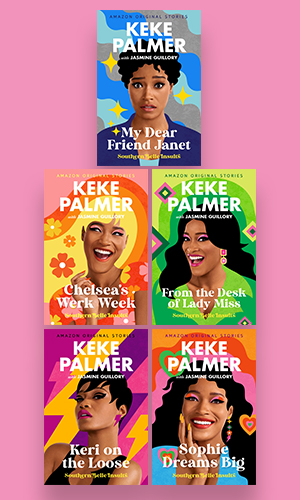 tk
Isabel Waidner Wins Goldsmiths Prize for Sterling Karat Gold
Isabel Waidner has won the Goldsmiths prize for their third novel Sterling Karat Gold, a work that judges said combines "the real and the mythic, the beautiful and the grotesque, to mind-bending effect." Waidner's novel tells the story of a non-binary migrant cleaner who is arrested in London and then must face up against bullfighters, football players, and spaceships to be exonerated. The publisher Peninsula Press describes Sterling Karate Gold as "Kafka's The Trial written for the era of gaslighting." Waidner's work beat out novels such as Claire-Louise Bennett's Checkout 19, Leone Ross's This One Sky Day, and Rebecca Watson's Little Scratch to win the award.
Jon M. Chu to Direct Oh, The Places You'll Go! Animated Film
Jon M. Chu has signed on to direct the animated film adaptation of Dr. Seuss' Oh, The Places You'll Go! for Dr. Seuss Enterprises and Warner Animation Group. This film will mark Bad Robot Productions' first foray into the world of animated film. Both J.J. Abrams and Hannah Minghella will share producer credits. Jon Chu is perhaps best known for directing Crazy Rich Asians, and he is currently attached to direct the film adaptation of the Broadway musical Wicked. Courtenay Valenti, president, production and development at Warner Bros. Pictures, said in a statement, "We are beyond thrilled to bring one of the most beloved Dr. Seuss books to life for so many generations of Seuss fans. The pairing of this classic title, with the creative excellence of Jon Chu and Bad Robot defines what we at WB try to achieve: marry great branded entertainment with singular creative talent." Oh, The Places You'll Go is expected to release in 2027.
Spotify is Getting into the Audiobook Business
Spotify, the Swedish audio streaming subscription service giant, is getting into the American audiobook business with an agreement to acquire Ohio-based digital audiobook distributor Findaway for an undisclosed price. "It is Spotify's ambition to be the destination for all things audio both for listeners and creators. The acquisition of Findaway will accelerate Spotify's presence in the audiobook space and will help us more quickly meet that ambition," said Spotify's chief research and development officer Gustav Söderström.
Nemo the Library Fish's New Job and More Good Book News This Week
Not all news is bad news! This week, a library goldfish found a new job as a therapy fish. Here's that story and more good book news from this week.