Sponsored by Albert Whitman & Co.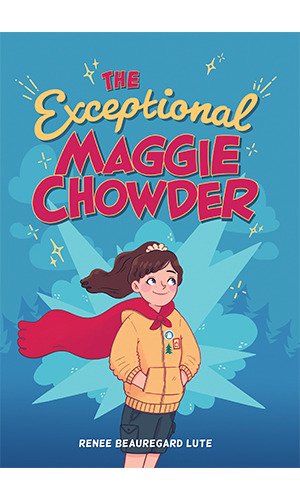 Twelve-year-old aspiring forest ranger Maggie Chowder wants to be just like her favorite comic superhero, the Exceptional Eagirl. So when her dad loses his job and her family moves from a house to a small apartment, Maggie is determined to make the most of her new circumstances. But it's not always easy to be strong like Eagirl when her best friend LaTanya moves into a big house and get a puppy because her dad has been recruited to coach for the Seattle Seahawks. It's especially not easy when nitpicky, comic-book-hating Grandma Barrel comes to stay.
Hi Kid Lit Friends,
I love the holidays. New York City is at its best during December with all the beautiful lights, the huge Rockefeller tree, and the brisk weather and holiday cheer. Since I'm in the holiday mood, I thought I would share some favorite picture books for the season.
I adore Daniel Minter's illustrative style (Going Down Home with Daddy, a book he illustrated, won a Caldecott Honor a couple of years ago), and this book is beautifully created with linoleum block prints. In this story, seven brothers are constantly fighting, but when their father dies, the brothers are tasked with creating gold out of seven spools of thread. If they can't accomplish this by sundown, they will live the rest of their life as beggars. Using the Nguzo Saba, or "seven principles" of Kwanzaa, the author has created an unforgettable story that shows how family members can pull together, for their own good and the good of the entire community.
Miracle on 133rd Street by Sonia Manzano, illustrated by Marjorie Priceman
Sonia Manzano from Sesame Street writes this sweet tale about the joys of an urban Christmas. On the day before Christmas, Mami brings home a delicious roast for a Christmas feast. When they discover it's too big to fit in their oven, Jose and Papa need to find an oven big enough to cook Mami's roast. They visit their neighbors to find a bigger oven, bringing Christmas cheer with them along the way.
It's December, and the houses on Isaac and Teresa's block are getting ready for the holidays. Isaac and his family decorate their big window for Chanukah, and across the street, his best friend Teresa and her family trim their Christmas tree. When it gets dark, Teresa's house glows red and green and Isaac's decorative menorah glows blue and white. But when someone throws a rock through Isaac's window late at night, the celebratory spirit is extinguished until the whole community joins together to support Isaac and his family and celebrate the true spirit of the holidays.
The Real Santa by Nancy Redd, illustrated by Charnelle Pinkney Barlow
This sweet picture book answers the age old question: What does Santa look like? A family celebrates the Christmas season with family, representation, and holiday spirit.
The Legend of the Christmas Witch by Dan Murphy and Aubrey Plaza, illustrated by Julia Iredale (November 16, 2021, Penguin)
There are many sides to every story, and this story is about Kristoffer and Kristtorn. They lived alone in the woods until one day, Kristoffer was found by a couple and taken away to live with them while Kristtorn was left alone. She ends up finding a home with a witch who recognized her powers and tried to protect her from the world. But Kristtorn grew up and her powers grew, and she learned that the world was afraid of her. Beautiful illustrations accompany this Christmas tale.
---
What are you reading these days? Let me know! Find me on Twitter at @KarinaYanGlaser, on Instagram at @KarinaIsReadingAndWriting, or email me at KarinaBookRiot@gmail.com.
Until next time!
Karina
*If this e-mail was forwarded to you, follow this link to subscribe to "The Kids Are All Right" newsletter and other fabulous Book Riot newsletters for your own customized e-mail delivery. Thank you!*
Don't forget you can get three free audiobooks at Audiobooks.com with a free trial!