Sponsored by Tor Teen.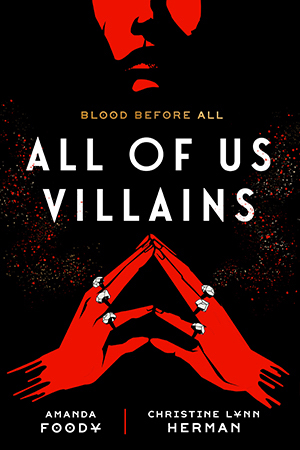 All of Us Villains is a dark tale of ambition and magick from blockbuster co-writing duo Amanda Foody and Christine Lynn Herman. Every generation, seven families in the city of Ilvernath each name a champion to compete in a tournament to the death. The prize? Exclusive control over a secret wellspring of high magick, the most powerful resource in the world. This year, thanks to a salacious tell-all book, the seven champions are thrust into the spotlight, granting each of them new information, new means to win, and most importantly, a choice: accept their fate or rewrite their story.
Hi Book Friends!
The Thursdays just keep coming, don't they? I hope your November has been going well so far. I feel like I'm getting back on track with my reading this month already, and this week especially I had a lot of fun with my impromptu novella week. Wow, for those of you who have read Things Have Gotten Worse Since We Last Spoke, was that a wild ride or what? Anyway, here's what's happening in the book world.
❤️ Emily
Book Deals and Reveals
Sony has released the first official poster for the upcoming film Spider-Man: No Way Home.
Here is the stunning cover reveal of Leesa Cross-Smith's upcoming novel Half-Blown Rose. This one is out in July 2022.
Bestselling author Anna Todd is launching a new imprint in partnership with Wattpad Books.
Alma Katsu has revealed the paperback cover for her 2021 novel Red Widow.
A TV series adaptation of The Royal Diaries is in the works from Legendary Television and Scholastic Entertainment.
Graywolf Press publisher Fiona McCrae has announced that she will retire in June 2022.
The Nerd Daily has an exclusive cover reveal of The Beach Trap by Ali Brady. This reimagining of the classic film The Parent Trap will be out on June 14, 2022.
Saeed Jones is opening up about the creative process in his new newsletter Werk-in-Progress.
Middle grade novel Nura and the Immortal Palace by M.T. Khan has gotten a cover reveal! Check out the cover now, and preorder the book, out in July 2022.
Israeli bookstores have pulled Sally Rooney's books from shelves in response to the author refusing to allow her new book to be translated into Hebrew.
This new report from PEN America highlights the wide ranging damage from educational gag orders across the country.
Here are the best cities for book lovers in 2022 (and the worst ones too).
And here are all of the 850 books Texas lawmaker Matt Krause wants to ban from school libraries.
Book Riot Recommends
I'm a Contributing Editor at Book Riot, I write the Today in Books newsletter, and I'm a Bibliologist for Book Riot's Tailored Book Recommendations subscription service. I also have a PhD in English, so I'm basically a doctor of books. Books are my life, in other words, so in this section of the newsletter, let me share with you some upcoming books I'm super excited about. And I think you will be too!
Can't Wait for This One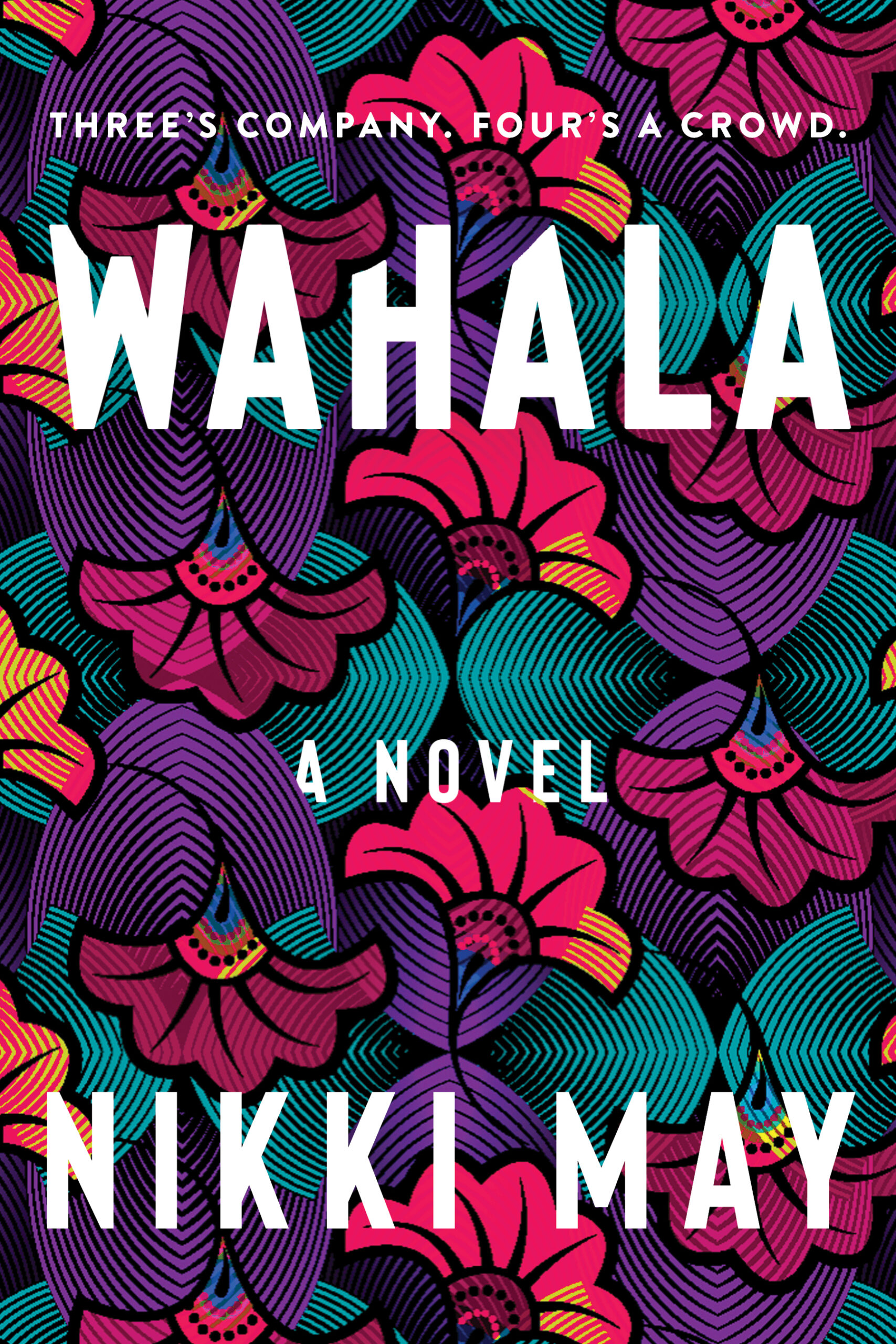 Wahala by Nikki May (Custom House, January 11, 2022)
Wahala by Nikki May is coming out right at the beginning of 2022, so we won't have to wait too long for this one. You might even consider this one to be "Prepare Your Shelves" territory. I know everyone keeps saying it, but isn't it odd that 2022 is that close? Like, how? The older I get, the less I understand time.
But anyway, let's just get past the fact that 2022 is soon and get excited for this debut novel. Let me tell you about why. Wahala is the story of three Anglo-Nigerian best friends. There's Ronke who wants nothing more than a happily ever after with a nice husband and kids. Meanwhile Boo has everything Ronke wants, but she's frustrated with domestic life and desperate to reconnect with who she used to be before the husband and kids. Then there's Simi, the one with the seemingly perfect life who is nonetheless struggling with impostor syndrome.
The three women's lives are turned upside down when a fourth woman infiltrates their friend group. At first, Isobel seems like the missing puzzle piece. She brings out the best in each woman and pushes them to go outside of their comfort zone. But the more Isobel meddles with the other women's lives, the more chaotic everything becomes. And soon enough, Ronke, Simi, and Boo's close friendship threatens to fall apart.
I love a story about the power and complexity of female friendship, and so of course Wahala is a must-read for me. And while this book does sound like it's going to be an unputdownable page-turner, the premise promises something a little more thought-provoking than your typical beach read. The blurb promises a "sharp, modern take on friendship, ambition, culture, and betrayal," and I am here for it.
If you think this sounds like it would make an amazing television show, you're not alone. This book is already being developed into a TV series for BBC. I'm going to pick this one up right away so I can be prepared for the show. Yes, I'm already pre-excited for the TV adaptation of the book.
Words of Literary Wisdom
"If every story had a happy ending, then we'd have no reason to start again. Life is all about choices, and learning how to put ourselves back together when we fall apart. Which we all do. Even the people who pretend they don't."
— Rock, Paper, Scissors by Alice Feeney
What's Up in the Book Community?
My iPhone is constantly telling me I spend too much time staring at my screen, which is honestly so rude. But this means I spend a lot of time scrolling around the online book community: BookTube, Bookstagram, BookTok, BookLinkedIn (JK. That's not a thing… I don't think). You get the idea. Don't have the time, energy, or the will to do all of that yourself? No problem. I got you. In this weekly section of Book Radar, we'll take a look at something cool, interesting, and/or newsy that's going on in the book community.
I know I've mentioned before how much I love Jess Owens' "Book CommuniTEA" series on YouTube, but I wanted to point out an episode that recently came out that I think is particularly worth a watch. If you've been curious about what's going on with Penguin Random House attempting to purchase Simon & Schuster, here's a nice rundown of what's going on and why this merger would be really, really bad news for books. Check it out!
Your Weekend Reading Soundtrack
This is what we're going to listen to this weekend. More info on this coming in just a few sentences. But yes this should be a fun one!
And Here's A Cat Picture!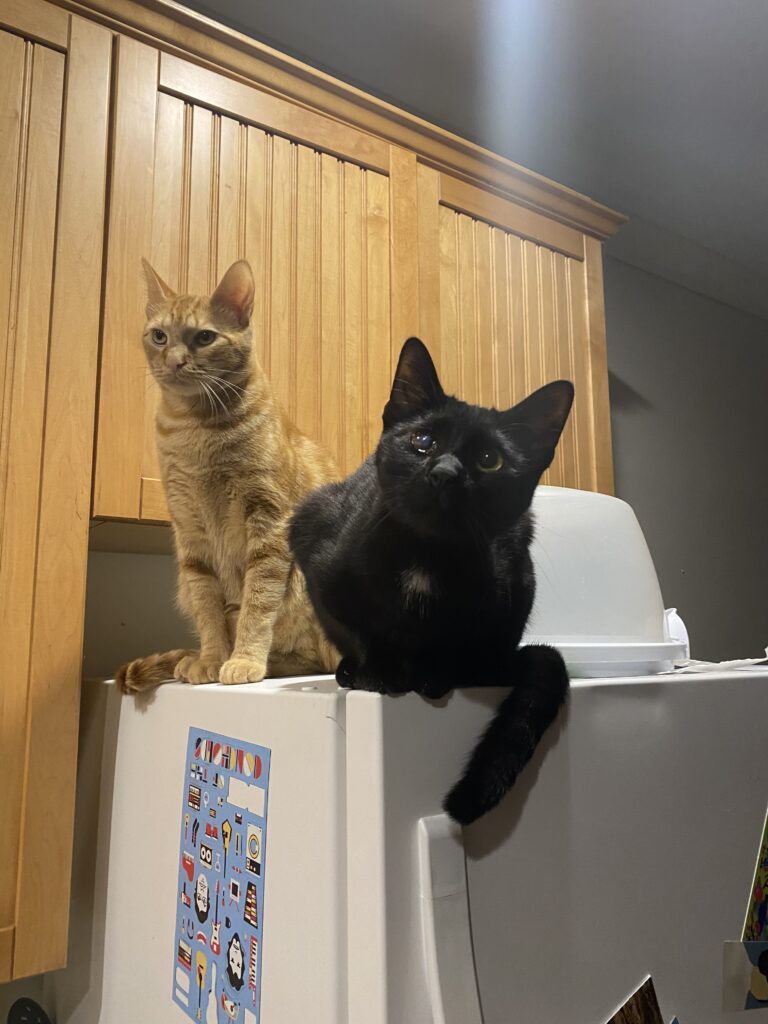 Check out these two bad cats hanging out on top of the fridge. What are they doing up there? Forming a special Bad Cat Club?
Underneath them, you'll see some fancy Flight of the Conchords magnets, which was the inspiration for this week's Reading Soundtrack. I hope you enjoy the funny if you've never listened, and I hope you enjoy the memories if you haven't listened for a while. But most importantly, I hope you enjoyed this cat picture.
---
Well, that's all! I hope you have a wonderful weekend. This weekend, I say you should get yourself a nice hot beverage, and let's all toast to cooler weather.
❤️ Emily
Don't forget you can get three free audiobooks at Audiobooks.com with a free trial!