Sponsored by Amazon Publishing.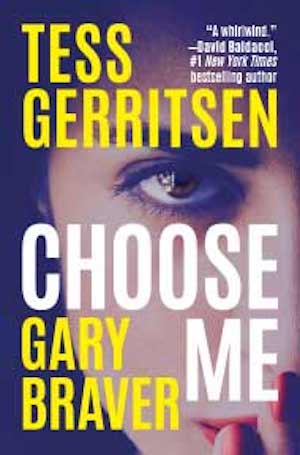 Choose Me, the sexy murder mystery from New York Times bestselling author Tess Gerritsen and acclaimed thriller writer Gary Braver, now has over 11K 5-star ratings. When Detective Frankie Loomis begins investigating a brilliant college student's sudden death, she knows in her gut there's more to the story. To English professor Jack Dorian, Taryn was the ultimate fantasy. And now that she's dead, his problems are just beginning. Jack had secrets and he is guilty of deception… but is he capable of cold-blooded murder? Read Choose Me now.
Hello Audiophiles! This week marked a big milestone in the Winchester household—Gwen had her first day of puppy school! Being the angel that he is, Dylan, our older Corgi, proved incredibly easy to train, so we've never been to puppy school before.
We took the obligatory photo and headed over to her new school, Gwen entering the building with a hesitant curiosity. But as soon as she walked into the training room and saw the other puppies, she lost her mind with joy. She didn't let the fact that she was the smallest puppy in the class deter her enthusiasm.
She's been flying through her homework, so hopefully she will be at the top of her class (at least metaphorically). As we work on "sit," "stay," and "come," Gwen and I have been listening to Barack Obama's memoir The Promised Land, which I'm flying through. Who knew almost 30 hours of audio could go by so fast. But today I'm going to tell you about a different memoir that's no less compelling.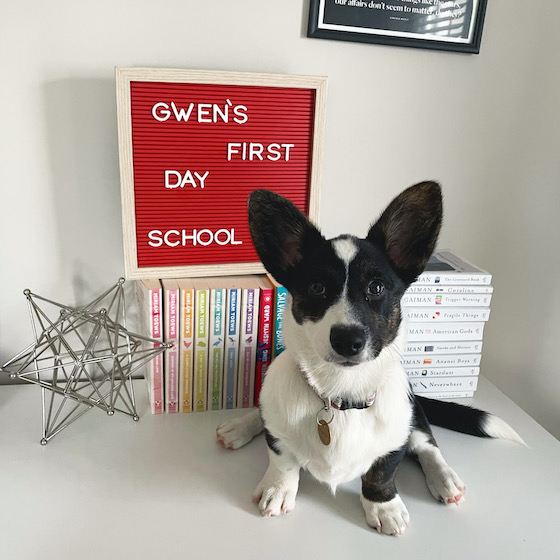 Recent Listen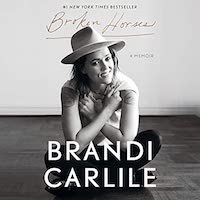 One of the great things about bookish friends is that you find yourself listening to audiobooks you would never listen to on your own. This explains why I found myself listening to Brandi Carlisle's memoir, Broken Horses. While I do love Carlisle's music, I'm not the celebrity memoir type. But, my stars, I am SO glad I made an exception for this audiobook.
Carlisle performs the book herself, and let me assure you, it is a PERFORMANCE. She reads her story to her listeners with such earnestness and incredible emotional depth. And in between chapters, she sings a song that has a connection to that point in her life.
I connected with Carlisle's description of growing up with a learning disability, discussing how music gave her a way to express herself that she wouldn't have had otherwise. The music she plays to the audio version helps communicate the true depth of her feelings throughout the book. With every up and down in her life, Carlisle has always had music to help her get through it.
At the end of the audiobook, Carlisle gives listeners a mini concert, playing through a range of songs from her career. I've rarely loved an audiobook this much and I can't recommend Broken Horses enough. But be forewarned, you'll probably need some tissues by the end.
New Releases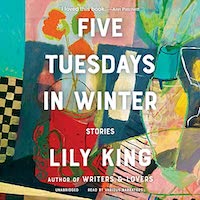 Last year, I loved Lily King's Writers and Lovers. Now King is back with her new short story collection Five Tuesdays in Winter. In each of these ten stories, we meet a range of different characters, who all have their own motivations and desires. A range of narrators perform the audiobook to give every story its own unique voice.
Narrated by Bronson Pinchot, Mark Bramhall, Stacey Glemboski, Cassandra Campbell, and Christa Lewis (The Immortal Life of Henrietta Lacks by Rebecca Skloot and No One Will Miss Her by Kat Rosenfield)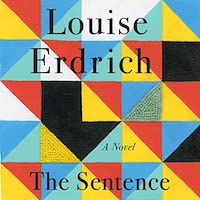 Ojibwe author Louise Erdrich returns with The Sentence, a ghost novel set in a bookstore. Beginning in 2019, this novel features an older white woman who dies and haunts Birchbark Books (yes, Erdrich's own bookstore), driving the booksellers wild with her persistent presence. Erdrich performs The Sentence, giving the audiobook an extra personal touch.
Narrated by Louise Erdrich (LaRose by Lousie Erdrich and The Night Watchman by Louise Erdrich)
Lou wakes up in an alley in Los Angeles in the 1930s. After being taken in by a foster family, Lou later becomes the first Black woman to join the staff of the Los Angeles Times. But as she continues her life, working hard at writing articles for the newspaper, Lou begins to experience flashes of a different time, a different life than the one she has now.
Narrated by Kevin R. Free and Lisa Renee Pitts (We Are Not Like Them by Christine Pride and Jo Piazza)
I adored Jung Yun's debut Shelter, so as soon as I could get my hands on her sophomore novel, O Beautiful, I plugged in my headphones and settled in to listen. O Beautiful follows Elinor, a biracial Korean American woman working on a feature story about the oil fields of North Dakota. As Elinor works on the story, she's forced to confront the memories of her childhood spent in the area and the fractured relationships with her family that she fled decades earlier.
Narrated by Catherine Ho (How Much of These Hills Is Gold by C Pam Zhang and The Last Tang Standing by Lauren Ho)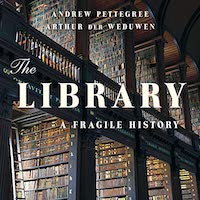 Now we are all book lovers here, so I know y'all will adore this audiobook all about libraries. In The Library, the authors tell the history of libraries through the centuries, from personal collections to America's modern public library system.
Narrated by Sean Barrett (Kafka on the Shore by Haruki Murakami and The Name of the Rose by Umberto Eco)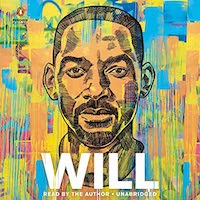 Will by Will Smith
Recently, I watched Oprah's special on Apple TV where she interviews Will Smith about his new memoir. She says, "This is the best memoir that I've ever read." That's quite the blurb! Smith performs the audiobook of his memoir, making me even more excited for this book.
Narrated by Will Smith
Around the Web
"Pushkin Industries Pushes Audiobook Conventions" (Publisher's Weekly)
"Quiz: Audiobooks by Indigenous Authors" (Libro.fm) – Once again Libro.fm has created a fabulous quiz for listeners, this time in honor of Native American Heritage Month
"Libro.fm's Top 10 Bestselling Audiobooks of 2021" (Libro.fm)
Over on Book Riot
"7 More Audiobooks for Indigenous Heritage Month"
---
That's it for this week! Feel free to drop me a line at kendra.d.winchester@gmail.com or say hi over on Instagram @kdwinchester. For even MORE audiobook content, you can find my articles over on Book Riot.
Happy listening, bookish friends!
~ Kendra
Don't forget you can get three free audiobooks at Audiobooks.com with a free trial!