Sponsored by Macmillan Audio.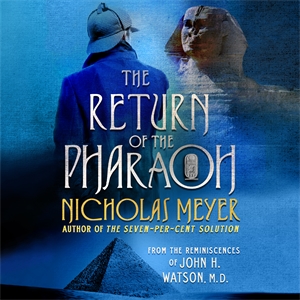 In Nicholas Meyer's The Return of the Pharaoh, Sherlock Holmes returns in an adventure that takes him to Egypt in search of a missing nobleman, a previously undiscovered pharaoh's tomb, and a conspiracy that threatens his very life. Downton Abbey actor narrates the audiobook David Robb, and the program includes footnotes read by the author.
Hi mystery fans! I have two of my favorite reads of the year that were super entertaining and absorbing–probably a thing everyone could do with more of at the end of this year.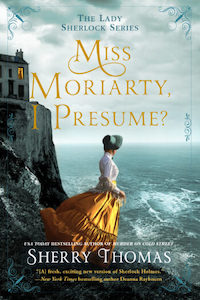 Am I going to review every single Lady Sherlock book? Absolutely! I love this series so much–that same feeling you seek in watching things like Ted Lasso is how I feel every year with a new Lady Sherlock. It's a delightful treat!
Do you need to start at the beginning of the series? I would definitely start with A Study in Scarlet Women because of all the character's relationships and many are based on events from past books.
Just to give you an idea of how much I enjoy the humor and fun of these books: this time around we start with sexting but you know the very old school version of writing naughty things in letters that now sound PG. Charlotte Holmes is still keeping up the pretense that she works for Sherlock Holmes, her brother, and not that she is Sherlock Holmes. And who does she end up working for this time? None other than the big daddy of the nemesis Moriarty. Seems his daughter has found herself in a cult and he's very worried about her and the money she's giving them. So naturally Charlotte and Mrs. Watson travel to said cult to figure out what exactly is going on, while of course working for someone they can't trust.
If you're already a fan I highly recommend you catch-up with the series as you'll once again be treated to a twisty tale that's fun and humorous and exciting, plus it's going to leave you with your mouth possibly hanging open (most certainly!).
If you've yet to discover Lady Sherlock, I highly recommend you get to know Holmes and Watson, the ladies who make a fantastic team filled with mystery solving and friendship.
Bonus: the audiobook narrator, Kate Reading, is the loveliest!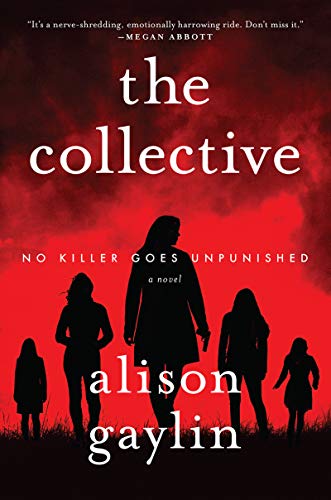 I have been bamboozled quite a few times recently with books being labeled thrillers that are not actually thrillers. So color me the most page-turning happy reader to discover this was very much a thriller, and hands down one of my favorite books of the year.
It's such a great blend of page-turner thriller while also being a smart exploration of grief and the cost of revenge. And a whole lot of trying to figure out what is happening!
Camille Gardner is still angry that her daughter's accused killer has not faced any consequences. So you can imagine how hearing that he's winning a humanitarian award would tip her over the edge. Her spiraling puts her on the radar of the collective–a group of women with a secret chat forum that can get you selected to enter a world of enacting justice for someone else in the group who is grieving. Soon Camille is thrown into this world, but at what cost? Who is orchestrating their brand of justice? And is Camille ready for real revenge beyond the fantasy of it?
It's so good, and wow do I want to tell you about my very favorite thing about this book but its the ending so *zips lips*. Pick this up and clear your schedule, you're not going to be able to put it down.
(TW panic attacks/ recounts past suicide attempt, detail/ mentions of suicides, detail/ brief ableist language/ date rape/ dead name used/ mentions rape cases, not graphic)
From The Book Riot Crime Vault
8 Books Like And Then There Were None
---
Browse all the books recommended in Unusual Suspects previous newsletters on this shelf. See upcoming 2021 releases. Check out this Unusual Suspects Pinterest board and get Tailored Book Recommendations!
Until next time, keep investigating! In the meantime, come talk books with me on Twitter, Instagram, Goodreads, and Litsy–you can find me under Jamie Canavés.
If a mystery fan forwarded this newsletter to you and you'd like your very own, you can sign up here.
Don't forget you can get three free audiobooks at Audiobooks.com with a free trial!