Sponsored by Clarkson Potter.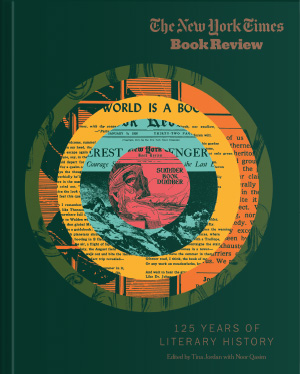 What could thrill a book lover more than an epic celebration of 125 years of literary history from The New York Times Book Review? This beautiful, lavishly produced volume features scores of stunning vintage photographs, curated reviews and essays, anecdotes about famous writers, and spicy letter exchanges between authors and reviewers. The story of the Book Review is essentially the story of modern American letters. Readers will discover how literary tastes have shifted through the decades—and how the Book Review's coverage has shaped so much of what we read today.
Happy Tuesday, star bits! It's time for new books! I hope you've had a good start to your week and found something amazing to read. Today, I am looking forward to picking up Nazaré by JJ Amaworo Wilson, because I enjoyed Damnificados so much. If you're a Ken Follett fan, his standalone thriller Never is out today, and there's a new Catherynne M. Valente: Comfort Me With Apples. And I'm also wildly curious about the memoirs Unguarded by Scottie Pippen and My Name's Yours, What's Alaska? by Alaska Thunderf**k 5000. So much to check out this week! And if you don't have enough on your TBR, I made this for you.
And speaking of today's great books, for this week's episode of All the Books! Vanessa and I discussed The Sentence, The Undertakers, O Beautiful, and more.
And now, it's time for everyone's favorite gameshow: AHHHHHH MY TBR! Here are today's contestants:
A young Black woman wakes up naked in an alley in Los Angeles in the 1930s. Lou has no memory of how she got there, but she does have a strong sense that this has happened before. People seem familiar, like she already knows them. After getting stuck in this time, she goes on to become the first Black woman journalist in L.A. Lou will investigate her own life in this time period, to figure out why it all seems so familiar—and what destiny has in store for her. This is a remarkable book, but I fully admit that it is very complex and I found it hard to follow at times. But I still loved it. (CW for mentions of violence, war, racism, abuse, and assault.)
Backlist bump: Grace by Natashia Deón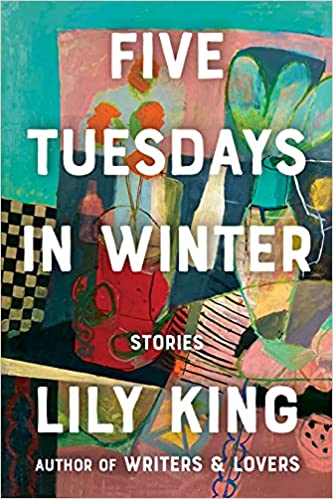 I love everything Lily King writes. It seems impossible that King's last book, Writers & Lovers, only came out in March of 2020, because I feel like I have been thinking about it forever. But here we are, with a whole new book to read. This is a fantastic collection of stories, King's first, filled with love, loss, triumph, and heartbreak. There's tales of a painful college reunion, a grandfather's rage, a bookseller's new love, and more. These are ten powerful stories of raw emotion about the helplessness of being human. You may want to savor them so your heart doesn't break.
Backlist bump: Writers & Lovers by Lily King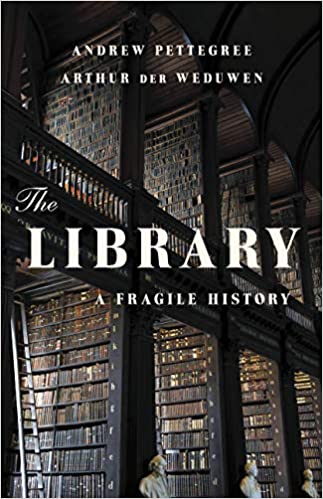 And this one is so in our wheelhouses, it's almost like cheating. But who doesn't love a book about libraries?! This is exactly as advertised: a fascinating look into libraries past and present, the collecting and theft of rare books, and the future of libraries. For those of you who yell "TOO SOON!" whenever someone mentions the burning of the Library of Alexandria, this book is for you!
Backlist bump: I really wanted to recommend A Gentle Madness: Bibliophiles, Bibliomanes, and the Eternal Passion for Books by Nicholas A. Basbanes, but it is no longer readily available in print. So instead, here's your reminder that you should definitely have Library Lion by Michelle Knudsen and Kevin Hawkes and The Library by Sarah Stewart and David Small in your collection.
On your mark…get set…add to your TBR!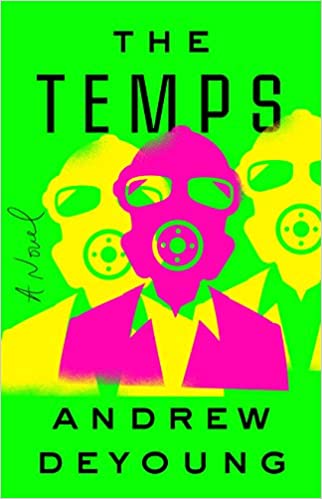 The Temps by Andrew DeYoung (Keylight Books, March 29, 2022)
First of all, you know how I love a book cover you can see from space. I am surprised more covers aren't this loud. Why wouldn't you want your cover to jump out at potential readers?? Good news, the inside is just as wild, too. This is a fun dystopian satire about office work and a hazardous outbreak in a tech company building.
Jacob Elliot is getting nowhere in his career, so he begrudgingly takes a temporary job in the mailroom at Delphi Enterprises, a Google-like tech company. But Jacob is about to have a horrible first day of work: During a meeting of all the company's executives in the auditorium, something poisonous gets into the air vents. It kills everyone in the room, leaving only the interns and low-paid employees left in the building.
Jacob is sort of put in a leadership position of this motley group, who don't know what the toxic event is that has occurred, only that it isn't safe to leave the building. So they start their own version of society, a community of sorts, in the enormous building. But playing at a new paradise doesn't please everyone. And there's also the problem of rations and power. And as the survivors search around for supplies and answers, they uncover a much darker conspiracy that may go all the way to the top.
Despite its high body count and some serious events, this is a fun and funny read about a locked room mystery of sorts, and a sharp stab at the tech world. Kinda like Lord of the Flies set in Silicon Valley. (CW for mentions of mass illness and death, chemical use, violence, assault, and murder.)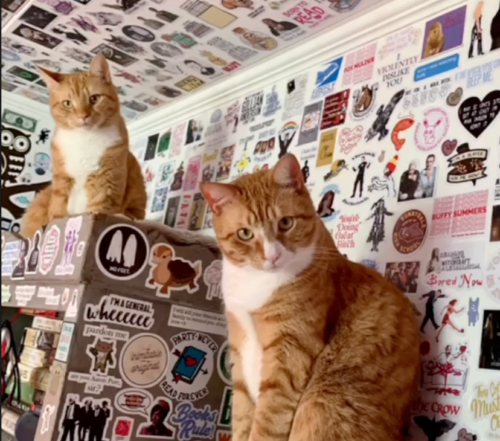 This week: I am currently reading City of Orange by David Yoon. (I abandoned the Agent Pendergast series from Preston and Child due to time constraints, but not forever.) Outside of books, I've been watching old episodes of Whose Line Is It Anyway?, and the song stuck in my head is I Love You, Goodbye by Thomas Dolby. And as promised, here is a cat picture! I'm pretty sure I interrupted something important.
---
Thank you, as always, for joining me each week as I rave about books! I am wishing the best for all of you in whatever situation you find yourself in now. And yay, books! – XO, Liberty ❤️