Sponsored by Penguin Random House & Underlined.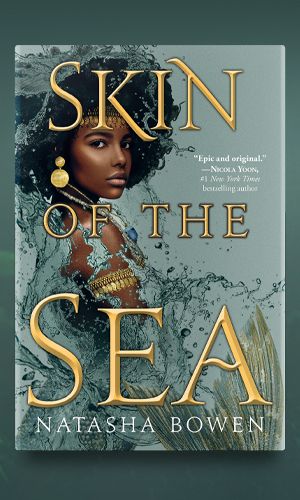 The start of an epic new fantasy series, Children of Blood and Bone meets The Little Mermaid in this West African inspired historical fantasy debut by Natasha Bowen that is perfect for fans of Sabaa Tahir and Roseanne A. Brown. Simi is a Mami Wata—a mermaid—bound by the laws of gods and charged with blessing the souls of slaves lost at sea. But when Simi does the unthinkable and saves the life of a boy instead, she finds herself in the deepest trouble at the bottom of the sea.
Book Friends,
I don't know how this keeps happening to us, but it's Monday again, which means it's time for a new week filled with books and more Book Radar.
At the beginning of every week, I end up setting little mini-reading goals for myself, and this week I mean very mini. I have a little stack of novellas I want to get through this week. They're the kind of books that I've meant to read all year, but every time I look at them, I think, "Oh that won't take me long! I'll read it later!" Well, later is now. So I'm reading 2021 novellas. Some I'm revisiting, some I'm reading for the first time. Do you have any favorite novellas from 2021? I'd love to hear about them. Always feel free to reach out.
Anyway, let's talk about some book stuff.
❤️ Emily
Book Deals and Reveals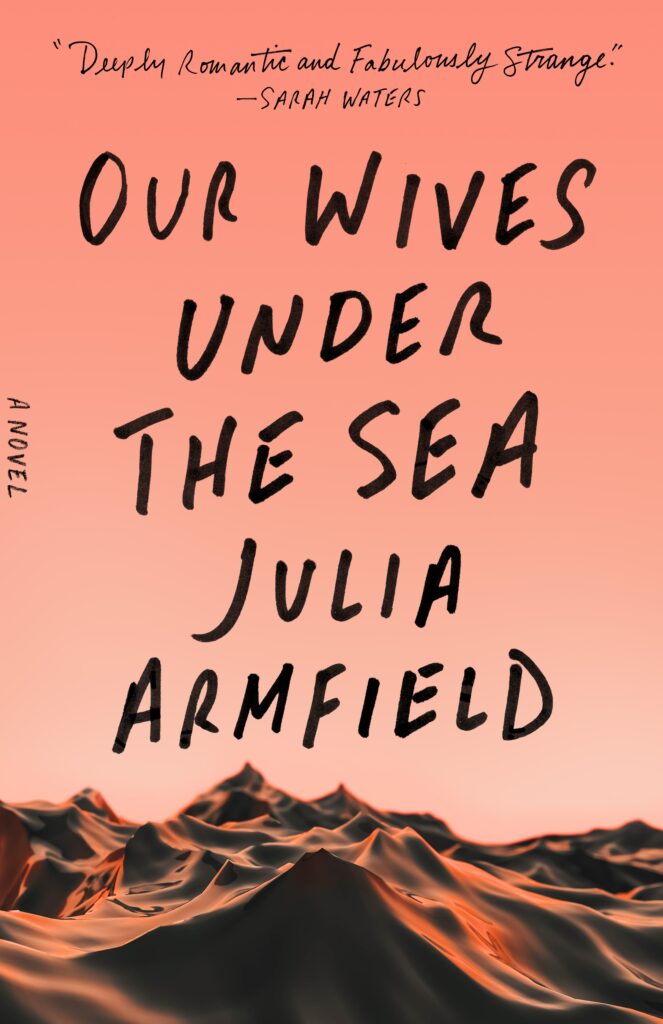 Flatiron Books has revealed to cover for Julia Armfield's upcoming literary novel Our Wives Under the Sea. This one's out July 12, 2022.
Reese Witherspoon has announced her book club pick for November. It's The Island of Missing Trees by Elif Shafak.
RL Stine is releasing 10 new short stories for young readers in a new collection called Stinetinglers, out August 30, 2022.
Comic book author Mariko Tamaki has launched, Surely Books, a new LGBTQ+ graphic novel imprint. The first publication from the imprint will be Lifetime Passes by writer Terry Blas and artist Claudia Aguirre, out later this month.
Tin House has announced that they will be publishing the debut memoir When They Tell You to Be Good in October 2022. This is Editor-at-Large Hanif Abdurraqib's first acquisition for Tin House.
Paul Newman's memoir will be published in 2022, 14 years after the actor's death.
Here's the cover reveal for Vanessa Hua's upcoming historical fiction novel Forbidden City. This book will be available April 19th, 2022.
Sony Pictures Television is developing Myriam Gurba's Mean as a series. The story is about the author's experiences coming of age as a queer Chicana in Santa Maria, California in the 1980s/90s.
Here's the brand new trailer for the upcoming adaptation of The Hating Game by Sally Thorne. The movie stars Lucy Hale and Robbie Amell.
Taika Waititi will be directing and co-writing the script for the upcoming film adaptaiton of acclaimed comic The Incal from Alejandro Jodorowsky and the late artist Moebius.
Playground Entertainment is adapting the Korean graphic novel Moms by Yeong-shin Ma as a TV series.
The Promise by Damon Galgut has won the 2021 Booker Prize.
Book Riot Recommends
I'm a Contributing Editor at Book Riot, I write the Today in Books newsletter, and I'm a Bibliologist for Book Riot's Tailored Book Recommendations subscription service. I also have a PhD in English, so I'm basically a doctor of books. Books are my life, in other words, so in this section of the newsletter, let me share with you some upcoming books I'm super excited about. And I think you will be too!
Prepare Your Shelves!
Audiobook fans, listen up because here's one coming out next week that is particularly good on audio. The audiobook is narrated by Sue Jean Kim (Bachelorette) and Raymond Lee (Mozart in the Jungle). I love a multi-narrator audiobook, but especially when the characters are this well rendered, it's nice to hear their voices brought to life with a good narration. But if you prefer print or ebook? I'm sure all of that still comes through. Just had to give a shout out to my audiobook people!
Beasts of a Little Land is a historical fiction novel set against the backdrop of the Korean independence movement. The novel follows the stories of two characters. Jade is a young girl who sold to Miss Silver's courtesan school by her family. She meets a boy named JungHo, an orphan who makes a living by begging on the streets of Seoul, and the two form a close friendship. As the two grow older, their lives take them in different directions. Jade becomes a sought-after performer and catches the eye of a nobleman. JungHo joins the fight for Korean independence. But the two characters' fates remain intertwined.
This sweeping historical novel covers many decades of Korean history. The details are well-researched and if you're unaware of many of the details of the Korean independence movement (as I was), this story will teach you something about history. But like all exceptional historical fiction, the history and the details of the setting serve to make the characters and the story all the more compelling.
Added bonus: look at the beautiful cover.
What I'm Reading This Week
Within These Wicked Walls by Lauren Blackwood
Rock, Paper, Scissors by Alice Feeney
The Death of Jane Lawrence by Caitlin Starling
Things Have Gotten Worse Since We Last Spoke by Eric Larocca
Nothing But Blackened Teeth by Cassandra Khaw
Monday Memes
Today, I had to share this perfect meme from our very own Book Riot Instagram. It's just too good.
Other Things That Make Me Happy
I know I've been watching a lot of book-to-series adaptations lately. This week, I've got another one that's worth a watch. I finally broke down and got Peacock TV so that I could watch One of Us is Lying. The book by Karen M. McManus was so fun, and I was excited to see what they would do with the show. So far so good, though I do envy viewers that will watch and not know the answer to the mystery yet! What do you prefer? Watching the tv show/movie first and then reading the book? Or reading the book and then watching the adaptation? Again, hit me up and let me know.
And Here's A Cat Picture!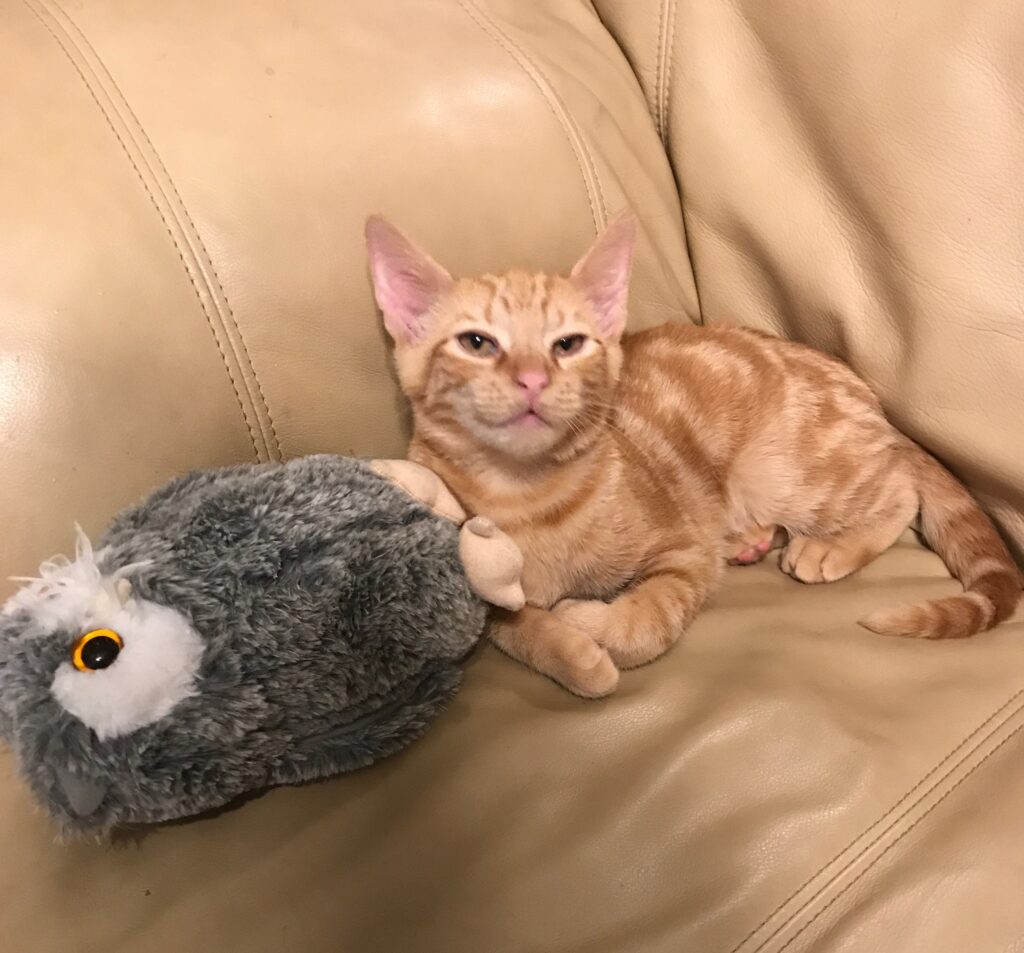 Here's another one from the archives.
This is kitten Murray. Back when Murray was tiny, this stuffed owl was his favorite toy. He'd even bathe it sometimes. Now that he's a grown kitty, he's moved on to other toys, and the owl has gone the way of all the toys in Toy Story 3. They always grow up so fast!
---
Friends, thank you so much for tuning in to Book Radar. I hope your week is wonderful. I hope it's productive if that's what you're going for, and I hope it's restful if you need rest.
❤️ Emily