Sponsored by Sleigh Bells Ring by RaeAnne Thayne.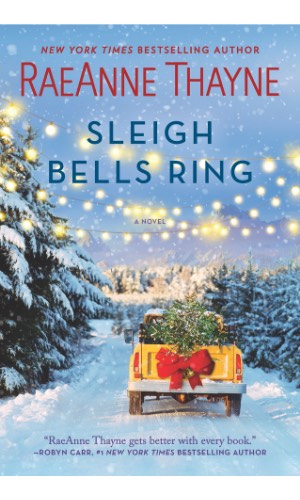 All Annie McCade and Tate Sheridan needed was a little Christmas magic—and they have a week on the ranch he's determined to unload, and she will always treasure, along with her little niece and nephew, to create a holiday to remember….
Happy Thursday, Book People.
It's me, Emily, and it's time for Book Radar. We've got lots of exciting book news and new book details all jam packed into this newsletter this Thursday. I think you're going to be excited. I'm excited. Which bit of book content in this newsletter are you going to be most excited about? Who knows? Hard to say with so much going on in the world of books. Read on and find out.
❤️ Emily
Book Deals and Reveals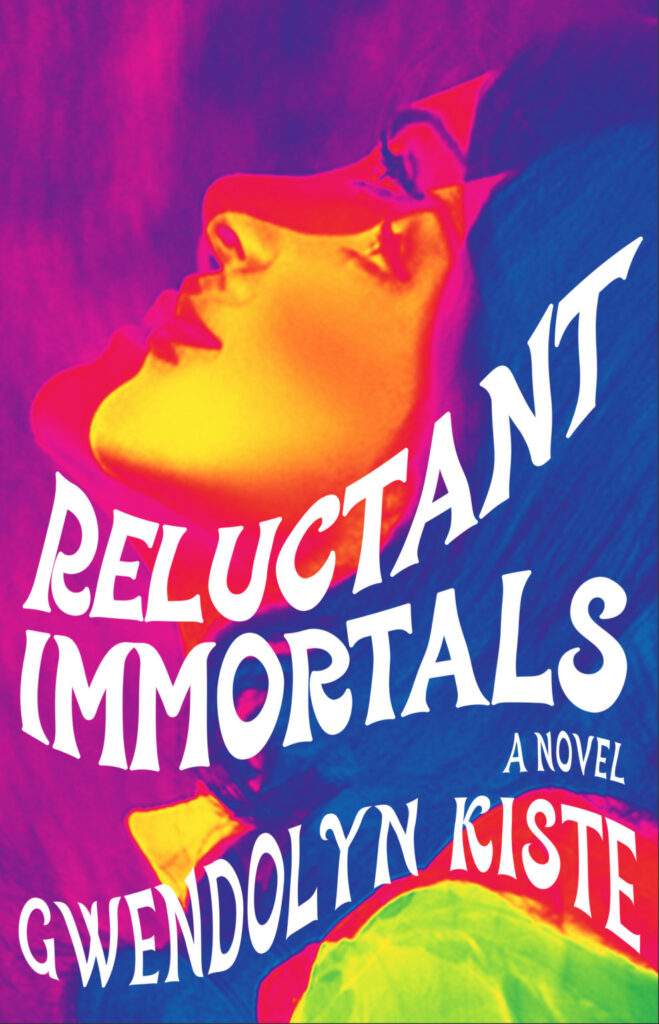 Tor Nightfire has got a cover reveal and an excerpt of Gwendolyn Kiste's Reluctant Immortals, coming August 23rd, 2022!
Silvia Moreno-Garcia's Signal to Noise is getting a rerelease with corrections and a new cover by Jim Tierney.
Here's the cover reveal of Chilean Poet, a novel from Alejandro Zambra, translated by Megan McDowell, out in February 2022. We love a black cat book cover.
We've also got a cover reveal of the upcoming novel Finding Jupiter from Kelis Rowe. This one's out May 31, 2022.
Here's a first look at Emma Straub's novel This Time Tomorrow, a new novel about time travel. The book hits shelves May 2022.
Alex Gino's acclaimed 2015 trans middle grade novel is receiving an update in the form of a new title—Melissa—and a brand-new cover.
MTV Books is relaunching and has announced their first new title will be My Life: Growing Up Asian in America, which includes an introduction by former MTV News correspondent SuChin Pak.
The second season of the Neil Gaiman fantasy series Good Omens has begun filming in Scotland.
Lisa Taddeo is releasing her first short story collection Ghost Lover on June 14, 2022. Here's the cover reveal.
The Department of Justice has sued to block the acquisition of Simon and Schuster from Penguin Random House.
Here's the trailer for the upcoming HBO Max series adaptation of Emily St. John Mandel's apocalyptic novel Station Eleven.
If you love Telltale's The Walking Dead video games, you'll be excited to know Clementine is getting her own graphic novels. Here's an exclusive preview of The Walking Dead: Clementine Book One. This series will feature a more in-depth look at Clementine's fate after the events of the Telltale games.
Book Riot Recommends
I'm a Contributing Editor at Book Riot, I write the Today in Books newsletter, and I'm a Bibliologist for Book Riot's Tailored Book Recommendations subscription service. I also have a PhD in English, so I'm basically a doctor of books. Books are my life, in other words, so in this section of the newsletter, let me share with you some upcoming books I'm super excited about. And I think you will be too!
Can't Wait for This One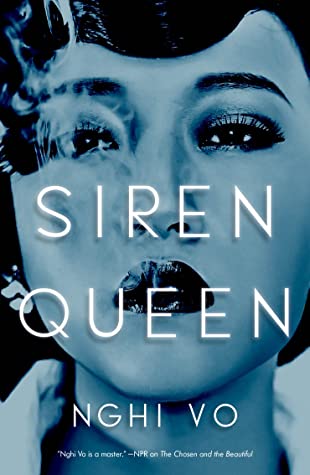 Siren Queen by Nghi Vo (Tordotcom, May 10, 2022)
I know Nghi Vo has written some incredibly excellent novellas, which I still need to go back and read, but I was first introduced to the author through her debut novel, The Chosen and the Beautiful, because when I heard "queer retelling of Great Gatsby but with magic," I was like, yes, I will read that. Now, after having read that book, I have to say that I would have probably been up for reading Vo's next novel no matter what it ended up being about. So the fact that the premise of this novel sounds really fascinating? Well, that's just an added bonus at this point.
With Siren Queen, Vo is telling another story that mixes historical fiction and magic. This one is set during the Golden Age of Hollywood. Luli Wei is a beautiful and talented young actress who is hungry for stardom. She knows how limited roles are for Chinese American women in Hollywood. And Luli lives in a world where the monsters of Hollywood are not figurative. They are very, very real. The movie business runs on a system that sacrifices young starlets like Luli. It's a system that deals in blood bargains and ancient magic. But Luli doesn't care. She's willing to do whatever it takes to see her face on movie screens—even if it means becoming a monster herself.
Stories about Hollywood. Monsters. Magic. Something about blood rituals? All this from Hugo, Locus, and Ignyte Award finalist Nghi Vo? Are you adding this to your TBR list for 2022 yet? Because I am.
Words of Literary Wisdom
"Life is strange. It's full of mistakes and regrets, and our minds are very good at bringing those out at the worst times, the times when we're most vulnerable. Like dreams. The best we can do, I think, is to figure out how to move forward. How we correct the errors that we made to give some peace to ourselves."
— The Book of Accidents by Chuck Wendig
What's Up in the Book Community?
My iPhone is constantly telling me I spend too much time staring at my screen, which is honestly so rude. But this means I spend a lot of time scrolling around the online book community: BookTube, Bookstagram, BookTok, BookLinkedIn (JK. That's not a thing… I don't think). You get the idea. Don't have the time, energy, or the will to do all of that yourself? No problem. I got you. In this weekly section of Book Radar, we'll take a look at something cool, interesting, and/or newsy that's going on in the book community.
Okay, this one goes out to all my fellow olds. If you're kinda interested in TikTok content but you kinda think TikTok is a young people's game, here's a YouTube account you should follow. BookTok posts compilations called Bookish Tik Toks Only Readers Would Get. There are a bunch of them to check out, but I linked this particular one because I love the extremely accurate parody of your typical YA heroine. But definitely watch the others! They're numbered for your convenience.
Your Weekend Reading Soundtrack
Is it too early to feel nostalgic about 2008? Whatever. On Halloween, I found myself listening to the True Blood soundtrack, and then later that night I thought to myself, welp, it's time to watch True Blood again. So now I'm telling you that maybe this weekend is the weekend you listen to True Blood music. Or maybe you rewatch the show with me. Or maybe you read the Southern Vampire Mysteries by Charlaine Harris. They're really fun. And just because it's November doesn't mean we can't still be excited about vampires. It's Halloween all year long in my heart.
And Here's A Cat Picture!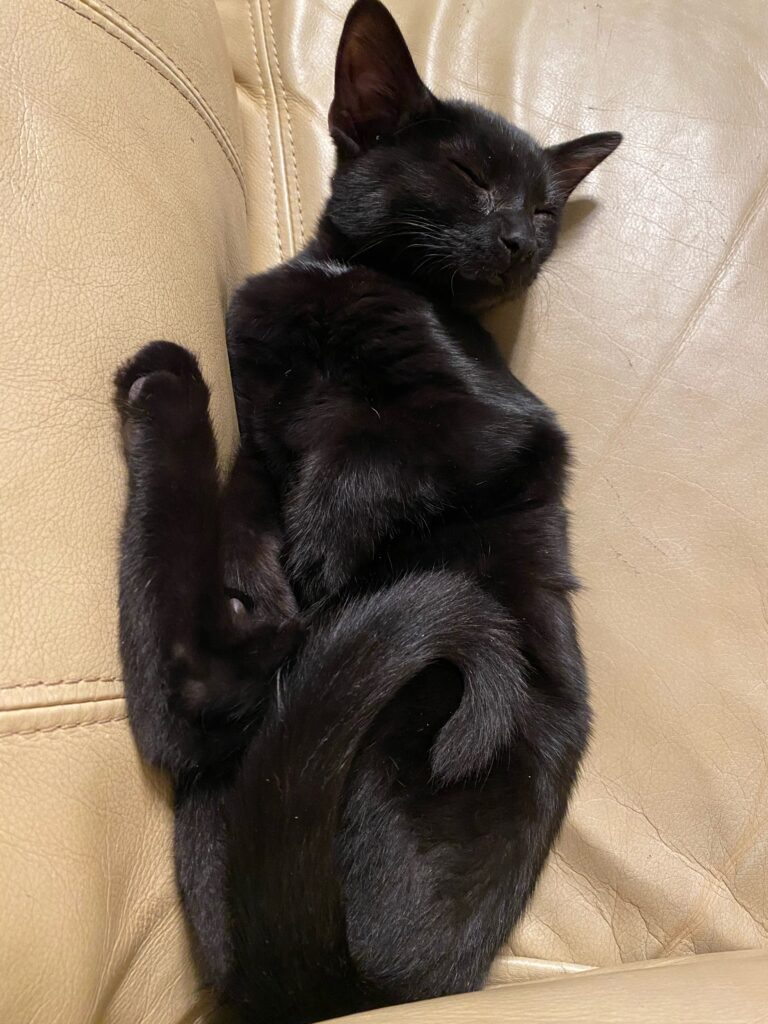 I love when cats are like "I'm people." In this image, we see Phantom sleeping on the couch almost like a person would. Cats, they're just like us! But much cuter.
Anyway, nap goals. Maybe we should all take a page from Phantom's book and take a nap for the rest of our Thursday afternoon. After all, the weather is getting chilly and outside is just so outside. And this has been your motivational talk of the day.
---
And that's all I have for you today, book friends! Have a wonderful weekend.
❤️ Emily