Sponsored by Erewhon Books/Workman Publishing.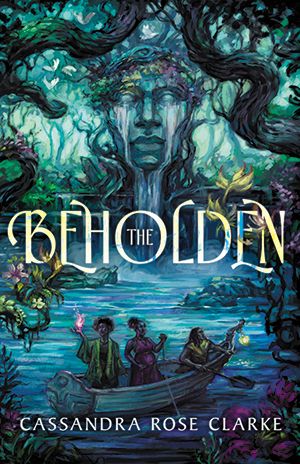 Two sisters, a pregnant aristocrat and a scholar-magician, find themselves at the center of a conflict between the god of death and the Emperor himself. Five years in debt to the Lady of the Seraphine, a powerful river goddess, sisters Celestia and Izara are tasked with an impossible quest to repay what is owed. Gorgeous, compelling, and utterly captivating, The Beholden by Cassandra Rose Clarke follows Celestia and Izara as they journey from lush rainforests to frozen deserts to find a god who doesn't want to be found, and prevent the end of the world.
Welcome to Check Your Shelf. Halloween has come and gone, but it will always be spooky season in my heart. I just keep reminding myself that there will always be plenty of fictional horrors to distract me from real life horrors, like COVID and meetings that should have been emails.
So let's talk about collections.
---
Collection Development Corner
Publishing News
Simon & Schuster announces a multi-book publishing program with Dr. Erica Armstrong Dunbar. The program will focus on stories that center Black women, and will feature titles for every age.
PRH shares its statistics on diversifying the workforce.
New & Upcoming Titles
Emma Straub's next novel, This Time Tomorrow, will hit shelves in May 2022.
Matthew Perry is writing an autobiography.
Alex Gino debuts a new official title and cover for their groundbreaking trans middle grade novel previously known as George. It will now officially be titled Melissa.
Riverhead will publish three books by Nobel Prize winner Abdulrazak Gurnah.
Sourcebooks is republishing Gertrude Beasley's 1925 memoir, My First Thirty Years, after the book was banned for obscenity shortly after its publication.
Selma Blair is releasing her memoir, Mean Baby, in April 2022.
Robert Dugoni signs a four-book deal with Thomas & Mercer.
Grady Hendrix announced the title of his next horror novel for 2022.
Here's a first look at Bloodmarked, the sequel to Tracy Deonn's Legendborn.
The New York Times will be announcing its 10 Best Books of 2021 with a virtual event only available to subscribers initially.
Publishers Weekly announces its Best of 2021: Children's & YA titles.
10 new books getting major award buzz.
The best new rom-coms to get us through the rest of 2021.
44 short new books to crush your next reading challenge.
Weekly book picks from Bustle, Crime Reads, LitHub, New York Times, and USA Today.
October picks from Crime Reads (debuts, international crime fiction).
November picks from AV Club, Epic Reads, Gizmodo (SFF), New York Times, NPR, and Pop Sugar (mysteries/thrillers, romance).
What Your Patrons Are Hearing About
Going There – Katie Couric (LA Times, NPR, Washington Post)
Baggage: Tales From a Fully Packed Life – Alan Cumming (New York Times, Time, Washington Post)
Burning Boy: The Life and Work of Stephen Crane – Paul Auster (LA Times, New York Times)
The Chancellor: The Remarkable Odyssey of Angela Merkel – Kati Morton (New York Times, USA Today)
RA/Genre Resources
The charm of the paranormal cozy.
How to manage your ever-expanding TBR stack.
Why we need Goosebumps more than ever.
Where to start with the horror fiction of Ramsey Campbell.
The enduring appeal of Dune as an adolescent power fantasy.
On the Riot
The best books you've never heard of (Fall 2021).
3 new YA vampire books.
The most anticipated weekly new releases.
Why this reader is tired of queer booklists without context.
What murder mysteries get wrong about the law.
Reading pathway for Stephen Graham Jones.
Tips for reading horror when you're a scaredy cat.
The rise of middle grade and YA Black horror.
Are we in the middle of a gothic horror boom?
Why do kids love Stephen King?
A guide to Japanese poetry forms.
All Things Comics
10 DC comics that take a more lighthearted approach to Halloween.
On the Riot
Horror webcomics to read on Halloween (or all year long)!
10 comics about witches and other dark magical creatures.
Audiophilia
The best creepy audiobooks to listen to at night.
New scary Halloween listenings for kids and teens.
On the Riot
We need to stop asking the question, "Do audiobooks count as reading?"
Book Lists, Book Lists, Book Lists
Children/Teens
14 YA books with Indigenous representation.
24 standalone YA novels you can read in one sitting.
Adults
5 books that reveal the human cost of war.
Books to celebrate Native American Heritage Month.
16 amazing books with dynamic asexual characters.
9 diverse books with bisexual+ main characters.
5 books for people who crave more vampires.
Horror novels for a chilling Halloween.
12 of the scariest books you'll ever read.
5 works of cosmic horror.
13 great Canadian books to read on Halloween.
13 spooky-but-not-scary stories.
17 horror comedies to make you shriek with laughter.
13 sexy horror novels to add to your TBR pile ASAP.
9 books with literary witches and warlocks.
On the Riot
The best Greek mythology books for kids.
Jewish YA books: more than the Holocaust.
The most underrated YA books of the pandemic.
The best LGBTQ books that aren't YA.
15 LGBTQ haunted horror novels.
12 great horror novel/movie pairings. (This is honestly one of my favorite ways to match someone up with a horror novel.)
8 feel-good horror novels (and yes, that is totally a thing!).
8 of the best Japanese horror reads.
8 books that mix love and murder.
12 interracial romances between characters of color.
15 WLW romance books like One Last Stop.
The best dark fantasy books to enchant your life.
11 enchanting books for fans of Miyazaki Films.
9 books about coming of age in the 90's.
Don't forget to check out our new podcast Adaptation Nation, all about TV and film adaptations of your favorite books!
Level Up (Library Reads)
Do you take part in Library Reads, the monthly list of best books selected by librarians only? We've made it easy for you to find eligible diverse titles to nominate. Kelly Jensen created a database of upcoming diverse books that anyone can edit, and Nora Rawlins of Early Word is doing the same, as well as including information about series, vendors, and publisher buzz.
---
Hope you all got your spooky fix this weekend! I'll see you all on Friday.
—Katie McLain Horner, @kt_librarylady on Twitter.