Sponsored by Nightfire.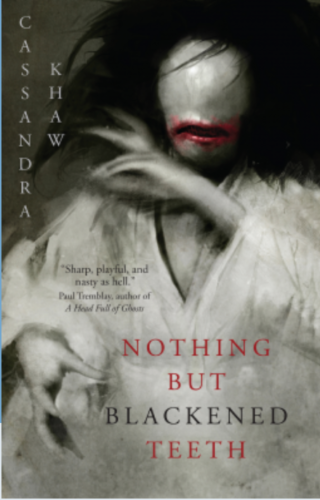 Nothing But Blackened Teeth is a gorgeously creepy tale, steeped in Japanese folklore and full of devastating twists. A Heian-era mansion stands abandoned, its foundation rests on the bones of a bride, its walls packed with the remains of the girls sacrificed to keep her company. It's perfect for a group of thrill-seeking friends reunited to celebrate a wedding. A night of celebration spirals into a nightmare as secrets are revealed and relationships are tested. The house holds secrets, too. Lurking in the shadows is the ghost bride with a black smile and a hungry heart. And she gets lonely down there in the dirt.
Hey‌ ‌there‌ horror fans, ‌I'm‌ ‌Jessica‌ ‌Avery‌ ‌and‌ ‌I'll‌ ‌be‌ ‌delivering‌ ‌your‌ ‌weekly‌ ‌brief‌ ‌of‌ ‌all‌ ‌that's‌ ‌ghastly‌ ‌and‌ ‌grim‌ ‌in‌ ‌the‌ ‌world‌ ‌of‌ ‌Horror.‌ ‌Whether‌ ‌you're‌ ‌looking‌ ‌for‌ ‌a‌ ‌backlist‌ ‌book‌ ‌that‌ ‌will‌ ‌give‌‌ you‌ ‌the‌ ‌willies,‌ ‌a‌ ‌terrifying‌ ‌new‌ ‌release,‌ ‌or‌ ‌the‌ ‌latest‌ ‌in‌ ‌horror‌ ‌community‌ ‌news,‌ ‌you'll‌ ‌find‌ ‌it‌ ‌here‌ in‌ ‌The‌ ‌Fright‌ ‌Stuff.
Welcome to November, friends! While another Halloween may be behind us, we all know that our favorite creepy season lives in our hearts year round. How else do you explain all those Christmas horror movies and books? Still, it's the start of another month which means it's new releases day! As you might expect, following October's veritable flood of amazing new horror titles, November is shaping up to be a quieter month for the genre, but there are still some amazing titles being released. Including three anthologies of dark and/or horror short fiction that I'm really excited about!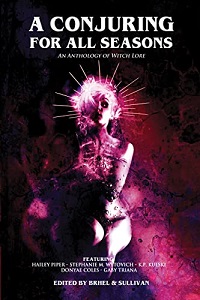 Oh my sweet decaying jack-'o-lanterns, this is going to be the perfect post Halloween read. I could not be more excited. As opposed to the other anthologies on this list which are short and fiction based, A Conjuring for All Seasons is a collection of novelettes from five practicing witches and talented horror authors. Hailey Piper leads the way with "Magic Loves the Hungry" about a woman being haunted by an unknown entity that seems to feed on her anxieties and her hunger to belong. Stephanie M. Wytovich's "Drawing Down the Sun" is about Anne, the first Clement daughter in over 200 years, who sets out to discover the truth behind the curse that was placed on her family. "Milk Kin" by K.P. Kulski is about a young woman called Ruby who is haunted by the memory of her mother's abduction by a long-fingered woman from the forest, who returns every year to pierce Ruby's heel with a long silver needle. Donyae Cole's "The House of the Heart" is a story about the living practice of hoodoo, family, and knowing when things have gotten too out of hand and it's time to call in the ancestors. And last but certainly not least, "Longest Night" by Gaby Triana is about two witches "recently out of the broom closet" who decided to throw a Yuletide party that takes an unexpected and deadly turn when it's crashed by some uninvited guests.
Oh look, Jessica is talking about eco-horror again. But in my defense, this forthcoming anthology from Ghost Orchid Press looks like it's going to be absolutely amazing. There are a few horror authors that I recognize, like Nico Bell and Sonora Taylor (and Stephanie M. Wytovich, making her second appearance on this list), but there are a lot of new to me authors as well, which is exciting! Chlorophobia explores the many ways in which the earth can turn against us in its attempt to destroy us or drive us off the planet. Everything from killer plants, to dangerous viruses and obliterating fogs!
My only complaint about the Chlorophobia anthology is that the TOC is very white. A lot of horror anthologies have this problem, so I'm not picking on just this one, but lack of diversity in horror anthologies is an ongoing issue, genre wide, and it should be kept in the spotlight. However, to give credit where credit is due, Chlorophobia features a number of queer horror authors!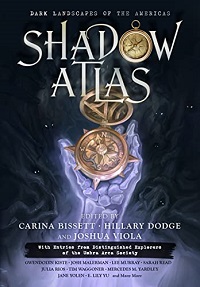 Shadow Atlas is more heavily dark fiction inclined than strictly horror, but take a look at the list of contributors and you'll find a lot of familiar horror names! It includes fiction and poetry by, among others, Kay Chronister, Gwendolyn Kiste, Owl Goingback, Josh Malerman, Lee Murray, Christina Sng, Betty Rocksteady, and E. Lily Yu! The premise for the anthology is that a secret organization call the Umbra Arca Society was created to discover the truths the ancients knew about the haunted places of the world that have long since been relegated to myth and superstition. A private league of explorers, the Society dedicated itself to the secret mysteries of the Americas, and each story in the collection represents the work of one of these intrepid adventurers as they set out to explore the dark and dangerous landscapes long forgotten by the modern world.
Just as a note, since I pointed out a similar problem with Chlorophobia, Shadow Atlas does feature work by several authors of color, which I'm really excited about, but we're still talking about maybe 20% of the total authors featured in the collection. Of course, editors work with both time constraints and, in the case of an indie publisher like Hex Publishers or Ghost Orchid Press, somewhat limited resources, so again I'm definitely not assigning blame to a single anthology. And every TOC that includes authors of color, as Shadow Atlas' does, helps to promote their work and increase the likelihood that future anthologies will become even more diverse!
Fresh From the Skeleton's Mouth
Obviously these three fantastic anthologies are not the only books coming out this month! So if you're looking for more new releases be sure to check out Nightfire's list of 2021 new horror releases!
The Chicago Public Library hosted a Feel the Fear Panel on October 27 that is now available to stream on Youtube! It featured authors Stephen Graham Jones, Alma Katsu, and Hailey Piper, and was moderated by Becky Spratford (@RAforAll).
Over at Book Riot, we've got a brand new podcast, Adaptation Nation, all about TV and film adaptations of your favorite books! Given how many amazing horror adaptations are in the works right now, you should definitely keep your eye on Adaptation Nation for all the latest news.
---
As always, you can catch me on twitter at @JtheBookworm (https://twitter.com/JtheBookworm), where I try to keep up on all that's new and frightening.