Sponsored by Nightfire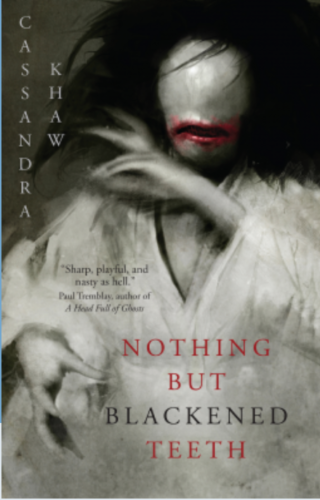 tk
Grady Hendrix Announces Title of His Next Novel
Earlier today on Twitter, horror author Grady Hendrix announced the title of his new novel. The novel is entitled How to Sell a Haunted House, and it's expected to release on July 12. The short description of the novel reads, "New York Times bestselling author Grady Hendrix takes on the haunted house in a hilarious and terrifying new novel that explores the way your past—and your family—can haunt you like nothing else…" Hendrix is the author of several bestselling horror novels, including The Southern Book Club's Guide to Slaying Vampires and The Final Girl Support Group.
Tessa Thompson's Viva Maude to Adapt Luster by Raven Leilani for HBO
Gaumont is partnering with Tessa Thompson's Viva Maude to develop Raven Leilani's bestselling debut novel Luster for HBO. Author Raven Leilani posted the news on Instagram earlier today, writing, "What is life. Huge thank you to @tessamaethompson @kishori_rajan @kassieevy, Ellen, @viva.maude @jaqs1205, Lileana, Gaumont, @fsgbooks, and HBO. Absolute dream team." Writing the script for the project will be Pulitzer Prize-winning playwright Jackie Sibbles Drury and Lileana Blain-Cruz, recipient of the Lincoln Emerging Artist Award.
In a statement, Tessa Thompson said, "Luster marks the daring debut by Raven Leilani, a seminal voice for her generation. In her work, which defies categorization, there is an astonishingly singular quality that speaks to spirit of the types of narratives Viva Maude aims to showcase — bold, beautifully crafted, unapologetically human, imaginative and unconventional — it is thrilling to be teamed with Gaumont and the stunning talents of Jackie Sibblies Drury and Lileana Blain-Cruz to develop this story at HBO, the perfect home."
Contemporary Literature Isn't Ignoring COVID-19
Have you been wondering how new works of literature would deal with the COVID-19 pandemic? Well, your answer is coming. While some novels have briefly mentioned quarantining and the pandemic, two upcoming works are facing it head-on: Sarah Hall's Burntcoat and Gary Shteyngart's Our Country Friends. Both novels will be out on November 2nd of this year.
Rare Fragment from Shakespeare's First Folio on Auction Block
Shakespeare fans, get your bids ready. A rare fragment of Shakespeare's First Folio, which contains Henry IV Part One, will soon be up for auction. Bidding will begin at $26,000, and the folio is estimated to sell for $100,000.