Sponsored by Nightfire.
Launched in 2019, Nightfire, the new horror imprint from Tor, encompasses the breadth of horror, from short story collections to novellas and novels, from standalone works to series, from dark fantasy to the supernatural, from originals to reprints of lost modern classics. Nightfire's novels are now appearing on shelves in bookstores and libraries near you. Do you dare stretch the spines on these terrifying titles this autumn?
Hey‌ ‌there‌ horror fans, ‌I'm‌ ‌Jessica‌ ‌Avery‌ ‌and‌ ‌I'll‌ ‌be‌ ‌delivering‌ ‌your‌ ‌weekly‌ ‌brief‌ ‌of‌ ‌all‌ ‌that's‌ ‌ghastly‌ ‌and‌ ‌grim‌ ‌in‌ ‌the‌ ‌world‌ ‌of‌ ‌Horror.‌ ‌Whether‌ ‌you're‌ ‌looking‌ ‌for‌ ‌a‌ ‌backlist‌ ‌book‌ ‌that‌ ‌will‌ ‌give‌‌ you‌ ‌the‌ ‌willies,‌ ‌a‌ ‌terrifying‌ ‌new‌ ‌release,‌ ‌or‌ ‌the‌ ‌latest‌ ‌in‌ ‌horror‌ ‌community‌ ‌news,‌ ‌you'll‌ ‌find‌ ‌it‌ ‌here‌ in‌ ‌The‌ ‌Fright‌ ‌Stuff.
It's Halloween week! We are only a few days away from the best day of the year. Though plans can still be hard to come by this year I hope you're all anticipating a fun, horror-filled holiday. And whether you're going to be out and about, or camping out in your own living room with candy, snacks, and something scary, I wish you all a Happy Halloween!
Since this is our last Fright Stuff before the big day arrives, I thought we'd do something fun. A little bookish horror trick or treat. In the spirit of Halloween I've pulled together some amazing Halloween horror reads and some delightfully bookish Halloween swag! Get ready for:
Some Terrifying Tricks…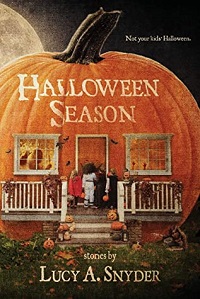 You know I love a short short collection, and that goes double for the fantastic, holiday-themed Halloween Season by Lucy A. Snyder. Halloween Season is a collection of stories inspired by the many facets of Halloween. From the traditional trappings of the holiday— the chilling haunted houses that pop up in abandoned forts or winding corn mazes to the buckets of candy and scary movie marathons— these stories run the gamut from chilling to hilarious, so there's a little something for every kind of horror reader.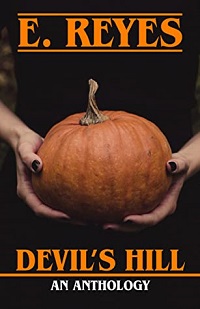 Must-read Halloween collection number two on our lists is Devil's Hill by E. Reyes. These fifteen Halloween-inspired stories offer readers a range of terrifying delights all set in the town of Devil's Hill, Arizona where, for one long night, the veil between the living and the dead has been lifted and evil has been set free in the streets. Each story is its own, separate narrative, but all fifteen are connected to the fallout of a summoning spell which imbued a scarecrow with the consciousness of an ancient god. Because what could POSSIBLY go wrong with that scenario? As if scarecrows weren't creepy enough already.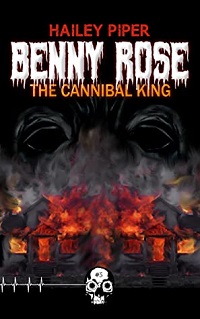 If you like your Halloween a little retro and a lot bloody, with a side serving of flesh-eating, I can't recommend a better horror read for the holiday than Benny Rose, the Cannibal King! A Halloween prank goes horribly wrong in Blackwood, Vermont when a vicious Halloween storm in 1987 leaves high school student Desiree St. Fleur, her friends, and the unfortunate new girl they were trying to prank stranded far from home. It was just supposed to be a bit of seasonal fun, inspired by Blackwood's own dark legendary figure: Benny Rose, the Cannibal King. Now the girls are lost in an unfamiliar neighborhood, hunted through the streets by a figure straight out of the legend itself.
And Some Seriously Sweet Treats.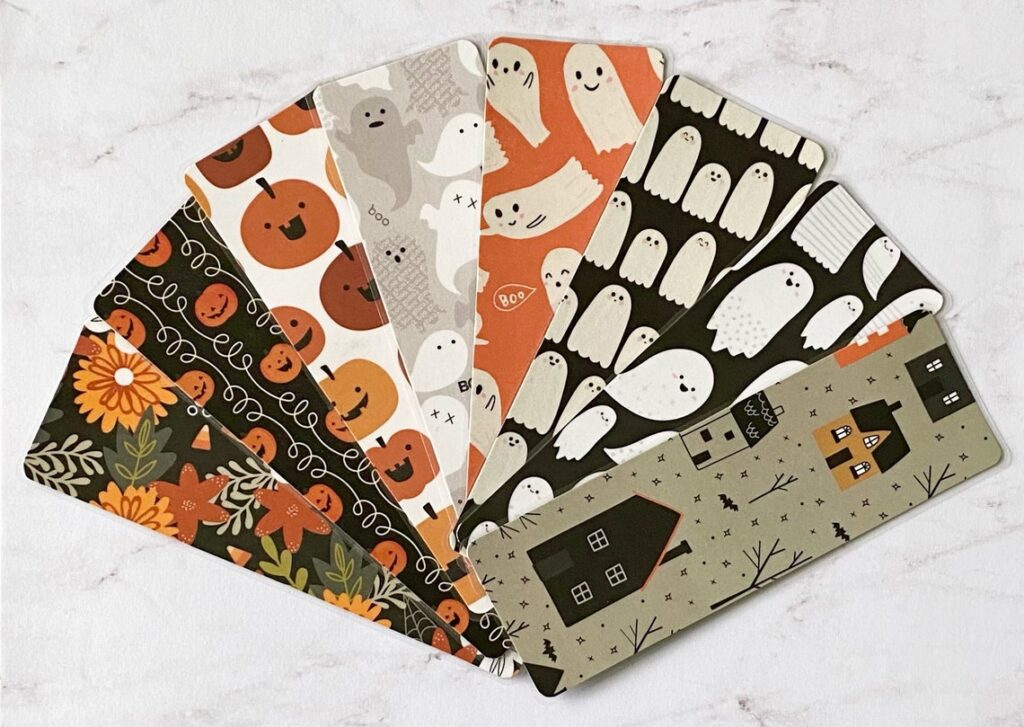 Halloween-Inspired Bookmarks
Shall we start with bookmarks? You can never have too many (particularly since mine always seem to grow legs and walk off the second I'm not looking at them…) and these Halloween themed bookmarks are particularly adorable.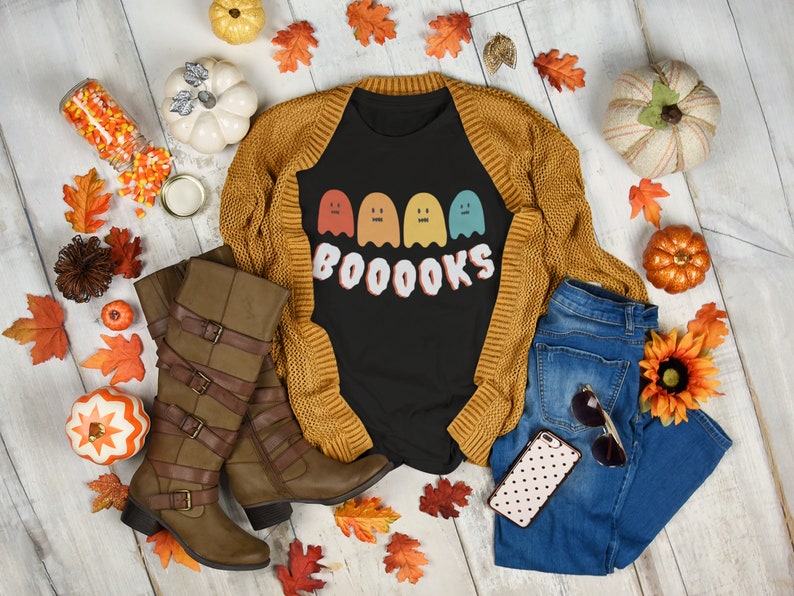 "Booooks" Ghostly Halloween T-Shirt
Speaking of adorable, how cute is this booooookish Halloween t-shirt? Yes, I know this is the second adorable ghost item in a row. But look I am a simple girl with simple needs, and I…. may need to order one of these t-shirts.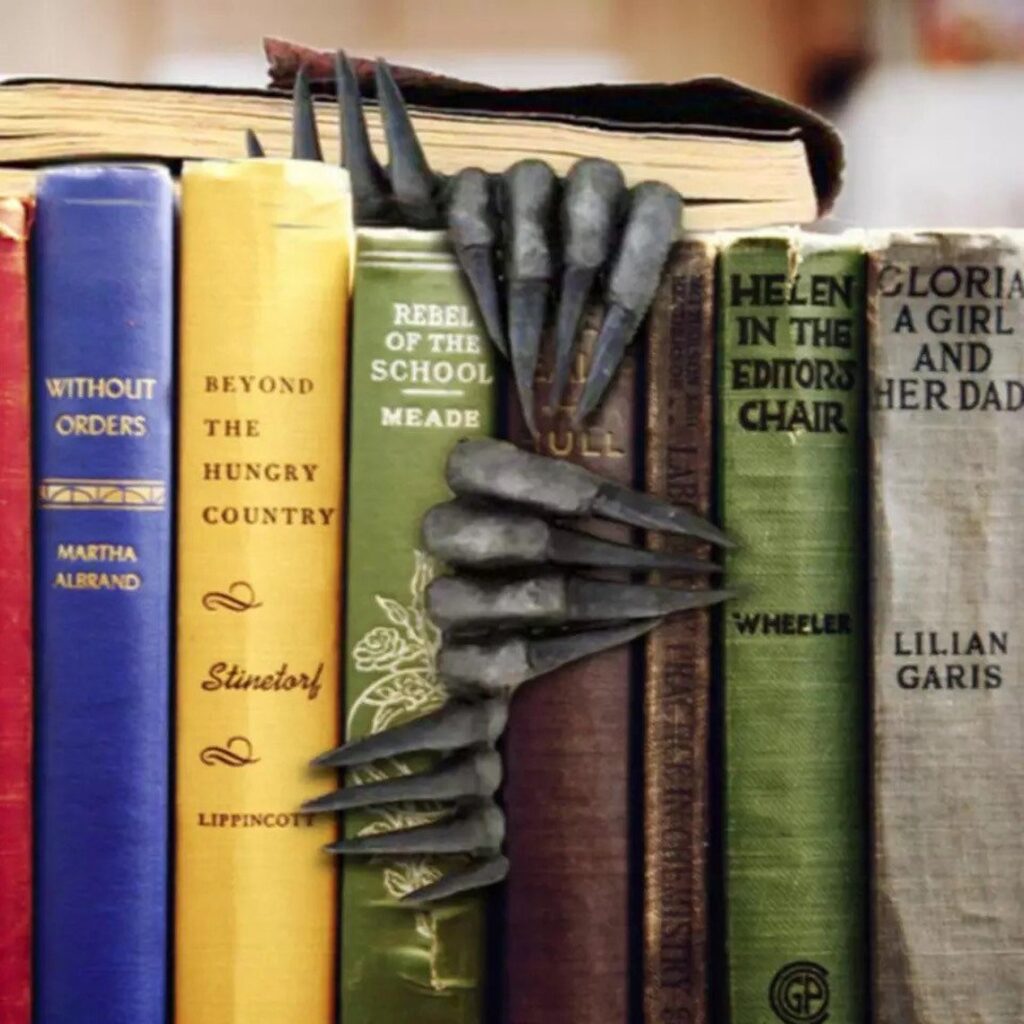 Creepy Book Fingers
I'm not sure if this counts as a bookmark, or book ends, or just a really phenomenal piece of bookshelf décor, but oh my gosh how creepy is this set of monster fingers? Can you imagine forgetting that you put this on your shelves only to look over and scare yourself half to death? Perfection. 10/10 recommend waiting until your houseguests are not looking before slipping this in between a couple of books and sharing the scare.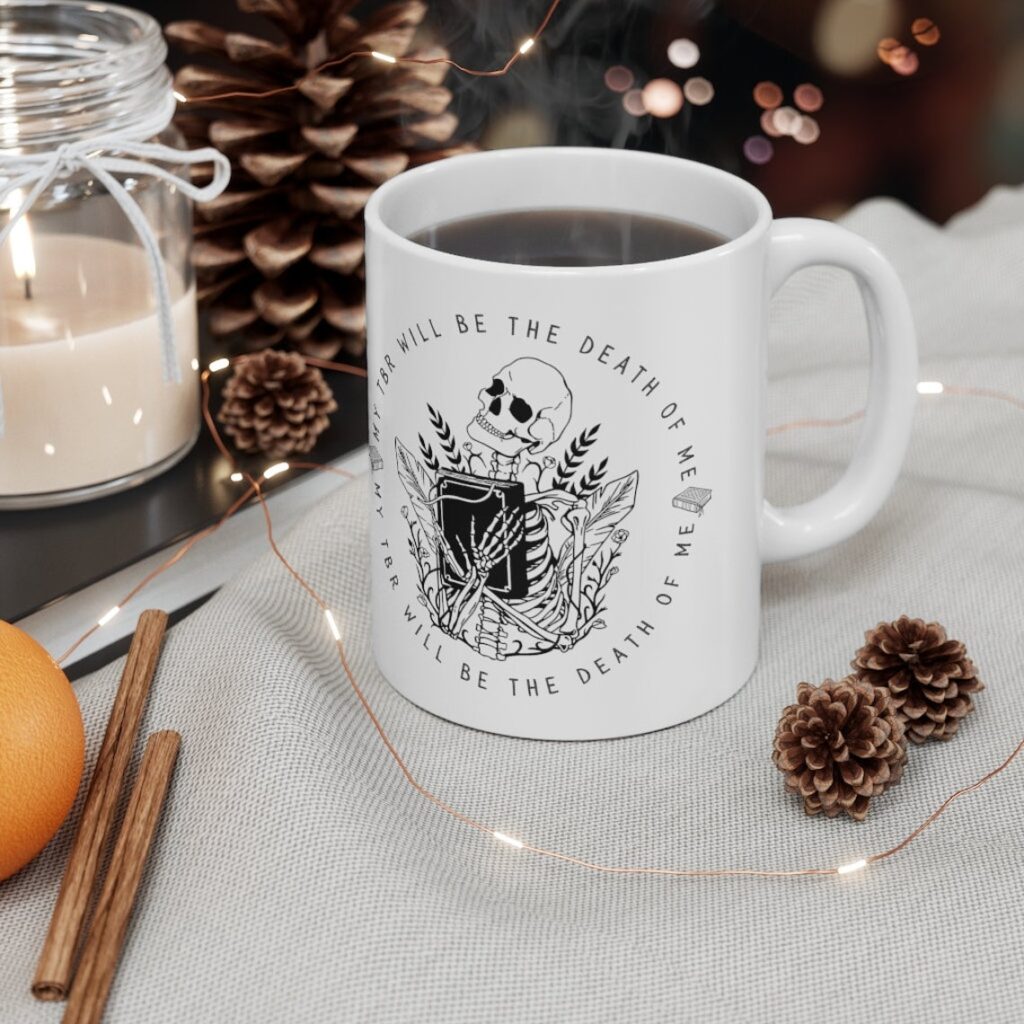 Death by TBR Mug
Skeletons are one of my favorite parts of Halloween. So please share my delight in this extremely relatable skeleton mug as we all embrace the inevitability of never finishing our TBRs. And possibility of being literally killed by them, in the instance of a fatal book avalanche.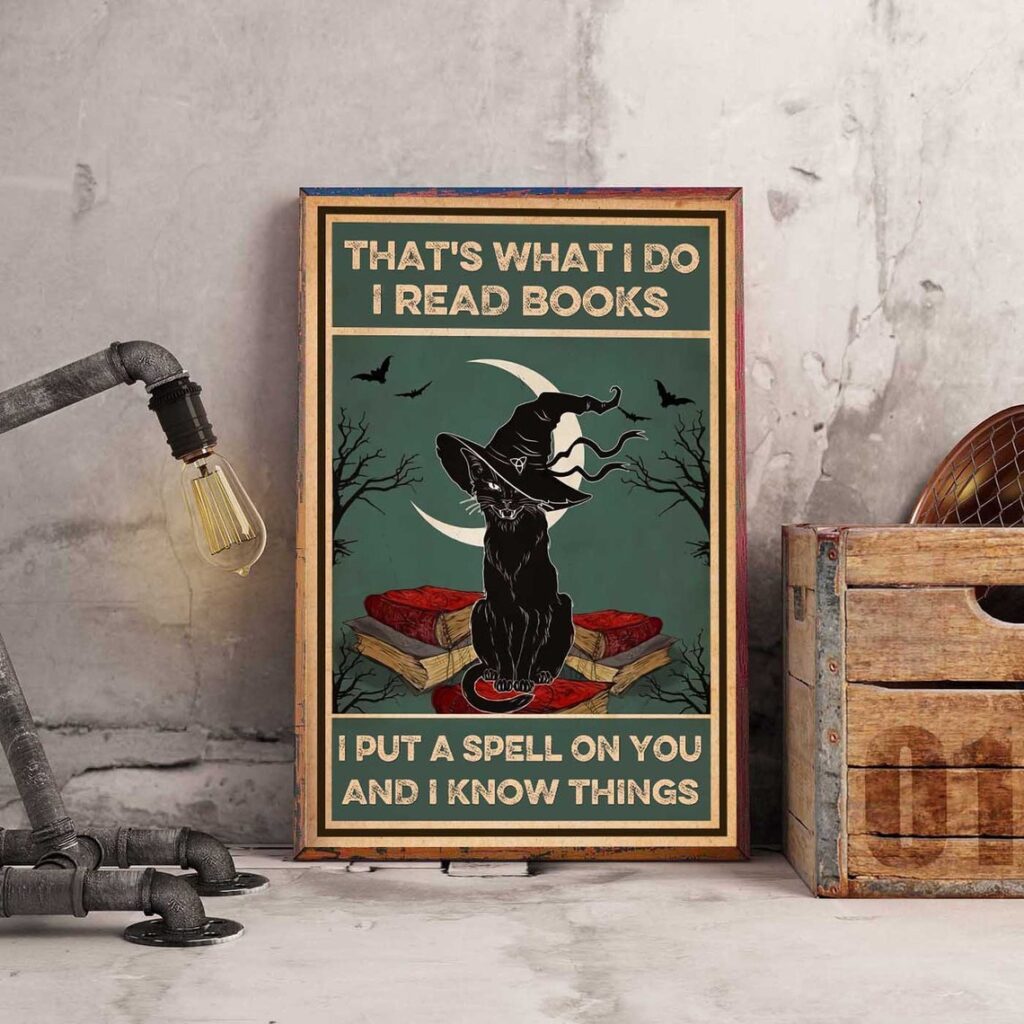 "That's What I Do" Black Cat Poster
Confession? Halloween is the time of year when I buy like 90% of my home décor. That includes wall art, and I love this bookish black cat print. I adore the colors and the vintage-esque design. It feels very classic Halloween!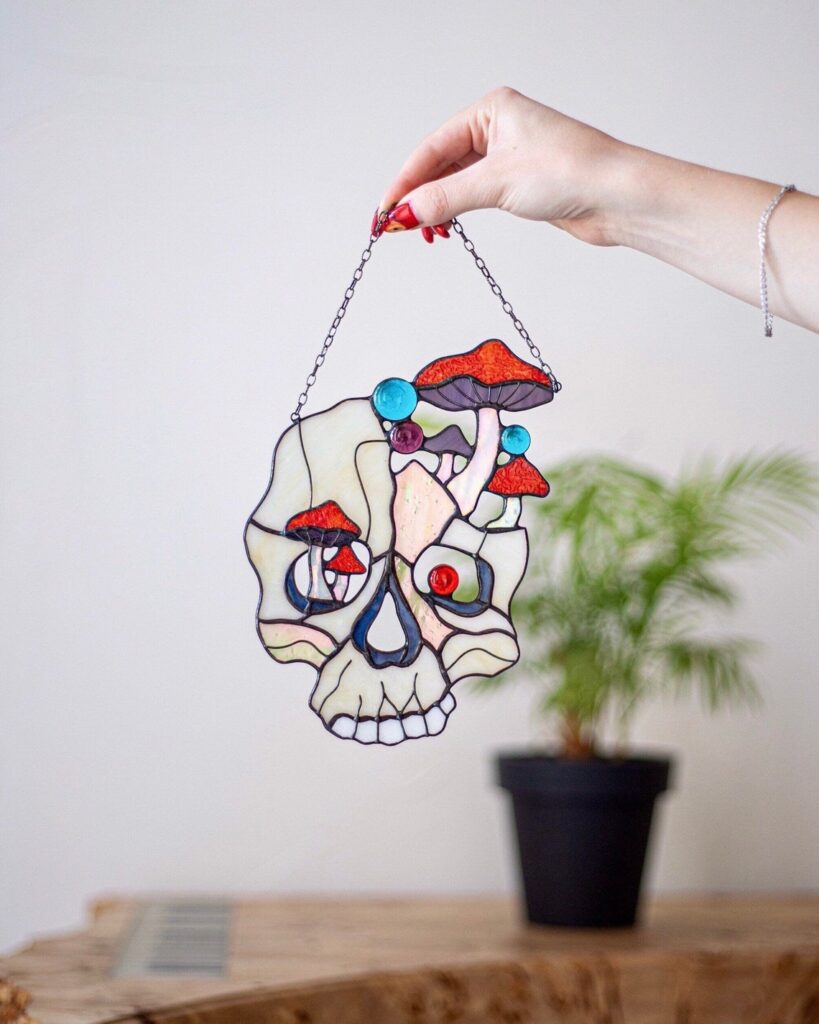 Fly Amanita Skull Stained Glass Suncatcher
MUSHROOMS. Okay, yes, I know that this isn't explicitly bookish. But how. Absolutely. Incredibly Gorgeous is this suncatcher? Y'all know my unabashed obsession with horror fungi. So of course my heart went pitter patter in my chest when I saw this piece. And I highly recommend checking out the artists entire Halloween collection! They're creepy glass perfection.
Fresh from the Skeleton's Mouth
Tor is killing it with their horror content this Halloween season, and today's picks are very… toothy. Linden Lewis is recommending 5 Books for People Who Crave More Vampires, which includes the much anticipated re-release of Silvia Moreno-Garcia's Certain Dark Things and my beloved fav A Dowry of Blood by S.T. Gibson. And Lee Mandelo wrote a fantastic piece on Cassanda Khaw's new novella Nothing But Blackened Teeth.
Stephen Graham Jones' amazing slasher homage, My Heart is a Chainsaw, is getting a sequel!
For your weekly dose of Book Riot horror content, Emily Martin pulled together a list of terrifying middle grade books for the budding horror fan in your life! And Jamie Canaves discusses the ways in which fictional horror can help us escape from the ever day horrors of the world we live in.
As always, you can catch me on twitter at @JtheBookworm, where I try to keep up on all that's new and frightening.