Sponsored by How to Be a Girl by Marlo Mack.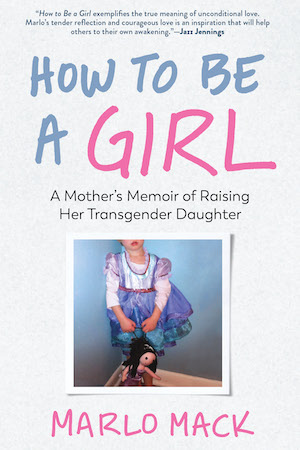 A poignant narrative of one mom's struggle to support her transgender daughter—showing how any parent can forge a deeper bond with their child by truly listening. Following the life of her transgender daughter, M. from birth through age 8, and set against the backdrop of trans issues of the last 5 years, this book balances a mother's love for her child with her fears about the dangers facing transgender people today. It doesn't shy away from uncovering the layers of denial that come before full acceptance, which many parents will relate to. Click to download an egalley now!
Welcome to Check Your Shelf. I don't know if it's the time of year, but October always seems to be the time when I just hit a mental wall when it comes to work, and this year is no different. Of course, there's also the fact that we're dealing with staff shortages and COVID and all kinds of major difficulties, but that just means that I'm hitting the mental wall HARD. Whatever self-care practices you all have, now's the time to start using them while we try to figure out the economic and structural inequalities of our workplaces…
But I digress.
---
Libraries & Librarians
News Updates
Singer and artist Solange debuts a free library of rare books by Black authors.
Why did the chicken cross the road? To get to the Haubstadt Public Library!
Cool Library Updates
The Madison (WI) Public Library launches a Native American Storyteller-in-Residence program.
The Dallas Public Library expands library access to all teachers and students in the city.
Worth Reading
Library Journal's State of Academic Libraries survey report has been posted.
Book Adaptations in the News
A Tales of the Walking Dead anthology series has been picked up by AMC for Summer 2022.
Netflix is moving forward with a To All the Boys I've Loved Before spinoff.
Dash & Lily has been canceled after one season.
Netflix has already renewed You for a fourth season.
Casting update for Aristotle and Dante Discover the Secrets of the Universe.
Banned & Challenged Books
An administrator in the Carroll Independent School District (TX) advised teachers that if they have a book about the Holocaust in their classrooms, they need to provide students access to a book that provides an "opposing" perspective. Yes, seriously.
Virginia Beach School Board members are fighting to remove four books from the school curriculum due to their "pornographic nature:" The Bluest Eye by Toni Morrison, Lawn Boy by Jonathan Evison, A Lesson Before Dying by Ernest Gaines, and Gender Queer by Maia Kobabe.
The Craighead County (AR) Jonesboro Public Library board did not remove three challenged titles from the children's section: It's Perfectly Normal, Gender Queer, and Later Gator.
Bayfield Middle School in Colorado has been accused of banning the YA novel Aristotle and Dante Discover The Secrets of the Universe by Benjamin Alire Sáenz.
A Hamilton County school board member is concerned about how some books made it into the school system.
"Domestic terrorists" challenge books in Texas, Indiana, Maine, and more.
No dinosaurs, bikinis, or Harry Potter: the silent censorship of Dutch school books.
Books & Authors in the News
Former Secretary of State and author Colin Powell has died at 84.
Mary Kay Inc. files a lawsuit against Jennifer Bickel Cook, the long-time personal administrative assistant to Mary Kay Ash and the author of the new book, Pass It On: What I Learned from Mary Kay Ash.
Award News
The Planeta Prize awarded its €1m prize to Spanish thriller writer Carmen Mola, which turned out to be a pseudonym for three male authors.
The 2021 T.S. Eliot Prize shortlist has been announced.
The longlists for the Andrew Carnegie Medals in Fiction and Nonfiction have been announced.
A new Ursula K. LeGuin Prize for Fiction has been announced. The winner will receive a $25,000 cash prize given to a single book-length work of "imaginative fiction."
Pop Cultured
What makes John Carpenter's The Thing so effing scary? (Not going to lie, this is one of my absolute favorite horror movies of all time!)
On the Riot
A librarian's perspective on e-lending.
Women's work, women's words: feminist library history.
Why a typo-ridden Psalm book fetched $14.2 million at auction.
How to swap your phone time for reading time.
Launching a book during the pandemic.
The ideal way to introduce your children to Star Wars.
Don't miss Book Riot's 10th anniversary merch! Only available in October.
---
Well, that's it for me, folks. Take a breather this weekend, and I'll see you all on Tuesday!
—Katie McLain Horner, @kt_librarylady on Twitter. Currently listening to Two Girls Down by Louisa Luna.