Sponsored by Wonderbound – the new Young Readers graphic novel imprint!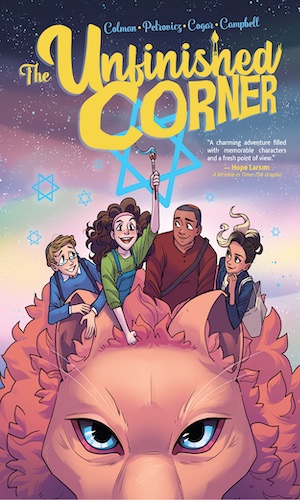 tk
Frances Lincoln Gives Free Copies of This Book is Anti-Racist to Schools
Frances Lincoln Children's Books is partnering up with with Peters, a school library supplier, to give UK schools free copies of This Book is Anti-Racist by Tiffany Jewell and Aurélia Durand. The book teaches readers about the history of racism and the resistance against it, and it shows readers how they can become an active part of the antiracist movement. Claire Bowles, the sales and marketing director for Peters said, "We're committed to supporting schools in ensuring they have diverse and inclusive books that empower all children and young people, so we're delighted to be partnering with Quarto to get this important book into the hands of secondary school students across the UK." The book will be available to libraries and secondary schools throughout the month of October to coincide with the UK's Black History Month.
Netflix Moves Forward with To All the Boys I've Loved Before Spinoff
Earlier this year, there were whispers that a To All the Boys I've Loved Before spinoff series was in development. Now, Netflix has officially handed out a 10-episode series order for XO, Kitty, a half-hour comedy starring Anna Cathcart, reprising her role as Kitty Song Covey. Jenny Han, author of the To All the Boys series, will serve as a show-runner on the new series alongside Sascha Rothchild (GLOW, The Baby-Sitters Club, The Bold Type). Han and Rothchild will also executive produce alongside Matt Kaplan from ACE Entertainment. There is no word yet on when the series will be released.
The Ezra Jack Keats Foundation Has Released a Documentary on Diversity in Children's Books
The Ezra Jack Keats Foundation has just released a documentary on diversity in children's books, which is available to view for free on their website. "Tell Me Another Story" is a 30-minute free access documentary, produced by the EJK Foundation, in association with The Office Performing Arts + Film, that "presents a compelling and lively portrait of the giants, past and present, who have advanced diversity in picture books, illuminating the reality that multicultural literature is critical to our children's quality of life and the health of our society." The documentary is directed by Damani Baker.
In Defense of Harley Quinn
Harley Quinn has been getting a lot of attention lately. Here's why the DC star deserves all her recent shine.