Sponsored by Dust & Grim.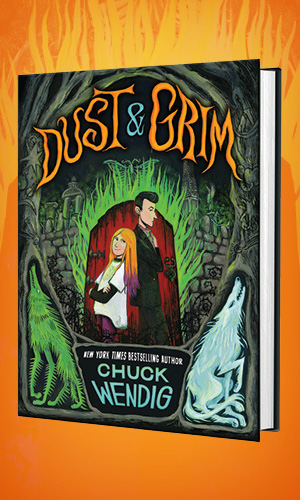 Thirteen-year-old Molly doesn't know how she got stuck being raised by her neglectful father while Dustin, the older brother she's never met, got the keys to the family estate. But now that the siblings are both orphaned, she's come home for her inheritance. There's just one problem: the family business is a mortuary for monsters, and Molly's not sure she's ready to deal with talking wolves, devourers of magic, and a secret cemetery. It's going to take all of Dustin's stuffy supernatural knowledge and Molly's heroic cosplay to save the day… if only they can get along for five minutes.
Hey readers! I'm back with another week of new children's books.
In this funny picture book, unicorn Bubble 07 heads to Earth to decide if his team of unicorns should move forward with their plan to invade Earth. Posing as a stuffed animal, he infiltrates the home of Earthling Daughter and has to put up with all manner of annoyances. He eventually has to decide if he can keep to his mission or if he'll be overcome by Earthling Daughter's kindness and love.
Concealed by Christina Diaz Gonzalez
In this twisty thriller, Katrina and her family have been in the Witness Protection Program for as long as she can remember, which is only as far back as ten. Katrina's adopted multiple names and multiple backstories to preserve their secret, until their location is revealed and her parents go missing.
This is the first LGBTQ anthology for middle grade readers and features stories from Justina Ireland, Mark Oshiro, Claribel Ortega, and more.
In this middle grade novel, Mari's excited to spend the summer at her family's Style High for teenagers who love fashion. But when she gets there, Mari realizes that she doesn't fit in with everyone else, like her best friend Justice who didn't want any special treatment in getting in. But Mari did get special treatment, and as the summer goes on, she begins to realize some difficult truths about herself and her family.
This book dives into the history of pre-colonial Africa. It explores the history of the continent through ten not often discussed figures who will prove fascinating and admirable to young readers.
---
Until next week!
Chelsea