Sponsored by Oni Press.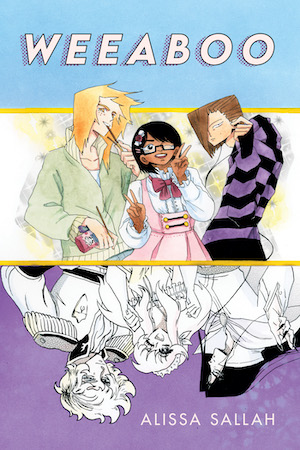 It's their senior year of high school, and three friends are preparing for the big anime convention that's happening right after graduation. Even though they've known each other for years, the friends are discovering that real life isn't like a cartoon, and that friends grow up and sometimes apart. This is a story about appropriation, identity, and what it means to change. It's a celebration and dissection of anime fandom, small towns, and Internet culture, told in the style of the various manga, anime, and other media that influenced it.
Welcome to Check Your Shelf. I know you all are reading this newsletter on Friday, but I'm writing it on a Wednesday and it feels like this week is just never going to end. Also, I'm realizing exactly how fried my brain has been when I noticed that it's been literally weeks since I've picked up a book, and I'm not happy about it.
Also, here's a newsletter update for you: with so many stories coming out about books being banned or challenged in schools and libraries, I'm creating a new section to keep track. And yes, I am super angry that this is the reality we're living in.
---
Libraries & Librarians
News Updates
A Pescadero (CA) school library is prioritizing marginalized voices and social justice, but some parents worry that removing "classic" titles is akin to censorship.
The Niles-Maine (IL) Public Library saga continues as the board's hiring freeze and subsequent staffing shortages are discussed.
Cool Library Updates
The Stratford (ON) Public Library is taking steps to remove colonial language from its catalog.
Worth Reading
This Afghan librarian hopes to reopen a library for women despite the Taliban rule.
Book Adaptations in the News
Sue Grafton's Alphabet series is getting a TV adaptation, despite the fact that Grafton was adamant during her lifetime about her books never being adapted.
Ovidia Yu's Chen Su Lin historical mystery series has been optioned for television.
Mike Flanagan is developing a Netflix limited series based on Edgar Allan Poe's The Fall of the House of Usher.
Beasts of Prey by Ayana Gray is being developed as a Netflix feature film.
The Silver Linings Playbook gets a Broadway musical adaptation.
Apple renews Foundation for a second season.
Take a peek at the official House of the Dragon teaser trailer.
Here's the trailer for Cyrano, starring Peter Dinklage.
Banned and Challenged Books
Censorship attempts in Texas, New York, and more (if you're having trouble keeping up with all of the recent news items).
Here's another look at the recent fight to ban books.
Southlake, TX schools restrict classroom libraries after receiving backlash over the book This Book Is Anti-Racist by Tiffany Jewell. In response, some educators have blocked off their library shelves with caution tape in protest of the new policy.
The National Coalition Against Censorship objects to the removal of Out of Darkness by Ashley Hope Pérez from Lake Travis (TX) school libraries.
Katy (TX) Independent School District pulled the books New Kid and Class Act by Jerry Craft, and canceled the author's virtual visit after parents complained that the books promoted "critical race theory."
Spring Branch (TX) Independent School District removed the graphic novel The Breakaways over sexual content, and insists that it's not because the graphic novel includes a transgender character.
Brevard (FL) school officials have removed the graphic novel Gender Queer from the library.
Campbell County teens called out local commissioners at a recent meeting for their attempts to remove LGBTQ books from the public library.
Fighting the good fight as a school librarian during Banned Books Week.
It's rare for teachers and librarians to receive complaints about books that feature violence. We need to ask ourselves why.
How to fight book bans and challenges: an anti-censorship tool kit.
Books & Authors in the News
Beloved children's author Gary Paulsen has passed away at 82.
HarperCollins removes a short story from David Walliams' book The World's Worst Children after the story received criticism over "casual racism."
Uzo Aduba will be the inaugural host for Netflix's new book club.
Award News
Abdulrazak Gurnah wins the 2021 Nobel Prize for Literature.
Sonia Sanchez wins the $250,000 Gish Prize.
The National Translation Awards shortlist has been announced.
The quiet disappearance of queer stories in Nebraska: The Golden Sower award list draws criticism.
Pop Cultured
9 of the best shows about cults and religious sects.
Bookish Curiosities & Miscellaneous
The 25 most iconic book covers in history.
On the Riot
How to run a successful manga club in your school or library.
"I work in a library, but I'm not a librarian."
What are the Library Freedom Project and Abolitionist Library Association?
Environmental kids literature awards from around the world.
How much can you make writing romance?
Portals to the past: the wonderful world of used books.
Book Riot is 10 years old this month, and we're celebrating with some limited edition merch!
---
Enjoy the weekend and I'll catch you next week!
—Katie McLain Horner, @kt_librarylady on Twitter.