Sponsored by Pinkie Promises by Elizabeth Warren; illustrated by Charlene Chua.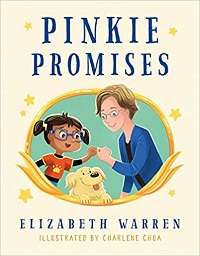 You can do whatever you set your mind to—that's a pinkie promise. Pinkie Promises is an inspiring picture book by Senator Elizabeth Warren that encourages young readers to always dream big.
Hey readers! I'm back with another batch of new children's books! Don't forget we're celebrating our tenth anniversary here at Book Riot and you have this month only to treat yourself to some limited edition merch!
Twelve year old Wren is is a makeup artist struggling with her best friend and her parent's divorce. A move to a new town seems like the perfect chance for starting over, especially as the makeup artist on a new production. But Wren worries about her mom, who's sleeping a lot and snapping at her, and soon Wren learns there's something going on that can't be concealed with makeup.
Imaginary by Lee Bacon and Katy Wu
Though eleven year old Zach knows he's too old now for his imaginary friend, Shovel, their friendship is only growing stronger. And now that he's in middle school Zach needs Shovel more than ever. But Shovel, the narrator of the story, wonders if he's really helping Zach cope or if he's pushing real life friends away.
In this imaginative sci-fi novel, Petra's longed to be a storyteller like her grandmother. But now the world is ending. Earth's been destroyed by a comet, and Petra and her family have been chosen to move to a new planet. But when Petra awakens on the ship, she realizes she's the only one who remembers Earth. A dangerous group aboard the ship is purging people's memories, and Petra's the only one with the stories of their past.
In the land of Illyria, where boys have the chance to become powerful sorcerers to fend off the Dread, girls like Marya are little more than an afterthought. But after Marya makes a mistake, she's funneled off to Dragomir Academy, full of other girls like her. As they train to work in service of one of the sorcerers, Marya and the others learn secrets about Illyria's magic that threaten to upend life as they know it in Illyria.
---
Until next week!
Chelsea