Sponsored by The Christmas Wedding Guest by Susan Mallery.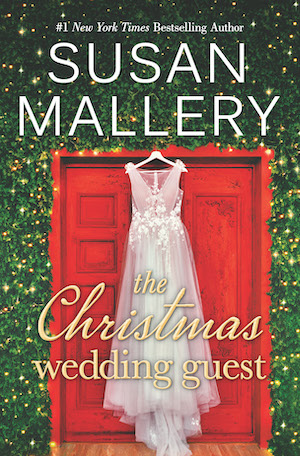 Guilted into being bridesmaids at their parents' vow renewal ceremony, sisters Reggie and Dena Sommerville come together for the holiday wedding, only to find love in the most unexpected of places–in their small hometown.
Monday again? Then let's do this.
Book friends, I think it's important that I stay honest with you. I've been in a bit of a reading slump for the past week. I know what you're thinking. "But it's October! It's your time to thrive!" I know, I know. I don't know what's going on either. In my mind, I'd envisioned October as this magical month where'd I'd be drinking hot teas and coffees and reading scary books under the comfort of a nice cozy blankie, but that's not really how things have been going. So I'm thinking this week, I might abandon my current reads and start from scratch? How do you all deal when you get caught up in a reading slump? Let me know your tips and tricks.
Anyway, in spite of any personal hang-ups I might be having, the book world rolls on. And I've got a bunch of book things to share with you today, so let's go.
❤️ Emily
Book Deals and Reveals
We've got a title reveal for Josh Malerman's upcoming novel. It's called Daphne, and it's coming for you in summer 2022.
Here's the cover reveal for Joya Goffney's Confessions of an Alleged Good Girl, coming in summer 2022 from Harper Teen.
Fun, wizard-y book deal announcement! Callie C. Miller's debut novel The Hunt for the Hollower is been acquired by Jessica Smith at Aladdin. Expect the middle grade wizard adventure to be published in summer 2023.
Sue Grafton's Kinsey Kinsey Millhone Alphabet book series is getting a television adaptation from A+E Studios, but this decision contradicts the late author's wishes.
Scout Comics is launching a Latinx imprint in partnership with Mucho Mas Media.
Here's the cover reveal for All the Secrets in the World, the new novel from Steve Almond and the first novel from independent publisher Zando. You can read an excerpt of the novel right now too!
Apple is renewing the sci-fi series Foundation for a second season. The series is based on Isaac Asimov's trilogy of novels.
Emery Lee has revealed the covered for her upcoming foodie romcom Café Con Lychee. This one's out May 10th, 2022.
Here's the cover reveal of Rochelle Hassan's upcoming middle grade fantasy debut The Prince of Nowhere. Hitting shelves May 3, 2022.
Geraldine Viswanathan is joining the cast of Cat Person, a new psychological thriller film based on the short story by Kristen Roupenian.
Book Riot has released their round-up of the best books we read in July-September 2021. And the best comic books too!
And the 2021 Nobel Prize in Literature goes to novelist Abdulrazak Gurnah!
Oh, and our hero LeVar Burton has been named grand marshal of the 2022 Rose Parade.
Book Riot Recommends
I'm a Contributing Editor at Book Riot, I write the Today in Books newsletter, and I'm a Bibliologist for Book Riot's Tailored Book Recommendations subscription service. I also have a PhD in English, so I'm basically a doctor of books. Books are my life, in other words, so in this section of the newsletter, let me share with you some upcoming books I'm super excited about. And I think you will be too!
Prepare Your Shelves!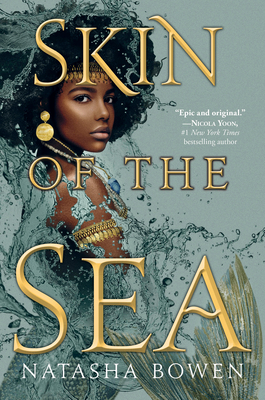 Skin of the Sea by Natasha Bowen (Random House, November 2, 2021)
When you were a kid, did you pretend you were a mermaid any time you went swimming in an ocean, lake, swimming pool, or, heck, even the bathtub? Don't lie to me. Of course you did. We all did. It's fine. Anyway, if you did (you did), this one's for you.
Skin of the Sea is a fantasy debut inspired by West African mythology. Simi is a Mami Wata, a mermaid who collects the souls of those who die at sea and blesses their journey to Olodumare. But she wasn't always like this, and memories of her past life as a human still haunt her. When a living boy is thrown from a slave ship, Simi goes against the ancient decree of the Mami Wata and saves the boy's life. Of course, she knows after doing this, she must face the consequences. As she journeys to the Supreme Creator to face her punishment, Simi begins to feel as if something isn't right. For one, the boy she rescued knew more than he should have. And something is shadowing her. Something that wants to see her fail.
If you're looking for a fresh new YA fantasy to read this November, this is it. Skin of the Sea is being compared to The Little Mermaid and Children of Blood and Bone, but it's truly a fresh and unique fantasy experience. Simi is such a compelling and strong main character. And if you love fantasy novels with thoughtful world-building, this is it. Plus, this is a standalone novel! And you know how I feel about fantasy standalones. Well, maybe you don't. I love them.
In conclusion, make room on your shelves for this stunningly beautiful (inside and out) book.
What I'm Reading This Week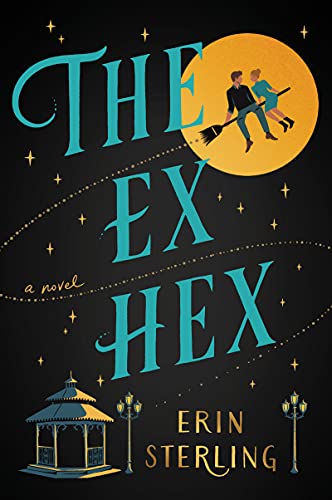 The Ex Hex by Erin Sterling
A Little Devil in America by Hanif Abdurraqib
A Touch of Jen by Beth Morgan
Goblin by Josh Malerman
White Smoke by Tiffany D. Jackson
The Disappearing Act by Catherine Steadman
Monday Memes
We're doing it. We're calling it Monday Memes now. I know change is hard, but we're all going to have to learn how to adapt.
If this ain't me. Happy fall, everyone!
Other Things That Make Me Happy
Ooooh, I watched that LuLaRich documentary series this week. Have you checked it out yet? Yikes.
Also lots of fun new horror/thriller movies coming out right now. I just watched There's Someone Inside Your House. I read Stephanie Perkins' novel back when it came out, and a lot has happened since 2017, so it was fun watching this movie and getting surprised by all the things I forgot.
And most importantly!!! Season 2 of The Baby-Sitters Club is out today! So if you find yourself wondering, "I wonder what Emily's doing today?" This is your answer. I'm watching this.
And then there's Purrli. It's your very own purring cat on your computer.
And Here's A Cat Picture!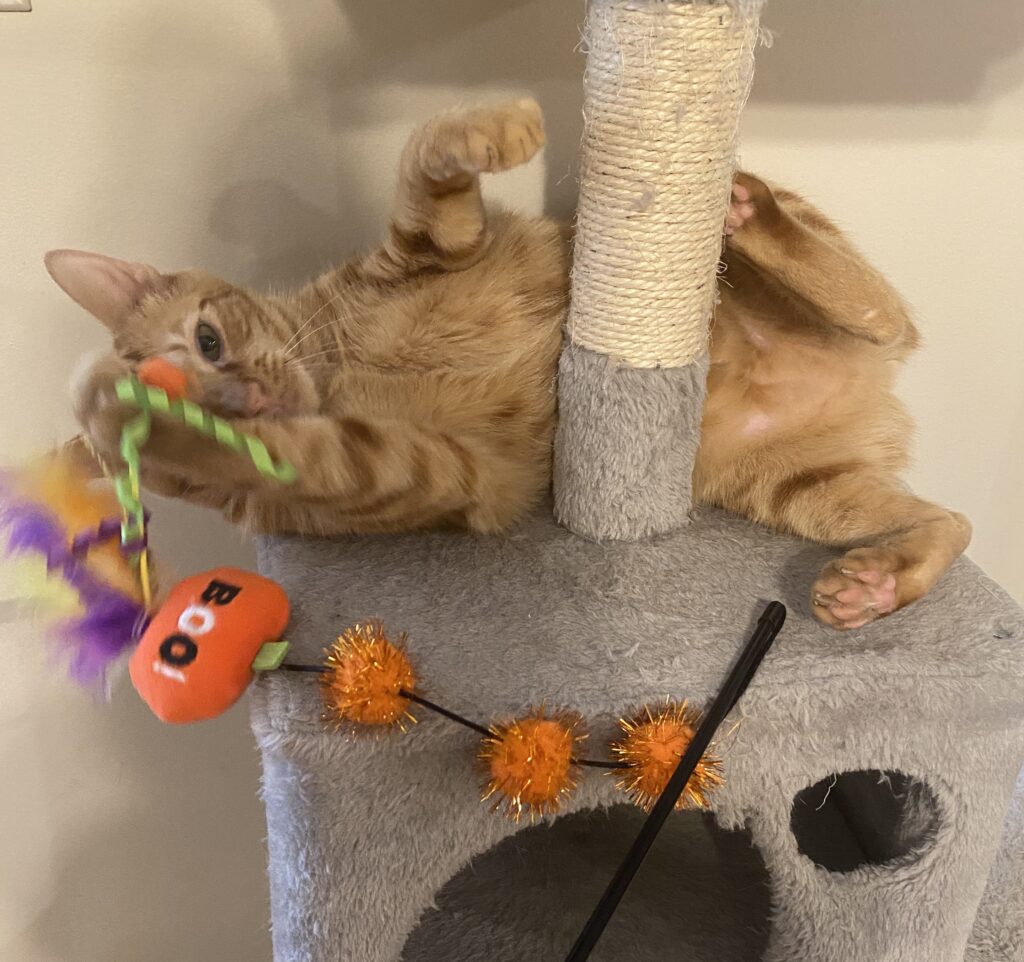 Today I've got an action shot of Murray playing with the cats' new favorite toy. Yes, it's Halloween-themed. That's a pumpkin with the word "Boo" on it.
Many thanks to my neighbor and friend Mary for gifting this to my kitties. They love it very much!
---
And that's all I've got for today! Hoping your week goes well. Remember to take breaks, take breaths, and say no to things you don't want to do sometimes.
❤️ Emily