Sponsored by Nightfire.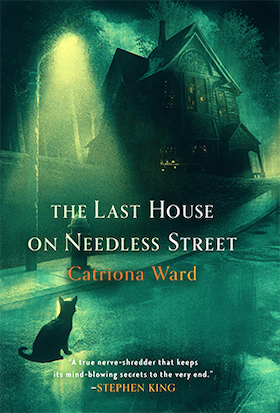 From international bestselling author Catriona Ward comes The Last House on Needless Street, a shocking and immersive read perfect for fans of Gone Girl and The Haunting of Hill House. In a boarded-up house on a dead-end street lives a family of three. An unspeakable secret binds them together, but what is buried among the birches may just come back and haunt them all…
Hey‌ ‌there‌ horror fans, ‌I'm‌ ‌Jessica‌ ‌Avery‌ ‌and‌ ‌I'll‌ ‌be‌ ‌delivering‌ ‌your‌ ‌weekly‌ ‌brief‌ ‌of‌ ‌all‌ ‌that's‌ ‌ghastly‌ ‌and‌ ‌grim‌ ‌in‌ ‌the‌ ‌world‌ ‌of‌ ‌Horror.‌ ‌Whether‌ ‌you're‌ ‌looking‌ ‌for‌ ‌a‌ ‌backlist‌ ‌book‌ ‌that‌ ‌will‌ ‌give‌‌ you‌ ‌the‌ ‌willies,‌ ‌a‌ ‌terrifying‌ ‌new‌ ‌release,‌ ‌or‌ ‌the‌ ‌latest‌ ‌in‌ ‌horror‌ ‌community‌ ‌news,‌ ‌you'll‌ ‌find‌ ‌it‌ ‌here‌ in‌ ‌The‌ ‌Fright‌ ‌Stuff.
One of my favorite tropes in horror is evil toys. Demonic Doll? Please. Haunted Toy House? I'm all in. Possessed Jack-in-the-Box?
No, too scary. Not cool, Dave.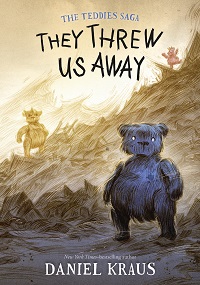 But have you ever wondered what would happen if you found yourself on the other side of the "evil" toy invasion, and it turned out that things maybe weren't exactly what they seemed? That maybe the toys didn't think they were evil, but were in fact lost, not sure of their identities or why they had been abandoned? That's a whole different kind of horror, isn't it? And it's the idea at the heart of one of my favorite 2020 middle grade horror titles: Daniel Kraus' charming but alarming, They Threw Us Away.
Confession: I knew I was going to buy this book the moment that I saw the cover. Rovina Cai's distinctive artwork struck me as adorable, heartbreaking, and a tad bit creepy all at once. Three slightly scruffy teddy bears stand upon a mountain of trash – the last place a beloved teddy bear should be. And so begins a sweet, scary, sad but hopeful tale about a pack of teddy bears, led by a bear called Buddy, who wake up in a dump one day and have to band together to find their way back to the toy store and in to the arms of children who will love them.
Now when I say that They Threw Us Away is scary, I mean it. In the spirit of Watership Down, this book is determined to stress you out. The horror ranges from atmospheric, to monstrous, to one sudden and very upsetting moment involving teddy bear eyes that I think may have scarred me for life. I will be sending Kraus my therapy bills. This middle grade horror takes the idea of the animate toy, which in horror is often the villain of the piece, and turns it on its head. We're on the side of these poor, determined bears! We're rooting for them as they waddle their way through a hostile world!
But should we be?
Our poor bears may be trustworthy, brave little adventurers, but They Threw Us Away gives us plenty of reasons to be wary of the other Furrington Teddies. Yes, you know I'm thinking about Mad – the terrible, many-in-one bear in the donation box which Rovina Cai captured in a chilling illustration of too long, wiggly arms and a horrific, patchwork belly. But I'm also thinking of an earlier scene, the one that first made me wonder how the Furrington teddies had gone from being beloved to being trash in the dump. And whether maybe there was a reason they were being destroyed. I'm talking, of course, about the toy store Manager and the dumpster full of shredded bears.
The dumpster itself was upsetting enough! But when the Manager peered over the edge at the still living teddies, and said "I don't know how you four got through […] But it won't happen again, not on my watch." (160) a chill went down my spine. Not just because Buddy and the other teddies were in trouble, but because the Manager was implying that these were not the first living teddies he had seen. And his horror and anger at seeing them alive makes me wonder: just what happened to cause the Furrington massacre? What did the teddies do?
Is it possible that we've been on the side of the evil toys all along?
I supposed we'll have to wait until January to find out!
If You Liked They Threw Us Away…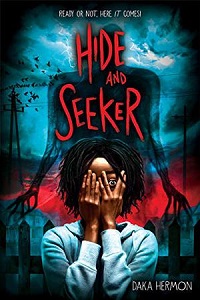 If there's one thing you can always count on, it's that horror will find a way to make all your childhood memories terrifying. And we all know that there's already something innately creepy about hide and seek. But if you ever wondered just how wrong one game of hide and seek could go, you need to add Hide and Seeker to your reading list. Justin's friend Zee went missing, and came back wrong. Though Justin can't figure out exactly what about Zee is different, he knows that something has changed and not for the better. Then a seemingly harmless game of hide and seek at Zee's welcome home party takes a terrifying turn as the players start to disappear and Justin finds himself trapped in the nightmarish world of the Seeker.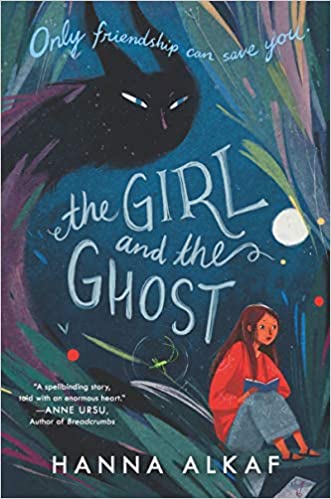 Lots of kids have an imaginary friend. It's normal, and definitely not cause for concern! Until, that is, your kid's "imaginary" friend turns out to be not so imaginary and far from benign. Now, technically Suraya's friend, Pink, isn't imaginary. She's a pelesit, a spirit companion gifted to Suraya by her grandmother, and the two are the best of friends. But pelesits aren't entirely benign – they have a dark side which Suraya knows nothing about. One which could destroy them both.
Fresh From the Skeleton's Mouth
Looking for more MG horror? The Ladies of Horror Fiction publish a list of new YA and MG horror titles at the ended of every month. September's list went up a few days ago, and October's should be up just in time for Halloween book shopping. That's how we "treat" ourselves in this apartment, people!
October is a month full of exciting book releases, which of course means it's also a month full of exciting book events! Up next is Copper Dog Books' Oct 14th "Art of the Novella" panel, featuring Catherynne M Valente, Zin E Rocklyn, Cassandra Khaw, and Adrian Tchaikovsky
Let the horror party continue! Whether you're in the mood for some horror comedy, a Shirley Jackson fan on the hunt for a read-alike, or ready to design your perfect monster team to find your next horror read, we've got screams a plenty over at Book Riot.
Speaking of Book Riot, we're celebrating our 10th Anniversary this year! And for the month of October only we're offering some fantastic limited edition clothing and assorted Book Riot swag. Take a look!
---
As always, you can catch me on twitter at @JtheBookworm, where I try to keep up on all that's new and frightening.