Sponsored by HarperCollins.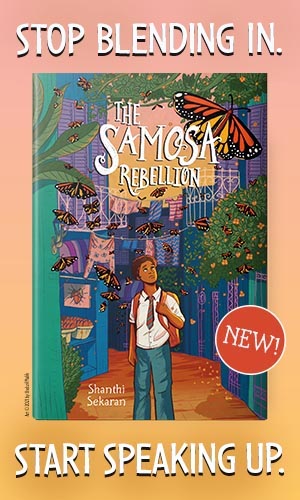 When Muki's grandma Paati emigrates from India to the island of Mariposa, it coincides with big changes. Mariposa's president starts dividing citizens into Butterflies—families who've lived in Mariposa for three generations—and Moths, who, like Muki's family, are more recent immigrants. The changes are small at first. But then Muki and his friends find a camp being built to imprison Moths before sending them away. Soon, his Paati is captured and taken there. While devising Paati's escape, Muki discovers that a secret rebellion is underway, and as he digs deeper, he realizes rescuing Paati will be the fight of his life.
Hey readers! I'm back with another batch of new children's books. If you didn't know, Book Riot's officially been around for 10 years and to celebrate we've launched some new merch that'll be available for this month only.
In this picture book, a young girl is the only one who pays any attention to the homeless woman who lives on the corner except for those who want her to leave. But the little girl imagines her as a queen who protects their street. When the queen raises the alarm when a fire threatens to destroy a building, the girl reminds everyone that she deserves thanks…and a home.
In this middle grade novel, ten year old Anthony is finally old enough to compete in the Spades tournament the men in his family have dominated at for years. When he loses his partner, Anthony thinks his chances of proving himself to his dad have gone up in smoke. A new potential partner arrives in Shirley, but Anthony's dad probably won't like him playing with a girl. Anthony keeps their partnership a secret, not realizing that his dad has his own secrets that could tear the Joplin family apart.
In this rollicking middle grade adventure, bank robber Scarlett encounters Albert, the sole survivor of a horrible incident. Together the two are thrust into an adventure, avoiding determined pursuers who chase them across the fractured Britain setting.
The Tristan Strong trilogy concludes with Tristan's final confrontation with King Cotton. Traveling up the Mississippi toward his hometown of Chicago, Tristan will need all of his friends and all of his strength to take on the haints trying to stop their progress and finally stop King Cotton for good.
Stealing Home by J. Torres and David Namisato
In this historical graphic novel, Sandy Saito and his family adore the Vancouver Asahi team, the pride of their Japanese-Canadian community. When Sandy and his family are forced into an internment camp, joined by some of the Asahi players themselves, Sandy finds a way to cope through baseball.
Until next week!
Chelsea