Sponsored by Rebecca Rode's TIDES OF MUTINY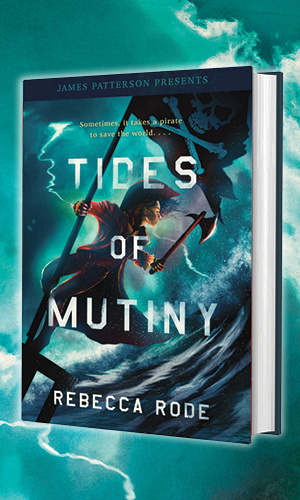 tk
Netflix's Dept. H Adaptation Will Be Directed by Alice Waddington
Netflix has announced that Alice Waddington—director of Paradise Hills—will be directing the upcoming live action adaptation of the popular comic book series Dept. H. by Matt Kindt. T.S. Nowlin, the screenwriter behind The Maze Runner, will be writing the script. Mike Richardson, Keith Goldberg, and Paul Schwake of Dark Horse Entertainment will produce the project. No release dates or casting announcements for the adaptation have been announced as of yet.
Announcing the Winner of Restless Books 2021 Prize for New Immigrant Writing
The Winner of Restless Books 2021 Prize for New Immigrant Writing has been announced! Each year, the prize awards $10,000 and publication to a first-time, first-generation immigrant author, alternating yearly between fiction and nonfiction. For 2021, the winner is Albanian-born writer Ani Gjika for her memoir By Its Right Name. Prize Judges Francisco Cantú, Shuchi Saraswat, and Ilan Stavans said in a statement, "By Its Right Name is a different kind of immigrant story, one that demands that we consider the specific, insidious ways that patriarchy controls a woman's relationship to her body, mind, and expression. With a poet's ear, Gjika finds language for confronting misogyny and the male gaze on the most intimate terms, ultimately revealing the transformational power of self-discovery through the written word." The memoir will be published by Restless Books in 2023.
Stephen King's Salem's Lot Adaptation Adds John Benjamin Hickey to Its Cast
John Benjamin Hickey is set to play Father Callahan in the upcoming adaptation of Stephen King's novel Salem's Lot. Hickey is joining the previously announced cast members: Lewis Pullman (Ben Mears), Alfre Woodard (Dr. Cody), Makenzie Leigh (Susan Norton), Bill Camp (Matthew Burke), Spencer Treat Clark (Mike Ryerson), and Pilou Asbæk (Straker). The film is directed and adapted by Gary Dauberman, known for writing the Conjuring Universe films. Salem's Lot is heading to theaters in September 2022.
Festive Fall Bookshelf Decorations
'Tis the season to dress up your bookshelves for the fall! Here are some festive fall bookshelf decoration ideas to suit every kind of style.