Sponsored by Macmillan Audiobooks.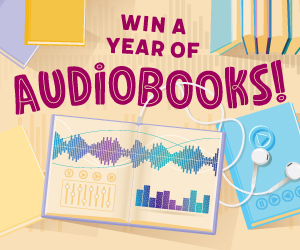 Book Riot is teaming up with Macmillan Audio to giveaway a year membership to Libro.fm to one lucky winner. To enter, simply fill out the form and subscribe to Macmillan's Hear, Here newsletter for a chance to win.
Here's a little bit more about Macmillan's Hear, Here newsletter: Discover the latest audiobooks from new-to-you authors and authors you love. Plus, enjoy giveaways, excerpts, and more.
Hello, Audiophiles! I'm so excited to chat with you this week. Here in the South, the weather has finally decided to cool down a bit, and I can feel a cool breeze in the evenings. I've brought out my candles and plenty of spooky books to celebrate.
I've also noticed that I have a ridiculous number of books going at the same time. A few years ago, I stuck to a strict, "no more than three audiobooks at a time" policy, but I've now thrown that idea to the wind. Last time I checked, I had ten audiobooks in my currently listening list. I'm not sure when I became such a polyamorous listener, but I'm cetainly not sad about it. Especially with the pandemic, I struggle to pay attention to the same audiobook after a couple hours, and it's nice to have options.
Do you listen to a lot of books at a time? Let me know!
Now time for a true confession: as I type this, I'm actually waiting for my husband to return with our new Cardigan Welsh Corgi puppy—Dylan is going to be a big brother! Here's an update from the airport: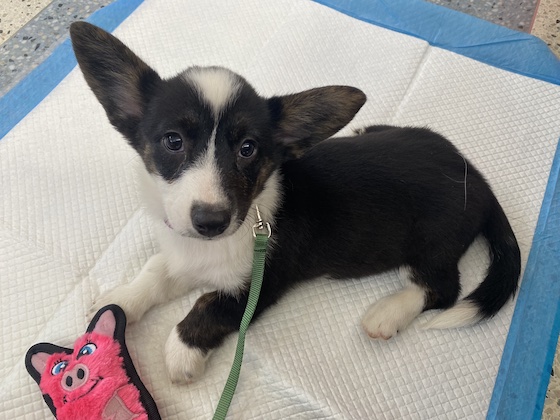 Recent Listens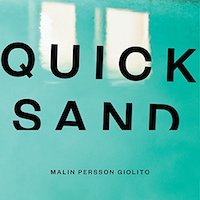 Quicksand by Malin Persson Giolito & Out by Natsuo Kirino
This week, let's chat thrillers and mysteries in translation. As someone who reads only via audiobook, I often struggle to find audio editions of novels in translation. But with the rise in audiobooks' popularity, I've found so many more titles that I've been excited to read. First up, I have to tell you about Quicksand by Malin Persson Giolito, translated by Rachel Willson-Broyles.
The novel begins at the start of Maja's trial. She's been charged with aiding a mass shooting at her highschool in Sweden. The story jumps back and forth between the trial and flashbacks of her relationship with Sebastian, a son of one of the wealthiest men in the country. Her family and friends think it's amazing that the son of such an important person wants to date her, but what they don't realize is how Sebastian is isolating her and emotionally manipulating her.
Quicksand also discusses Maja's own privilege in regards to class through her friendship with Samir, who is the son of immigrants and lives in a less affluent part of the city than Maja and the rest of her friends. Samir and Sebastian act as foils, highlighting Sebastian's incredible privilege. (Yes, I am dancing around spoilers!)
Speaking of discussion of the working class, I also listened to Out by Natsuo Kirino, Translated by Stephen Snyder, which follows four friends at a packaged food company. One of the women has a very abusive husband, and one day she seems to snap, strangling her husband to death. Panicked, she asks her friends for help. The women dispose of the body in trash bags which they throw away in trash cans across the city.
I sat on the edge of my seat, wondering if these women would get caught or crack under the pressure. This novel turns the traditional crime novel on its head as we the listeners want the women who committed the crime to succeed.
Both Quicksand and Out ask listeners to examine ideas around justice and what that looks like, and I found myself thinking about both of them long after I had finished the novels.
Quicksand, narrated by Saskia Maarleveld & Out, narrated by Emily Woo Zeller
Recent Releases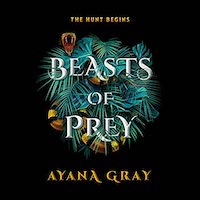 One of the most anticipated Black fantasy novels of the year is finally here! Debut author Ayana Gray spins a tale set in a fantastical world where a young woman who works at the Night Zoo, a menagerie of dangerous beasts.
Narrated by Keylor Leigh, Tovah Ott, and Ronald Peet (Out of Shadows by Justina Ireland & A Girl Is a Body of Water by Jennifer Nansubuga Makumbi)
With his first novel since the Pulitzer Prize-winning All the Light We Cannot See, Anthony Doerr tells the story of characters across space and time. Each section returns to the themes of the power of stories and the power of storytelling.
Narrated by Marin Ireland and Simon Jones (The Push by Ashley Audrain & The Lincoln Highway by Amor Towles)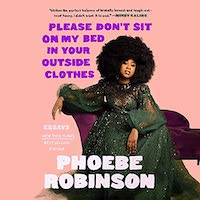 Phoebe Robinson writes one-of-a-kind essay collections and turns them into incredible audiobooks. She performs the essays herself, giving her narration perfect comedic timing. Plus, she has such incredible insight.
Narrated by Phoebe Robinson (You Can't Touch My Hair by Phoebe Robinson & Everything's Trash, but It's Okay by Phoebe Robinson)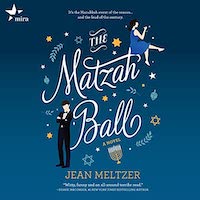 It's time for holiday romance novels! The Matzah Ball features Rachel Rubenstein-Goldblatt, a Jewish romance novelist who adores Christmas. But when she finds herself desperate for more work, she accepts a request from her publisher to write a Hanukkah novel.
Narrated by Dara Rosenberg (Evidence of the Affair by Taylor Jenkins Reid & The Lightkeeper's Daughter by Jean E. Pendziwol)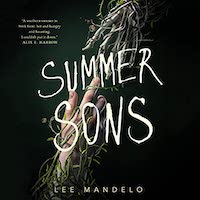 When Andrew's friend Eddie dies, Andrew finds himself haunted by a mysterious phantom. Now he must search for the truth behind Eddie's death and maintain a sense of normalcy in his everyday life.
Narrated by Will Damron (Bad Blood by John Carreyrou & The Culture Code by Daniel Coyle)
Around the Web
"Celebrate Your Right to Listen During Banned Books Week" (Audiofile Magazine)
"Latinx Narrators You Should Be Listening To" (Libro.fm)
"7 Things You Need to Know About Shopping Early for the Holidays" (Libro.fm)
"Meet the Innovative Director Behind Audible's Fully Immersive Adaptation of 'The Sandman'" (Audible)
Over on Book Riot
"10 of Libro.fm's Most Pre-ordered Audiobooks for Fall Pt. 2" – I share the most popular pre-orders for October and November. And be sure to check out Pt.1 if you haven't already!
---
I'd love to hear from you! Drop me a line at kendra@readingwomenpodcast.com or say hi over on Instagram @kdwinchester. For even MORE audiobook content, you can find my articles over on Book Riot.
Happy listening, bookish friends!
~ Kendra