Sponsored by Steelstriker by Marie Lu, with Fierce Reads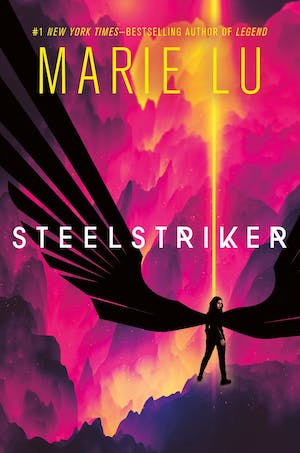 tk
Margaret Atwood and JM Coetzee Call for the Release of Jailed Iranian Authors
A letter by PEN America signed by dozens of authors and artists—including Margaret Atwood, Orhan Pamuk, Jonathan Franzen, Joyce Carol Oates, Khaled Hosseini, and JM Coetzee—is calling for the release of jailed Iranian authors. In 2015, Baktash Abtin, Keyvan Bajan, and Reza Khandan Mahabadi were arrested under charges of colluding against national security and propaganda. They stood trial in 2019 and were sentenced to prison. The letter asks for Iran's president Ebrahim Raisi to release the authors, acquit them of all charges "in the legal case wrongfully brought against them," and "cease official retribution against all writers exercising their right to express themselves freely." The three imprisoned authors will be receiving the PEN/Barbey Freedom to Write award this October.
Netflix is Adapting Jordan Ifueko's Raybearer as a Series
A series adaptation of Jordan Ifueko's Raybearer is in development with Netflix. The series will be penned by Gina Atwater, who was the head writer of Westworld. This marks the first project in a multi-year deal Atwater has signed with Netflix. "It's an absolute privilege to join the Netflix family! I'm grateful I get to collaborate with a company that shares my passion for pursuing bold and innovative stories that give underrepresented characters a place to shine in the prestige space," Atwater said in a statement. The series will be produced by Sugar23 (Dickinson, The OA) & Macro (Fences, Sorry to Bother You).
Clarissa Goenawan's Rainbirds to be Adapted as a Feature Film
Earlier today, Clarissa Goenawan tweeted: "PEOPLE. I still can't believe I would EVER get to announce this." Goenawan's novel Rainbirds is going to be adapted as feature film. The adaptation will be filmed in Japan and directed by Anshul Chauhan. Goenawan added, "I can't even say, 'This is a dream come true,' because it's BEYOND my wildest dream! I'm so excited, thankful, and honoured."
Book Riot Will Match Your Donations to Planned Parenthood of Greater Texas
From Friday, October 1 until Sunday night, October 3, Book Riot will be matching donations to Planned Parenthood of Greater Texas, up to $2,500 USD. You can get all of the information about how to participate here.