Sponsored by Starscape.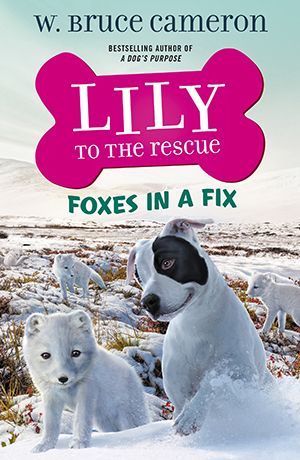 Lily to the Rescue is an irresistible, illustrated chapter book series from the New York Times bestselling author of A Dog's Purpose, W. Bruce Cameron. Once a stray puppy, Lily was rescued by the kind people at the animal shelter run by Maggie Rose's mom. Now Lily has a very important purpose: to rescue other animals in trouble. Join Lily in a brand new adventure featuring a litter of arctic fox kits that escaped from the zoo!
Hey readers! I'm back with another week of new kids's books!
This biographical picture book retells the story of musical legend Nina Simone, born Eunice Kathleen Waymond. It traces her musical childhood and her rise to performing as Nina Simone and how she used her incredible voice to speak out during the Civil Rights Movement.
This lyrical picture book uses the principles of Kwanzaa to retell the history of African descendants in America. It begins in Africa, where people were taken from their homes and forced onto ships that crossed the sea, and ends in the modern world where they combine old traditions with new to thrive in a new place.
The popular Rebel Girls franchise expands yet again in this collection of biographies that feature the work of female and nonbinary writers and artists to retell the stories of Black women like Kamala Harris, Naomi Osaka, Toni Morrison and Meghan Markle.
In this touching graphic novel/memoir, Damian is new in school and determined to avoid the bullying that he endured at his last school. But it's like his new classmate can tell something's different about him. He plays with Barbies and is being raised by his grandparents after his mom's murder, and as Damian begins to develop a crush on another boy, seventh grade only gets harder.
With witches banned for years, Milly just ignores the tingle of magic she feels in her palms sometimes, focusing instead on the many responsibilities she has at the orphanage where she lives. But when Milly's friend Cilla is thought to have magic and is kidnapped by an exiled witch, Milly has to embrace her magic and bring her back.
---
Until next week!
Chelsea