We're giving away five prize packs from WONDERBOUND, the new Young Readers graphic novel imprint, to five lucky Riot readers!
Enter here for a chance, or click the image below!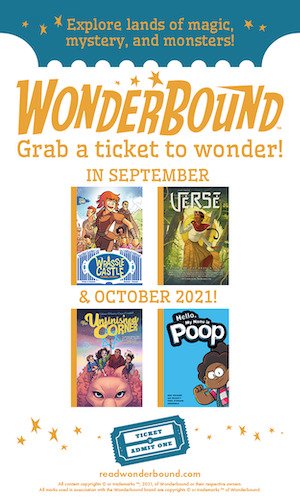 Grab a ticket to wonder, and explore lands full of magic, marvels, mysteries, and monsters!
Wonderbound is the new Young Readers graphic novel imprint publishing science fiction, fantasy, and spooky graphic novels for middle grade and tween readers – and the young at heart.
Wonderbound launches in September and October 2021 with four fantastic stories of friendship, adventure, magic, and mystery.
Enter to win a prize pack of the following titles: Wrassle Castle Book 1: Learning the Ropes (9/21), Verse Book 1: The Broken Half (9/28), The Unfinished Corner (10/19), Hello, My Name is Poop (10/26).
From faraway and mythical lands to the neighbor next door, wonder is everywhere!