Sponsored by Hold Me Down, dark psychological suspense by Clea Simon, October 5, 2021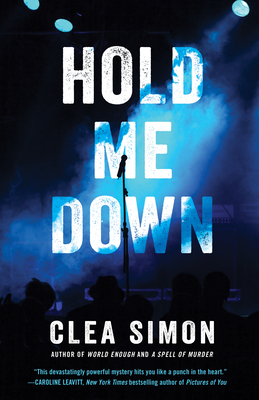 Gal, a onetime rock star, is back in Boston to play a benefit when she sees a familiar face in the crowd. When that man is found dead the next day and a friend charged, Gal starts an informal investigation, and as the memories flood back she finds she must reexamine her own wild life, her perceptions of the past, and an industry that monetizes dysfunction. In her Massachusetts Book Award "must read" World Enough, Clea Simon explored the dangers of nostalgia. In Hold Me Down she follows the beat to a darker, deeper tale of love, music, and murder.
Dear book friends,
It's officially Libra season, and I don't know about you, but I am thriving. Living my best life. Reading all the books. Wearing all the sweaters. Buying all the pumpkin spice. My husband says I should use this good energy during Libra season to get rid of some of the books that won't fit on my shelves. You can probably guess how I responded to that. I don't need this kind of negativity in my life. I need more shelves. Not fewer books. I'm glad we're all on the same page.
Anyway, it's fall. It's the most wonderful time of the year, and I'm so excited to be here today. Let's get into all the Book Radar goodness.
❤️ Emily
Book Deals and Reveals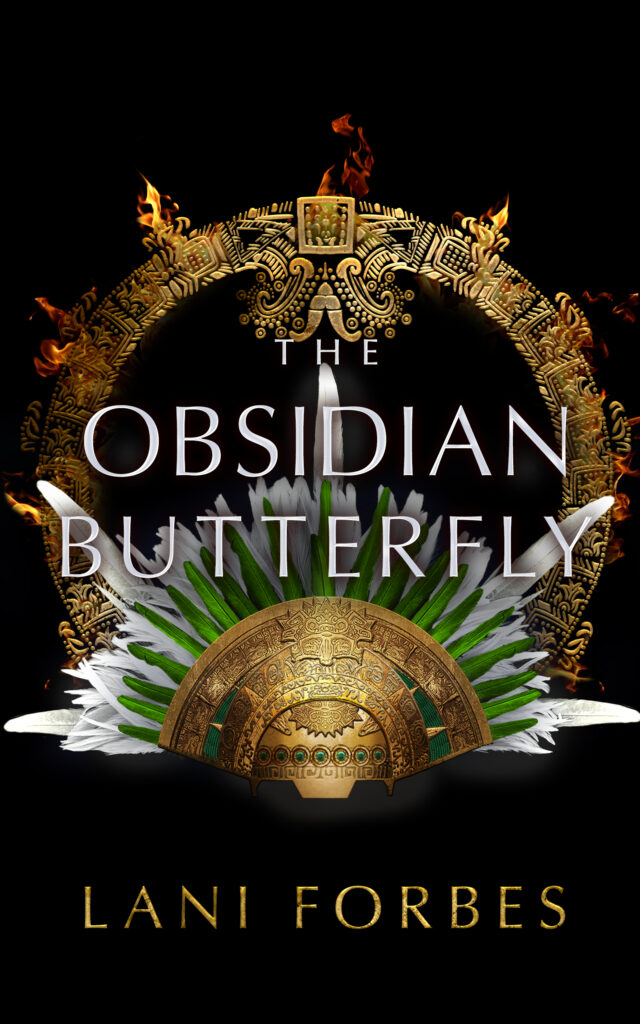 Here's the cover reveal for The Obsidian Butterfly, the third and final novel in Lani Forbes' The Age of the Seventh Sun series. You can also read an excerpt from the first chapter too!
Read an excerpt of the next big fantasy debut, Lizz Huerta's The Lost Dreamer, out next spring.
Lena Waithe and Gillian Flynn are starting their own book imprints with Zando, an independent publishing company.
Simon & Schuster has announced a new series of virtual author events, AuthorFest. It all starts with Bob Woodward and Robert Costa discussing their new book Peril.
Eva Longoria is developing a new sci-fi series based on Carlos Hernandez's award-winning book Sal & Gabi Break the Universe for Disney Branded TV.
Here's the cover reveal for Casey McQuiston's upcoming mystery romance novel I Kissed Shara Wheeler.
All the Light We Cannot See by Anthony Doerr is going to be adapted as a limited series on Netflix.
Elsie Chapman's young-adult novel Caster is getting a film adaptation from Paramount.
Netflix has now acquired the rights to all of Roald Dahl's works. This is the streaming company's biggest content deal to date.
Author Sara Gran is launching a new independent publisher Dreamland Books.
We've got some pretty exciting trailers this week! First up, here's the trailer for the upcoming Netflix film Passing, based on the novel by Nella Larsen.
Also, here's the trailer for the upcoming A24 film The Tragedy of Macbeth, starring Denzel Washington and Frances McDormand.
Book Riot Recommends
I'm a Contributing Editor at Book Riot, I write the Today in Books newsletter, and I'm a Bibliologist for Book Riot's Tailored Book Recommendations subscription service. I also have a PhD in English, so I'm basically a doctor of books. Books are my life, in other words, so in this section of the newsletter, let me share with you some upcoming books I'm super excited about. And I think you will be too!
Prepare Your Shelves!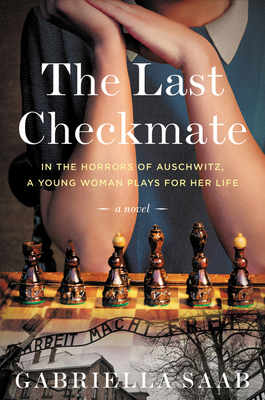 The Last Checkmate by Gabriella Saab (William Morrow, October 19 2021)
You know, thanks to Community, I can't see the date October 19th without thinking to myself, "That's October 19th." If you're unaware, October 19th is more than a date. It's a feeling within us all. "Whenever a kitten tried to crawl into a box on YouTube, that's October 19th. Whenever a stranger reaches out his hand to another stranger and says, 'hello, brother,' that's October 19th." And when a brand new historical fiction novel about chess set during WWII is released, that's also October 19th.
If you're not following my extended and obscure Community reference, what I'm trying to say is The Last Checkmate by Gabriella Saab comes out on October 19th, and you should prepare your shelves. Saab's debut novel is the story of Maria, an avid chess player and a member of the Polish underground resistance in Nazi-occupied Warsaw. After she is captured by the Gestapo, they imprison her in Auschwitz and her family is sent to their deaths. The camp guards are amused by Maria's chess abilities and they start playing against her as a means of entertainment. Maria knows they're only keeping her alive until she is no longer of interest to them, so she plays chess against them as if her life depended on it, because it does. But Maria is smart, and she has a plan to take down the sadistic camp deputy Fritzsch.
The Last Checkmate is a heartbreaking story that isn't an easy read; however, it is beautifully written, thoroughly researched, and ultimately inspiring. While Maria herself is not based on a real-life historical figure, Saab's fictional story was inspired in part the very real Women's Orchestra of Auschwitz, a group of women who were forced to use their musical talents to entertain camp guards. If you're a history buff, you'll recognize other real historical figures, places, and moments in this story too. The Last Checkmate is the perfect mix of historical accuracy and imagination. Exactly what you want from historical fiction.
What I'm Reading This Week
Black Leopard, Red Wolf by Marlon James
Sailor Moon: Eternal Edition 5 by Naoko Takeuchi
Summer Sons by Lee Mandelo
Mercury Boys by Chandra Prasad
White Smoke by Tiffany D. Jackson
Bookish Meme Corner
I always post this on Monday, so why don't I call this "Monday Memes"? Still unclear.
I can't help myself. I love Great Gatsby-themed memes.
Other Things That Make Me Happy
I don't know if I've made it clear yet. But the general fall vibes everywhere are making me extremely happy. And even though I have zero Halloween plans, I'm starting to think about what book-related Halloween costumes I can wear while I sit at home at watch Beetlejuice with my cats.
Here are a few Halloween costume ideas I've found on Book Riot to get us thinking. And here are a few more. I'll keep searching over the next few weeks and report back.
Keep checking out Purrli. It's there for you even when your own cat refuses to snuggle.
And Here's A Cat Picture!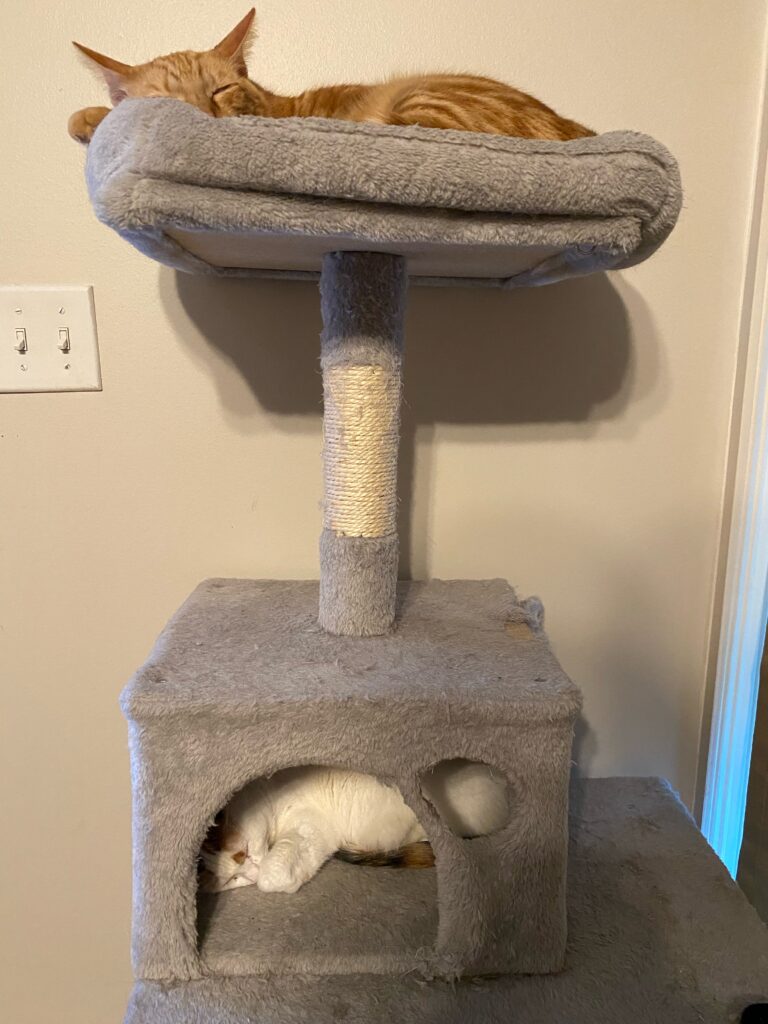 Welcome to Top Bunk/Bottom Bunk with Murray and Cersei!
I think this is probably standard for cats all around the world, but 1pm-4pm at my house is cat nap time. So as I'm writing this, the cats are sleeping. Yes, I am super jealous.
How often do I wish I could be a cat? On a daily basis. Especially when they're sleeping like this.
---
Well, that's all! Happy Monday and HAPPY FALL!
❤️ Emily