Sponsored by Big Boned by Jo Watson, from Wattpad Books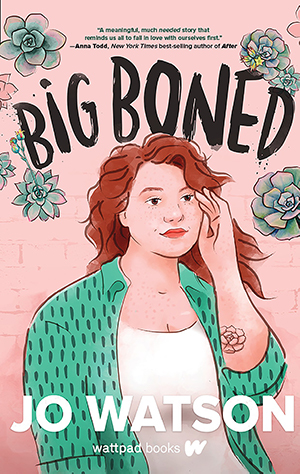 tk
Supreme Court Justice Sonia Sotomayor Has New Picture Book Out in January
Philomel, an imprint for Penguin Young Readers, announced this week that Supreme Court Justice Sonia Sotomayor has a new picture book coming out this year on January 22nd. Sotomayor's book Just Help! How to Build A Better World is all about giving to others and was inspired by the community spirit of Sotomayor's own family. The book will feature illustrations by Angela Dominguez. In a statement about her new book, Sotomayor said, "I believe that children, with their energy, optimism, and creativity, have the power to fix the many problems with which we adults are leaving them…I hope my book, with Angela Dominguez's beautiful illustrations, will encourage children to use their power to help one another and begin changing their communities."
Anthony Doerr's All the Light We Cannot See Will Be Adapted as Limited Series for Netflix
Pulitzer Prize-winning author Anthony Doerr's epic war novel All the Light We Cannot See is being adapted as a limited series for Netflix. The four-part series will be produced by Shawn Levy's 21 Laps Entertainment, and Levy will also direct all the episodes. The adaptation is written by Steven Knight (Peaky Blinders). The producers are now casting for the series, and they are encouraging actresses who are blind or low-vision to apply for the lead role of Marie-Laure.
These Are the Writers Who Made the CBC Nonfiction Prize Shortlist
Five writers from across Canada have made the shortlist for the CBC Nonfiction Prize. The winner will be announced on September 29th and will receive $6,000 from the Canada Council for the Arts. The winner will also attend a two-week writing residency at the Banff Centre for Arts and Creativity. All finalists have had their work published on CBC books and will receive $1,000. You can read their stories on the website now.
Times Are Changing: COVID-19 and Library Late Fees
Libraries are starting to go fine free! How has COVID-19 impacted this movement?