Sponsored by Hold Me Down, dark psychological suspense by Clea Simon, October 5, 2021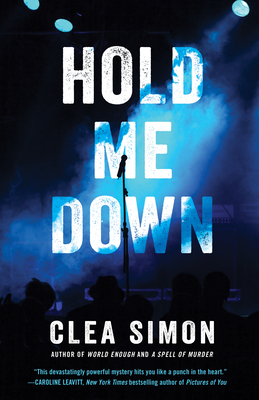 Gal, a onetime rock star, is back in Boston to play a benefit when she sees a familiar face in the crowd. When that man is found dead the next day and a friend charged, Gal starts an informal investigation, and as the memories flood back she finds she must reexamine her own wild life, her perceptions of the past, and an industry that monetizes dysfunction. In her Massachusetts Book Award "must read" World Enough, Clea Simon explored the dangers of nostalgia. In Hold Me Down she follows the beat to a darker, deeper tale of love, music, and murder.
Welcome to Check Your Shelf! I'm bringing this newsletter to you from the middle of Connecticut, where my friend is getting married, and I've been helping her tie ribbons on the place setting cards. So let's talk about libraries now!
---
Libraries & Librarians
News Updates
A group of citizens are pushing for the removal of the Campbell County (WY) Public Library director Terri Lesley after their requests for reconsideration of library materials have been denied.
Hawaii public librarians are being harassed over the state's new COVID mandate that says all visitors must present proof of vaccination or a negative COVID test in order to enter the building.
The Strozier Library at Florida State University reported that nearly 5,000 items have been stolen from its special comic book collection.
Catherine Sheldrick Ross, the renowned readers's advisory and reading experience expert, has died.
Cool Library Updates
The Arlington Heights (IL) Library opened an 8,000 square foot (yeah, you read that correctly) makerspace.
Worth Reading
This is perhaps not surprising, but the places that are facing the most backlash over critical race theory issues are areas that have diversified significantly over the last 25 years.
The fight against censorship in classrooms intensifies.
Utah librarians talk about 9/11, the Patriot Act, and how they became privacy warriors.
Book Adaptations in the News
Hillary and Chelsea Clinton's production company has optioned Jacqueline Winspear's Maisie Dobbs series for film and TV.
Idris Elba is returning as Luther for the upcoming Netflix film.
Casting update for Anansi Boys.
Books & Authors in the News
Instead of filing a formal request for reconsideration with the Leander Independent School Board in Texas, a parent went to the police to have them investigate her challenge towards the book Lawn Boy by Jonathan Evison.
Glen Ellyn teacher Lauren Crowe has been reinstated to the classroom after being removed for her LGBTQ-friendly TikTok videos.
These children's books depicting "joyful, queer stories" are being censored in Hungary and Russia.
N.K. Jemisin made Time's list of the 100 Most Influential People of 2021!
The National Book Foundation has listed its 5 Under 35 honorees.
A newly discovered Tennessee Williams story is being published for the first time.
11 books that were banned for ridiculous reasons.
Numbers & Trends
A first edition of Frankenstein sold for $1.17 million at auction, which broke the world auction record for a printed work by a woman.
An alleged lock of Emily Dickinson's hair is selling for $450K, and I have questions.
The top Amazon books across time.
Here are the results of the When in Romance listener survey.
Award News
All of the longlists for the National Book Awards have been announced!
Here are the winners of the 2020 This is Horror Awards.
Joy Williams has been awarded the 2021 Library of Congress Prize for American Fiction.
Pop Cultured
This is an interesting look at an author who wrote fake letters to the publishing column, "Dear Prudence," until one got featured on Tucker Carlson's show.
LeVar Burton talks about his future plans now that Jeopardy! is off the table.
Bookish Curiosities & Miscellaneous
Mets pitcher Noah Syndergaard has started his own book club as a way to connect with fans.
A look back at the last 25 years of Oprah's Book Club.
50 great literary cameos in terrible early 2000's movies.
When did the book become a brand?
On the Riot
Building a reading habit in elementary-aged kids.
Agatha Christie in contemporary literature and pop culture.
5 awesome, little-known Goodreads features.
---
Stay awesome, friends. Catch you next week!
—Katie McLain Horner, @kt_librarylady on Twitter.