Sponsored by Holiday House.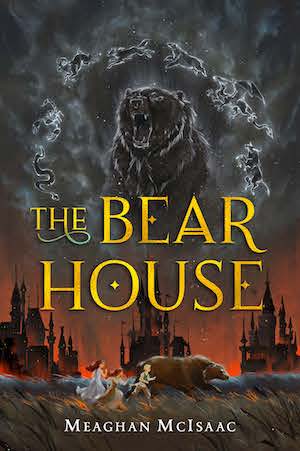 In a gritty medieval world where the ruling houses are based on the constellations- betrayal, intrigue, and a king's murder force the royal sisters of the Bear House on the run! Sisters Aster and Ursula are the daughters of the Major of Bears and Lord of all the Realm. Rivals, both girls dream of becoming the Bear queen someday. But when their uncle murders their father in a bid for the crown, the girls are forced to rely on each other to survive—and find the courage, cunning, and skill they never knew they had.
Hey readers! I'm back with another week of new children's books.
Change Sings by Amanda Gorman and Loren Long
This inspiring and lyrical picture book is the much-hyped, highly-anticipated work of inaugural poet Amanda Gorman. This is a magical call to action that reminds kids that they have the power to make change in the world.
In this spooky picture book, Naya sets off to find a Jumbie. Though her mom says they only exist in stories, Naya's sure they're real and is determined to see one for herself.
When his grandma moves from India to the island of Mariposa with his family, Muki is miserable. He has to share his room with her, tolerate her snoring and her early morning yoga. But when Mariposa's president begins dividing the citizens into Butterflies, who have lived there for several generations, and Moths, who have recently emigrated, Muki's grandmother is captured and taken to a camp for Moths. And Muki begins plotting her escape.
When Amira and her brother Hamza stumble upon the Box of the Moon, they accidentally set off a chain reaction that risks destroying the world. Visited by two jinn, Amira and Hamza learn of their role in an ancient prophecy and travel to the world of Qaf to stop a great evil that threatens to set loose terrifying creatures onto earth.
When Hector has to move to a new town, he quickly becomes unhappy at his new school where he's targeted by both a school security officer and a relentless bully. But one day Hector discovers a room behind the door of a janitor's closet, open whenever he needs it, that leads to new friends from other parts of the country.
---
Until next week!
Chelsea