Sponsored by Farrar, Straus, and Giroux.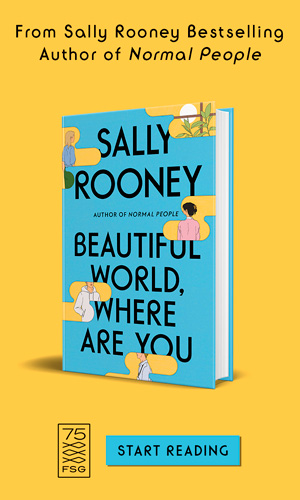 Alice meets Felix and asks him if he'd like to travel to Rome with her. In Dublin, her best friend, Eileen, is getting over a break-up, and slips back into flirting with Simon, a man she has known since childhood. While still young, life is catching up with them. They desire each other, delude each other, get together, and break apart. They have sex, worry about sex, worry about their friendships and the world they live in. Are they standing in the last lighted room before the darkness, bearing witness to something? Will they find a way to believe in a beautiful world?
Welcome back, book fans! It's another amazing day in the Land of New Releases. Today's awesome new releases include The Bronzed Beasts, the final book in Roshani Chokshi's Gilded Wolves trilogy; Room to Dream, a new Front Desk novel by Kelly Yang; and Bewilderment by Richard Powers, which is on both the recently announced Booker Prize shortlist and the National Book Award longlist. I can't wait to get my hands on The Wrong End of the Telescope by Rabih Alameddine. And a big shout-out to Rioter Karina Yan Glaser, whose fifth Vanderbeeker book, The Vanderbeekers Make a Wish, is also out today!
And speaking of today's great books, for this week's episode of All the Books! Tirzah and I discussed some of the wonderful books that we've read, such as All These Bodies, The Body Scout, The Book of Form and Emptiness, and more.
And now, it's time for everyone's favorite gameshow: AHHHHHH MY TBR! Here are today's contestants: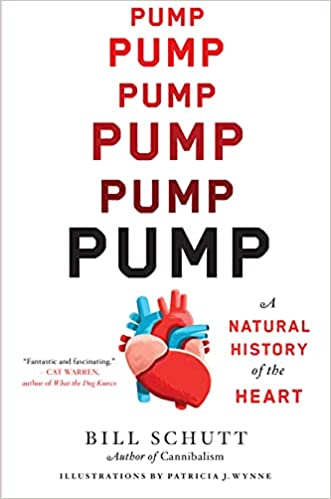 Humans have been around for a lonnnnnnnng time, but we're only been making major medical progress for a fraction of that. One of the major parts of the body we continue to tinker with is the heart. Schutt is a natural when it comes to writing about science and history, and this is another fascinating book about a part that everyone has, and everyone needs, but few of us understand. I was so pumped to read it. (Sorry, not sorry.)
Backlist bump: Cannibalism: A Perfectly Natural History by Bill Schutt (Related: did you see my cannibalism piece?)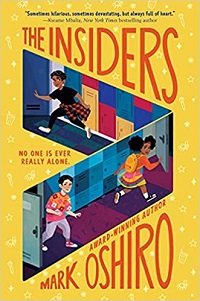 And here's a new addition for the fantastic middle grade category! For Héctor Muñoz, being gay at his school in San Francisco didn't mean he was made to feel different. But at his new school in Orangevale, he is being bullied, and feels alone and helpless. Then one day, while trying to hide, he discovers a room at the back of the janitor's closet. The room is magic, and brings him to other kids in other parts of the country who also don't feel like they fit in. Time never moves inside the room, so they can hang out as much as they want, and the kids help each other come up with solutions to their problems. It's an excellent story about friendship and fitting in. (CW for bullying, racism, gaslighting, and homophobia.)
Backlist bump: Ghost Squad by Claribel A. Ortega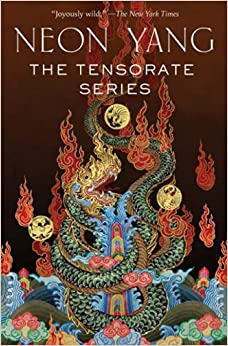 And I love these fantasy novellas so much, I needed to shout them out again, now that they're available in one super edition! They have been nominated for the Hugo, Nebula, World Fantasy, Locus, and Lambda Literary Awards. There are sibling heirs to an empire raised by monks, flying monsters, battles, scary monsters, and more. Staged in unique settings, the novellas in this collection are wildly imaginative and beautifully realized. The first two reminded me a bit of the land of Monstress, which I also highly recommend. (CW for physical violence and abuse, illness, war, animal death, death of a loved one, and death of a child.)
Backlist bump: The Empress of Salt and Fortune by Nghi Vo
On your mark…get set…add to your TBR!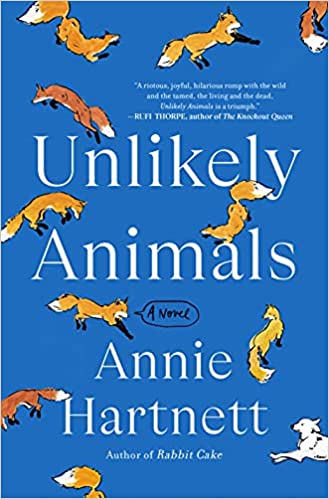 Unlikely Animals by Annie Hartnett Ballantine Books, April 12, 2022)
Have you been dying to read a new John Irving novel? Have you been looking for something like Nothing Here to See Here by Kevin Wilson? Then get ready, because this fantastic novel is the perfect book for you!
The main character is Emma, a young woman born in a small New Hampshire town with the ability to heal people with a touch of her hands. However, her parents don't want her to become a sideshow act, so they forbid her from using it. But they still want her to heal people in other ways, so they encourage her to go to school to become a doctor, even though Emma herself isn't sure that's what she wants.
At the start of the novel, Emma gets a call that her father, Clive, is dying from a brain disease. The doctors aren't sure what it is, but he's been losing his memory, he hallucinates animals, and he talks to the ghost of a New Hampshire naturalist who died a century earlier. Emma thinks her mother asked her to come home so she can heal Clive with her hands, but it has been so long since she tried to use her gift, she's not even sure if it will still work. But between looking after Clive, who is getting harder to manage, and Emma's younger brother, who is home from his most recent rehab stay, her mother could use the help.
But this is just a tiny fraction of the plot of Unlikely Animals. There's also a storyline about Emma's missing childhood friend (who the police have written off because of her drug use), a private plot of land used for hunting by millionaires, an expensive fox, a classroom of earnest middle grade students, an amateur theater production, and much more. Plus, the narrators of the novel stole my heart. But they're not mentioned in the book's description, so I won't spoil them for you.
This book is sweet and sad, but also so, so funny. I desperately want to see these characters brought to life on a screen in some capacity. Or even have a sequel, if such a thing could happen. 10/10, would read again!
(CW for mentions of chemical use and abuse, animal death, illness and death of a loved one, violence and bodily harm, mental illness, and infidelity.)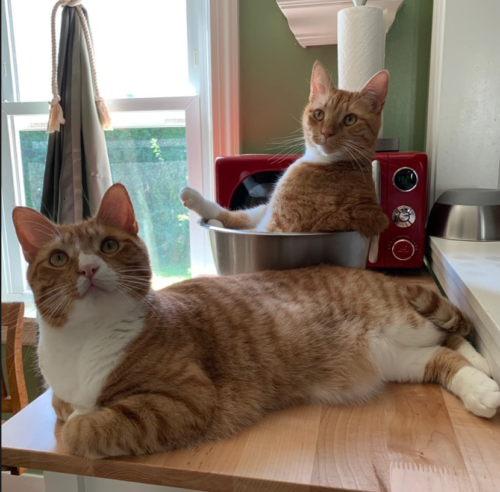 This week: I'm currently reading Four Aunties and a Wedding by Jesse Q. Sutanto and I've moved on to The Cabinet of Curiosities in the Agent Pendergrast series from Preston and Child. Outside of books, I have been giving my brain a break from television, and the song stuck in my head is I Love It Loud by Kiss. And as promised, here is a cat picture! Farrokh and Zevon, chilling in the kitchen. ❤️
---
Thank you, as always, for joining me each week as I rave about books! I am wishing the best for all of you in whatever situation you find yourself in now. And yay, books! – XO, Liberty ❤️