Sponsored by Remixed Classics with Fierce Reads.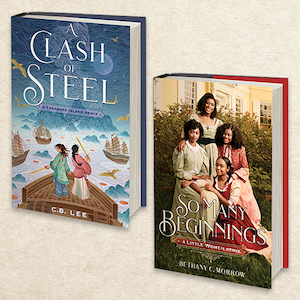 In the Remixed Classics series, authors from diverse backgrounds take different literary classics from centuries past and reinterpret them through their own unique cultural lens. This collection will serve YA readers as both a series of fun, engaging reads as well as a subversive overall look at what our society has deemed "classic"—works that are overwhelmingly cishet, white, and male. In A Clash of Steel: A Treasure Island Remix, two intrepid girls hunt for a legendary treasure on the deadly high seas. In So Many Beginnings: A Little Women Remix, you'll meet four young Black sisters—Jo, Meg, Beth, and Amy—as they come of age during the American Civil War.
Welcome to Thursday, Book Friends!
So this week has been strange. All week long, I've been thinking it was Friday, and now that we're nearing the end of the week, I'm wondering where the week has gone. I understand that time is just a construct, and since that is the case, a day of the week is more of a state of mind than an actual measurable time. But still. The way time works in our brains is odd, isn't it?
And with that little confession out of the way, let's get on to what you're really here for: book news, book hype, and of course cats.
— Emily
Book Deals and Reveals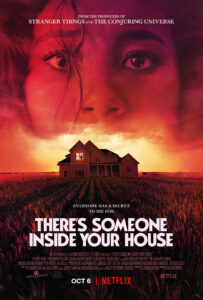 Not a cover reveal to start, but a movie poster reveal! Stephanie Perkins posted the movie poster for the upcoming Netflix film adaptation of her novel There's Someone Inside Your House, out October 6th. See more details about the movie here.
The National Book Foundation is presenting a lifetime achievement award to author Karen Tei Yamashita.
Michael B. Jordan's Outlier Society is adapting Charlie Jane Anders' sci-fi novel Victories Greater than Death into a series for Amazon Studios.
Here's the American cover reveal for Nadifa Mohamed's The Fortune Men, out from Knopf on March 1, 2022.
The 2021 Booker Prize shortlist has been announced!
Netflix has ordered a series adaptation of Helen Wan's Partner Track, starring Arden Cho.
Another exciting cover reveal: check out the stunning cover of I Own My Magic: Self-Talk for Black Women by G. Michelle Goodloe, LCSW.
Here's the cover reveal of Natalie Wee's Beast at Every Threshold, a poetry collection that "deconstructs 'otherness' via folklore and myth, pop culture and memory."
We've got a new trailer for the upcoming Hawkeye series, coming to Disney Plus on November 24!
Here's the cover reveal for Say Her Name, a new thriller from Dreda Say Mitchell and Ryan Carter, out in April 2022.
In January 2021, book influencer Zibby Owens is launching Zibby Books, a publishing company with "a commitment to diverse literary voices."
HBO Max is adapting 30 Rock alum Maulik Pancholy's YA Novel The Best At It into a half-hour comedy series.
If you're planning on buying books for your loved ones this holiday season, get your orders in now! Expect major shipping delays on books this fall and winter season.
Book Riot Recommends
I'm a Contributing Editor at Book Riot, I write the Today in Books newsletter, and I'm a Bibliologist for Book Riot's Tailored Book Recommendations subscription service. I also have a PhD in English, so I'm basically a doctor of books. Books are my life, in other words, so in this section of the newsletter, let me share with you some upcoming books I'm super excited about. And I think you will be too!
Can't Wait for This One
Earlier this week, I saw that Entertainment Weekly interviewed Tom Perrotta about Tracy Flick Can't Win, the author's upcoming sequel to Election. And I recently finished reading For Your Own Good by Samantha Downing, another novel that gave me some serious Election vibes. So now I'm extra hyped to revisit the world of Tracy Flick, and I wanted to make sure this book was on your radar as well!
If you somehow missed out on the novel Election and the film adaptation of the novel, directed by Alexander Payne and starring Reese Witherspoon and Matthew Broderick, here's the deal. This is a darkly humorous story about a small town high school and the politics surrounding a school election. Tracy Flick is an ambitious and over-achieving young high school student who will stop at nothing to be elected school president.
In Tracy Flick Can't Win, Perrotta fast forwards to a middle-aged Tracy. She's still hard-working, but now she's the assistant principal at a suburban New Jersey high school. This wasn't the path Tracy had imagined for herself, and she's more than a little disappointed with how her life has turned out. But then an opportunity for a promotion suddenly arises…
Reflecting on the character of Tracy Flick in his interview with Entertainment Weekly, Perrotta said, "People think of her as a person of unstoppable ambition, and she's often compared to almost any successful female politician, from Hillary Clinton to Sarah Palin. But over all these years, I've run into women who say, 'I was Tracy Flick,' and they are not famous politicians. They're just ordinary women who clearly had this drive to succeed when they were in high school, but then found themselves in much more ordinary circumstances. I was really interested in that. It's fascinating to plumb the psychology of ambitious people who have to put their ambitions aside."
As I was just saying earlier this week, books with academic settings are always appealing to me, and Tom Perrotta's humor and unique perspective on suburban lives never disappoints. This one's going to the top of my anticipated books list.
Words of Literary Wisdom
"We all fall…We fall and we rise. Bones and tissue heal. But sometimes we want to hold on to the pain. Sometimes we have our reasons for not being able to let go."
— All's Well by Mona Awad
What's Up in the Book Community?
My iPhone is constantly telling me I spend too much time staring at my screen, which is honestly so rude. But this means I spend a lot of time scrolling around the online book community: BookTube, Bookstagram, BookTok, BookLinkedIn (JK. That's not a thing… I don't think). You get the idea. Don't have the time, energy, or the will to do all of that yourself? No problem. I got you. In this weekly section of Book Radar, we'll take a look at something cool, interesting, and/or newsy that's going on in the book community.
If you're like me, you like to log your reading. If you're exactly like me, you log your reading in multiple ways: there's Goodreads, there's Tirzah Price's fabulous online book spreadsheet, there's Bookly, and then of course, I also have a good old fashioned pen-and-paper book journal.
Maybe you haven't heard, but 2021 is almost over, which means it's time to start looking into what you're going to be using to track your reading in 2022. That's where these YouTube videos come in. If you're looking for the best pen-and-paper old school book journal, then check out BooksandLala's video reviews of several different journals. She just released a new one earlier this week, and if you want to see the first one, you can check it out here.
Your Weekend Reading Soundtrack
This weekend? I'm just listening to Normani's "Wild Side" featuring Cardi B on repeat. And yes, this song is totally reading (or doing anything) appropriate. Just patiently waiting for her debut album.
And Here's a Cat Picture!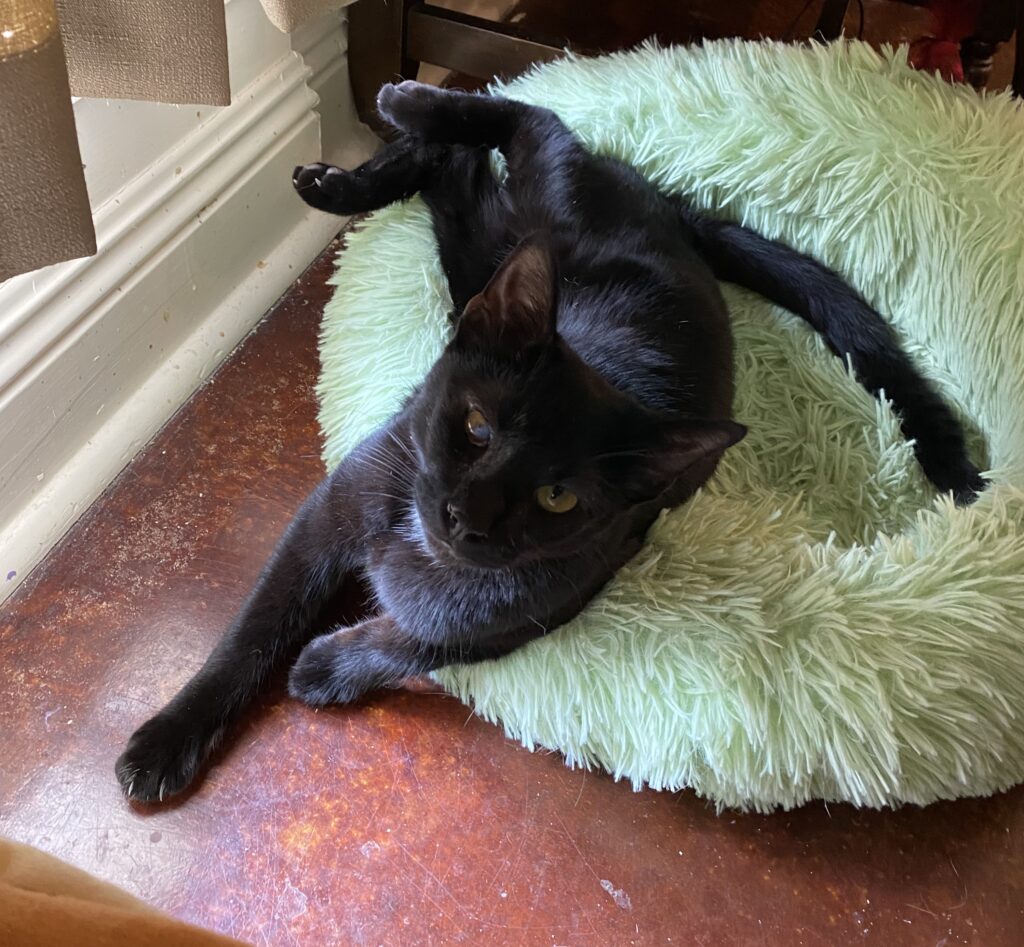 As a reward for making it all the way to the end of Book Radar, I give you…
Phantom the cat. Apparently no one ever taught Phantom how to sleep in a cat bed, so this is how he's doing it. Anyway, he says hello and hopes you have a wonderful weekend.
---
That's all I've got for you today, friends. Stay safe. Remember that a good night's sleep can make all the difference. So can water. So drink lots of water (I say as I chug another iced coffee).
❤️ Emily