Sponsored by Love, Radish Fiction: Bite-sized romance you'll crave.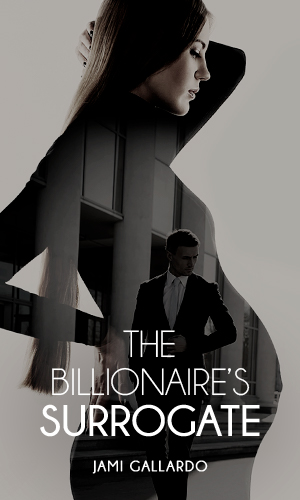 "I'm Emily Valdez. 24-year-old hired surrogate to Colton Collins—the enigmatic bachelor of the famous Collins family. He's protective – maybe overprotective – and has high expectations for the woman carrying his child. I said I could handle it. I had no idea what I was getting into."
Welcome to the Kissing Books newsletter y'all. I'm P.N. Hinton, your guide to the world of romance novels. I hope your spirit is doing well today. Whether it's a backlist, new release, or an under the radar delight, I aim to help you find a book or two that you can get lost in. If you're new to the Kissing Books newsletter, welcome and enjoy your stay. If you're a long-time reader, welcome back; it's good to see you again.
Romance News
In "why the hell is this still a thing" news, apparently there was an entire thread on whether or not there should be ace rep in romance novels. In case you're wondering, the answer is yes. The author of the original tweets got pretty vile in the defense of their ignorant stance. And then, surprise surprise, their account was locked down. You can read about the great train wreck in the thread I linked to as well as a great rebuttal on it.
I've said it before recently and I'll say it again; sex does not a relationship make. And, honestly, it shouldn't be the foundation of any relationship. Is sexual chemistry important? Of course; but it shouldn't be the only thing there. Is it something that both partners need to be on the same page for? Also yes. But that's the one of the things you talk about before you enter into a relationship. And you may have to repeat it at various points in your lives together. And again that's okay. Communication is important no matter what, because that is also what makes a good relationship.
But, let's not try to shut out our ace and/or allo brethren because that's just wrong.
Around the Web in Romance
Are you a huge fan of New Adult and LGBTQ romances? Then check out this list of recommendations!
If you prefer your romances on the steamy side, here's a round-up of reads for you.
Exciting news for Audible and KJ Charles fans!
If you're looking for some more fairy tale-inspired romances, take a peek at these recommendations from Avon author Charis Michaels.
Recommendations
I've mentioned before that my reading habits as of late have been weird. It's not a slump because I'm still reading. But, for the first time in a couple of years, I'm having trouble following through with books. Part of this is likely attributed to my inability to just have one on my currently reading shelf.
As I mentioned in one of my latest Book Riot articles, I have a lot to read right now, so I feel I have to make a concentrated effort to get through the pile. When you factor in my day job, all the writing I do for Book Riot, and now being a TBR Bibliologist, there's a lot clamoring for my time. Which is fine because it's all stuff I love doing.
All that said, there are some days where, after work, I'd rather scroll on TikTok, play mobile games, or watch TV. However, there's something else I enjoy doing and that's reading WebToons. I'm still reading, but they're in short spurts. Do I sometimes marathon multiple episodes in a row and then strongly consider buying coins to Fast Pass? Yes. But, just as often, I'm okay waiting because I also like the antici….pation. (cue Tim Curry Frank-N-Furter gif)
Whether you're in my same boat reading wise, a lover of WebToons, new to the idea or some wonderful cocktail of all three, I'm going to be doing WebToon recommendations this week. I've written about it before for the Book Riot site but it's still something new for the newsletter. So, I hope that you enjoy this change of pace for this week.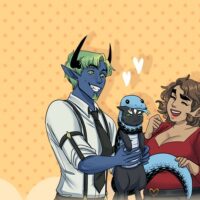 In order to avoid looking like the sad singleton at her sister's wedding, Bea summons demon Laz to avoid going solo. Which, yes, is a bit extreme. However, she didn't read the contract very carefully (always read the fine print my friends) and he is there to stay. I had to boost this one again, especially since Bea, the heroine, is bisexual. Yeah representation! I love everything about this comic. How relatable Bea is with all her insecurities, the little snippets we've seen so far of Laz. The chemistry between them is amazing as are the little ways they show each other they care. Because you know, that type of slow build up can be amazing.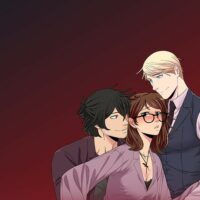 Sam is a young would-be game designer who has recently put her first game on an independent gaming website to get her name out there. She's overjoyed when popular gamer streamer Marshall Law reviews it…only to have him ruthlessly decimate it. To add insult to injury, he ends up moving into the apartment right next to hers. And from there, all kinds of shenanigans occur. What I love about this one is that I honestly have no idea what the couple endgames are. And yes, I said that in the plural form because there are a lot. One warning with this; don't get attached to any one particular ship.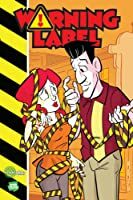 Years ago Danielle was cursed by an ex-boyfriend. Now anytime someone hits on her, they get a literal warning label that details all her flaws and faults; at least by his standard. When Jeff meets her in a bar, he isn't deterred by this and is determined to help her break the curse and maybe find love along the way. This is an adorable, and completed, web series about learning to accept all the things about the person you love. Because after all, no one is perfect.
---
And that's it for today! I'll be back Monday with the latest in the world of romance, new releases ,and deals. Until then you can always give me a follow over on Twitter under @PScribe801. Until we meet again.