Sponsored by Decolonizing Wealth Project.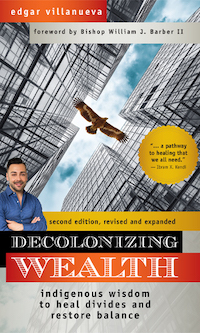 The accumulation of wealth is steeped in trauma. So, how can we shift industries like media, finance, and philanthropy toward reconciliation and healing if their cornerstones are exploitation, extraction, and control?
"The path to healing that he offers in these pages is welcoming to all, and…can unite people from all walks of life…"
—Bishop William J. Barber II, President & Sr. Lecturer, Repairers of the Breach; Co-Chair, Poor People's Campaign
"The relationship between economic injustice and systemic racism must be understood. Edgar boldly and accessibly illuminates the connections while offering a way forward."
—Robin DiAngelo, author of White Fragility
Welcome to Check Your Shelf. As a quick note, if you have any horror-loving patrons (or coworkers), be prepared for everyone to be talking about Malignant this week. Blaine and I watched it over the weekend, and I can't remember the last time a movie made me feel so simultaneously horrified and delighted! Guaranteed long wait lists for this movie once it comes out on DVD!
Okay, let's shift gears to books!
---
Collection Development Corner
Publishing News
Top Democrats are warning that Amazon's algorithms are promoting "unethical, unacceptable" books about hoax COVID-19 cures and anti-vax claims.
A look at how the publishing business is trying to avoid supply chain disruptions.
New & Upcoming Titles
Stephanie Grisham, the White House spokesperson for the Trumps, is publishing a memoir.
Here's a look at the cover of Stacey Abrams' children's book, Stacey's Extraordinary Words.
And here's the cover reveal for Samira Ahmed's upcoming YA novel, Hollow Fires.
The 40 best books of 2021 (so far).
Weekly book picks from Bustle, Crime Reads, New York Times, and USA Today.
September picks from Bitch Media and Tor.com (SF).
Fall picks from CBC, Polygon (SFF), and Washington Post.
What Your Patrons Are Hearing About
Beautiful World, Where Are You – Sally Rooney (Electric Lit, The Guardian, New York Times, San Francisco Chronicle, Time, USA Today, Vulture, Washington Post)
On Freedom: Four Songs of Care and Constraint – Maggie Nelson (LA Times, NPR, USA Today, Washington Post)
Matrix – Lauren Groff (LitHub, NPR, USA Today)
Forever Young: A Memoir – Hayley Mills (Hollywood Reporter, LA Times, and Washington Post)
The Moment – Andrea Constand (Time, Washington Post)
Happy Hour – Marlowe Granados (New York Times, USA Today)
Say it Loud!: On Race, Law, History, and Culture – Randall Kennedy (New York Times, Washington Post)
Poet Warrior – Joy Harjo (NPR)
RA/Genre Resources
Reframing female anger in psychological thrillers.
Exploring black horror in the YA space.
On the Riot
The most highly ranked and widely read books of 2021, according to Goodreads.
8 current and future YA sci-fi titles to add to your TBR.
Agatha Christie's Crooked House and the thrill of guessing the killer.
What is "dark academia," and why is it so popular?
Barrels of bad apples: copaganda in crime novels.
What makes a good board book?
All Things Comics
Marvel has broken ties with Immortal Hulk artist Joe Bennett. This decision comes shortly after a statement from Bennett's partner, Al Ewing, who stated that he would not be working with Bennett again due to "reprehensible" artwork.
The Marvel Unlimited app relaunches with exclusive content.
The best comics published in August.
On the Riot
12 of the best Korean light novels you can read right now.
Audiophilia
On the Riot
7 audiobooks for Science September.
20 must-read audiobooks for the whole family.
Book Lists, Book Lists, Book Lists
Children/Teens
17 middle grade titles for Hispanic Heritage Month.
YA books to read for Hispanic Heritage Month.
YA books with Muslim main characters.
12 YA books to read if you have big city dreams.
Adults
A literary guide to understanding Afghanistan, past and present.
20 books to read if you love Sally Rooney.
8 enthralling books for fans of Mexican Gothic.
5 books that examine the American penal system.
5 mystery novels to read if you loved Hulu's Only Murders in the Building.
11 romances featuring older couples.
14 books to help you slow down and cheer up.
8 memoirs of women hiking in the wilderness.
10 standalone fantasy novels to combat series fatigue.
7 novels to help you live out your cottagecore fantasies.
On the Riot
Reach for the stars with these zodiac books for babies.
20 of the best fall books for kids.
15 delightful books like The Vanderbeekers.
5 YA books with great grandparents.
8 YA heist novels you won't be able to put down.
8 books that preach the gospel of health at every size.
10 genre-blending fantasy books.
10 chilling historical thrillers.
Books about gamblers and gambling.
Level Up (Library Reads)
Do you take part in Library Reads, the monthly list of best books selected by librarians only? We've made it easy for you to find eligible diverse titles to nominate. Kelly Jensen created a database of upcoming diverse books that anyone can edit, and Nora Rawlins of Early Word is doing the same, as well as including information about series, vendors, and publisher buzz.
---
Catch you on Friday!
—Katie McLain Horner, @kt_librarylady on Twitter.