Sponsored by Remixed Classics with Fierce Reads.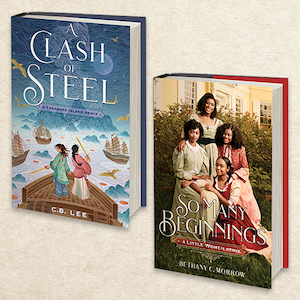 In the Remixed Classics series, authors from diverse backgrounds take different literary classics from centuries past and reinterpret them through their own unique cultural lens. This collection will serve YA readers as both a series of fun, engaging reads as well as a subversive overall look at what our society has deemed "classic"—works that are overwhelmingly cishet, white, and male.
In A Clash of Steel: A Treasure Island Remix, two intrepid girls hunt for a legendary treasure on the deadly high seas. In So Many Beginnings: A Little Women Remix, you'll meet four young Black sisters—Jo, Meg, Beth, and Amy—as they come of age during the American Civil War.
Welcome to Read This Book, a newsletter where I recommend one book that should absolutely be put at the top of your TBR pile. Recommended books will vary across genre and age category and include shiny new books, older books you may have missed, and some classics I suggest finally getting around to. Make space for another pile of books on your floor because here we go!
Today's pick is a graphic novel from 2006 that has won an impressive amount of awards: the Printz Award, an Eisner, Reuben Award, Chinese American Librarians Association Best Book Award, and the list goes on.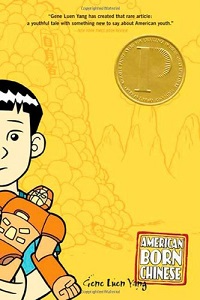 I remember this graphic novel being very popular back when I was in graduate school in the library science program and each time I reread it, it still holds up. For most of the book it seems like there are three different stories being told in alternating chapters that have a similar theme, but at the end it all comes together and you learn the deep interconnection between the stories and the characters.
In one story we meet the Monkey King who is a prominent figure in Chinese mythology and learn how the other deities do not accept him because he is just a monkey. He masters many various disciplines of kung-fu and repeatedly tries to prove himself as a fellow god, even changing his body shape so he is more human-like. But the gods just keep saying, "No, you're a monkey. Quit trying to be anything other than that."
The second story being told is that of Jin Wang, a Chinese-American boy who wants to be white and blend in instead of standing out. Part of the reason is because he has a crush on a girl who is white and the other giant part is because of the anti-Asian racism he has to deal with all the time. The microaggressions and flat out aggressions are just a constant onslaught. Two months after Jin arrived at his new middle school, another student arrived. This student, Wei-Chen Sun, just moved to the U.S. from Taiwan. In an effort to reject his own heritage, Jin initially rejects the friendship of Wei-Chen but that doesn't last for long and they become best friends.
The third storyline of this book is told as if it were a sitcom with a laugh track. It's about a high school boy named Danny, who appears white, but gets a yearly visit from his cousin Chin-Kee who is a wildly racist caricature of a Chinese person. It's incredibly awful. It makes me so uncomfortable to even read. Danny is deeply ashamed of his cousin and doesn't want to be associated with him at all.
This graphic novel expertly explores internalized racism, self-hatred, and eventually self-acceptance and it's a great read.
---
That's it for now, book-lovers!
Patricia
Find me on Book Riot, the All the Books podcast, and Twitter.
Find more books by subscribing to Book Riot Newsletters.