Sponsored by Farrar, Straus, and Giroux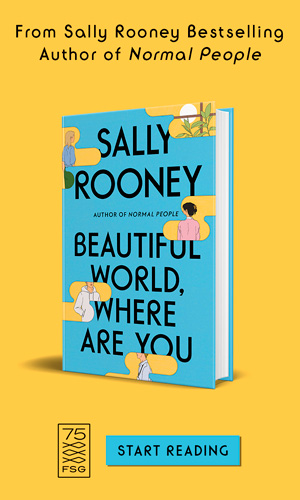 tk
Nancy Pearl Receives National Book Foundation's 2021 Literarian Award for Outstanding Service
Earlier today, on September 8, the National Book Foundation announced that renowned librarian Nancy Pearl, who was once the executive director of the Washington Center for the Book at Seattle Public Library, is the recipient of the 2021 Literarian Award for Outstanding Service to the American Literary Community. The award honors individuals who have worked to promote books and reading. Past winners include Maya Angelou and James Patterson. Recipients of the award receive $10,000 and a medal. The Washington Post's Ron Charles will present the award at the 72nd National Book Awards Ceremony on November 17.
Joan Allen to Narrate Audiobook Version of Hillary Clinton's Upcoming Political Thriller
Academy Award-nominated actress Joan Allen will be narrating the audiobook version of the upcoming political thriller co-written by Hillary Clinton and Louise Penny: State of Terror. In a statement issued through Simon & Schuster, Penny said, "I am such a fan of Joan Allen…She will brilliantly bring to life all the diverse characters and elements, from drama, to thriller, to humor and, best of all, make it all deeply human." Clinton agreed, saying, "She will bring our characters and their adventures alive for listeners." State of Terror is scheduled to come on on October 12.
The Scotiabank Giller Prize Presents Its 2021 Longlist
Elana Rabinovitch, Executive Director of the Scotiabank Giller Prize, announced the 2021 longlist earlier today via their website, their YouTube channel, and their Facebook page. The following 12 titles were chosen from 132 books submitted by publishers from across Canada: Astra by Cedar Bowers, What Strange Paradise by Omar El Akkad, Glorious Frazzled Beings by Angélique Lalonde, The Son of The House by Cheluchi Onyemelukwe-Onuobia, A Dream of a Woman by Casey Plett, The Octopus Has Three Hearts by Rachel Rose, Swimming Back to Trout River by Linda Rui Feng, The Listeners by Jordan Tannahill, Em by Kim Thúy, Fight Night by Miriam Toews, The Strangers by Katherena Vermette, and We, Jane by Aimee Wall. The longlist was selected by a panel of five judges: Canadian authors Zalika Reid-Benta (Jury Chair), Megan Gail Coles, Joshua Whitehead, Malaysian novelist Tash Aw, and American author Joshua Ferris.
Quiz: Which Antiracist Book Should You Read Next?
Any of the books in this quiz would be a great antiracist book to read. The most important part is to make sure you follow through, and read with an open mind and a willingness to learn and change. And of course take action.