Sponsored by Page Chaser.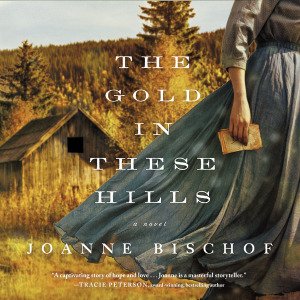 Enter today for a chance to win a copy of The Gold in These Hills by Joanne Bischof! One wild and mysterious ghost town. Two second-chance love stories. And the century-old legacy that binds them all together. With The Gold in These Hills, acclaimed and beloved author Joanne Bischof returns with an absorbing masterpiece of faith, perseverance, and love that changes the course of history. Click the link for your chance to win your own copy!
Hello Audiophiles! As much of the country prepares for a fall filled with Pumpkin Spice lattes, I continue to sit on my porch down here in the South, sipping my pineapple juice and greeting the neighborhood lizards. In the Low Country, we rarely feel even a whisper of chill in the air until October, at the earliest. But, while I dream of mountainsides covered in splashes of autumn foliage, Dylan continues to live his best life toasting his hammies in the sun.
This past weekend, I spent hours installing new shelves in my dining room. There's nothing like a good home improvement project to give you some quality audiobook time. In fact, I seem to have my groove back, finishing more audiobooks in August than any other month so far this year! So why don't we jump in and start chatting about a few of them?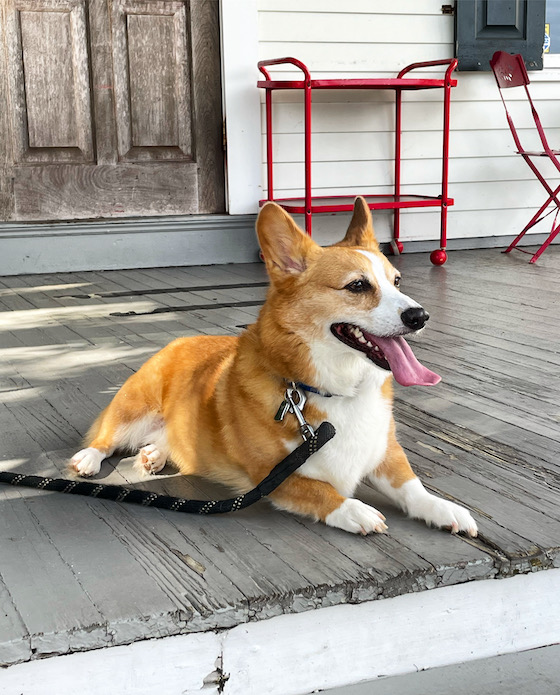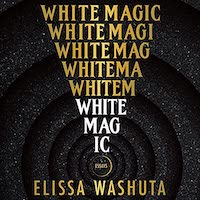 As witchy season approaches, I thought it would be a perfect time to feature one of my favorite books from this year, White Magic by Elissa Washuta. In the first essay in this collection, Washuta examines the settler ideas around white magic and how many elements from those practices have been culturally appropriated from Indigenous communities. As someone who practices spells and bindings, Washuta provides a unique perspective on the topic.
With each essay, Washuta seems to choose seemingly very different ideas, but as she writes about them, she slowly pulls them together until you finally understand how the two ideas are intimately intertwined. It's almost its own unique kind of magic.
But one of the key points of why I love this audiobook stems from how Washuta tackles topics around disability. As someone who experiences chronic and mental illness, Washuta gives listeners a unique perspective on the way disability can affect one's art. Too many people throughout history have romanticized chronic illness, mental illness, and alcoholism, often implying that the artist never would have been as good if they hadn't experienced these conditions. Washuta shoves aside these romantic notions and takes a realistic look at the lives of other artists and her own.
Kyla Garcia performs the audiobook well, giving us glimpses into Washuta's narrative voice as well as keeping the audio clear of too many distractions. I can only imagine how the jumping back and forth of ideas, which are clearly notes on the printed page, could be tricky to narrate on audio. But Garcia definitely seemed up for the challenge!
Narrated by Kyla García (I Am Not Your Perfect Mexican Daughter by Erika L. Sánchez and There There by Tommy Orange)
Recent Releases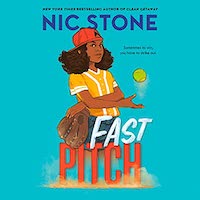 I love a great middle grade novel! In Fast Pitch, Shenice is the captain of a softball team called the Firebirds. I don't want to share too much since I don't want to spoil the plot, but there's family secrets, team drama, and a young Black girl coming into her own as a confident athlete. Nic Stone is also a fabulous audiobook narrator.
Read by the Author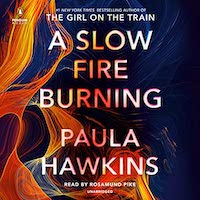 From the bestselling author of Girl on the Train comes A Slow Fire Burning, a new mystery novel featuring a cast of characters hopelessly entangled in each other's lives. When a young man and his mother are found dead, one right after the other, the police begin to question their family members, lovers, in-laws and neighbors, searching for the culprit. Rosamund Pike is a brilliant narrator, as always.
Narrated by Rosamund Pike (Restless by William Boyd and Pride and Prejudice by Jane Austen)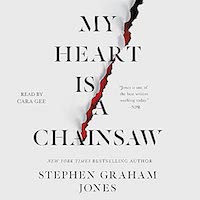 As a huge fan of Stephen Graham Jones, I've had this book pre-ordered for months now. As we follow Jade Daniels and learn more about her encyclopedic knowledge of horror films and books, listeners will quickly realize that My Heart Is a Chainsaw is a love letter to all things horror. Cara Gee performs the audiobook in a way that perfectly captures Jade Daniels' narrative voice.
Narrated by Cara Gee (Black Sun by Rebecca Roanhorse and In Barren Ground by Loreth Anne White)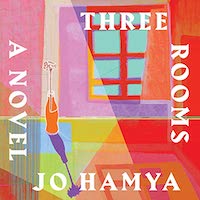 I first heard about Three Rooms on Debutfiul, a podcast dedicated to promoting and celebrating authors' debut books. Once I heard Jo Hamya talk about how her book came to be, I immediately went and looked up the audiobook. Three Rooms captures the Millennial struggle to "make it" in a world bogged down by recession after recession. This also appears to be Jin Lusi's debut audiobook, and she does a fabulous job! I will definitely be waiting to see what she narrates next.
Narrated by Jin Lusi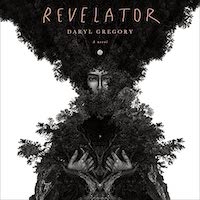 Nestled in the Smoky Mountains of East Tennessee sits a cave where a deity called Ghostdaddy lives. At least, that's what Stella's family says. It's 1933, and nine-year-old Stella is left in the car of her grandmother, and she's about to find out that her Appalachian family's history is much more sinister than she imagined. Narrated by Reagan Boggs with just the right amount of Southern Appalachian dialect, this audiobook will make you want to look around corners just to see if something is there.
Narrated by Reagan Boggs (No Names to Be Given by Julia Brewer Daily)
Over on Book Riot
"8 Native Memoirs on Audio from Erin and Dani's Book Club" – I gush about how much I love Erin and Dani's Book Club and their fabulous selection of Native memoirs.
Around the Web
"European Mysteries on Audio: Celebrating Women in Translation Month" (Audiofile Magazine) – Perfect for wrapping up women in translation month!
"How to Become an Audiobook Narrator" (Audible) – A fabulous article from Audible for folks wanting to become an audiobook narrator—it even includes resources!
---
I'd love to hear from you! Drop me a line at kendra@readingwomenpodcast.com or say hi over on Instagram @kdwinchester. For even MORE audiobook content, you can find my articles over on Book Riot.
Happy listening, bookish friends!
~ Kendra