Sponsored by Inkyard Press.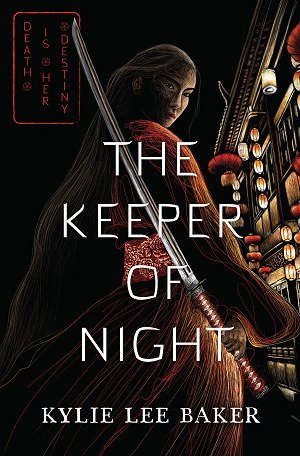 Half British Reaper, half Japanese Shinigami, Ren Scarborough has been collecting souls in the London streets for centuries. Expected to obey the harsh hierarchy of the Reapers who despise her, Ren conceals her emotions and avoids her tormentors as best she can. When her failure to control her Shinigami abilities drives Ren out of London, she flees to Japan to seek the acceptance she's never gotten from her fellow Reapers. Ren enters the Japanese underworld to serve the Goddess of Death . . . only to learn that here, too, she must prove herself worthy.
Hello Book People!
I hope your week is going well. I'm just going to be honest and upfront right here at the start. It's been a difficult week for those of us living near the Gulf Coast, and while I'm doing totally fine, I know many of my friends (and probably some of yours) have dealt with serious damage, flooding, loss of power, and more. If you would like to donate to the people and animals impacted by Hurricane Ida, I suggest checking out this Instagram post from thefabulouseileen that shares a lot of resources. If you are someone who has been affected by Ida, my heart goes out to you. I hope you and your loved ones are safe and that you're taking care of yourself.
And now let's talk about books, because even when stuff goes wrong in our lives, books are always there to comfort us. And that's why we're all here. Since Monday is a holiday, this newsletter is going to be a mash up of some of the things you're used to seeing in Thursday's newsletter, and some Monday things. I hope you enjoy.
— Emily
Book Deals and Reveals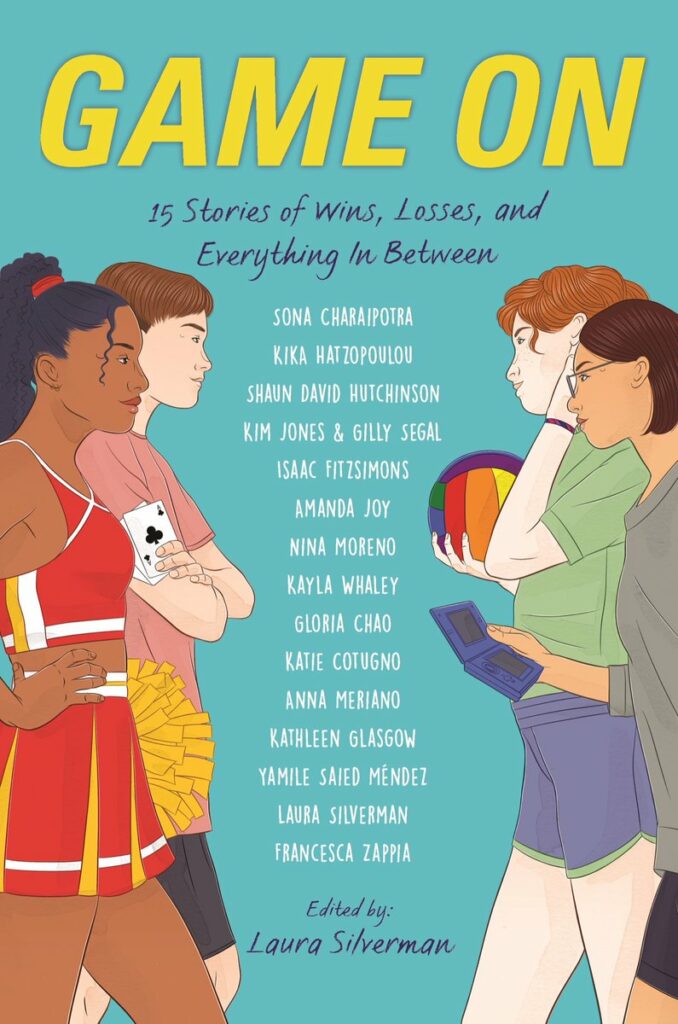 Here's the cover reveal for an exciting new YA anthology. Game On, edited by Laura Silverman, features new works from Sona Charaipotra, Kathleen Glasgow, Gloria Chao, and more!
C.L. Polk's award-winning Kingston Cycle (Witchmark, Stormsong, and Soulstar) is being adapted for television.
The 2021 Anthony Award winners have been announced.
MacArthur Genius Grant winner Jacqueline Woodson is publishing two new picture books for kids ages 5-8 in 2022, and here's the cover reveal for one of them, The Year We Learned to Fly.
B.B. Alston's Supernatural Investigations series will continue with Amari and the Great Game, out on April 5, 2022. Here's the cover reveal!
Batwoman season 3 is adding Agent Carter's Bridget Regan to the cast as Poison Ivy.
The first Cowboy Bebop comic, written by Dan Watters with art by Lamar Mathurin, is out in December.
New Line's feature adaptation of Stephen King's Salem's Lot has added Makenzie Leigh, Bill Camp, and Spencer Treat Clark to its cast.
H.E.R. will be making her acting debut in the upcoming musical feature film adaptation of The Color Purple.
Monday, August 30, 2021, marked the launch of a new literary prize, the Republic of Consciousness Prize for Small Presses.
LeBron James has written a new children's book, entitled We Are Family.
Here are 20 upcoming releases from small and university presses that you won't want to miss.
Book Riot Recommends
I'm a Contributing Editor at Book Riot, I write the Today in Books newsletter, and I'm a Bibliologist for Book Riot's Tailored Book Recommendations subscription service. I also have a PhD in English, so I'm basically a doctor of books. Books are my life, in other words, so in this section of the newsletter, let me share with you some upcoming books I'm super excited about. And I think you will be too!
Can't Wait for This One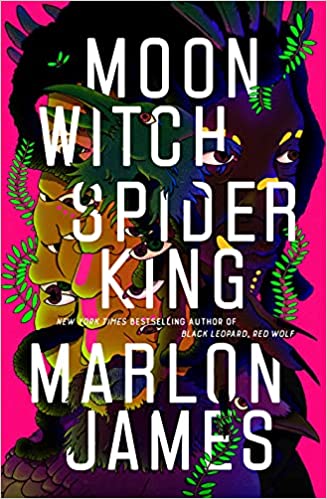 Moon Witch, Spider King by Marlon James (Riverhead Books, February 15, 2022)
Earlier this week, Marlon James announced the details of his upcoming follow-up to Black Leopard Red Wolf, and everyone is very excited. So the pick for the book I'm anticipating the most this week was an easy one. Moon Witch, Spider King is the second book in James' Dark Star trilogy. This is a series that people keep comparing to Game of Thrones, which… fair enough. If you love fantasy and you're looking for a new series to fill the Game of Thrones-shaped hole in your heart, then I absolutely encourage you to pick up this series. But I want to stress that James' series is definitely doing its own thing, and the characters, world-building, and general feel of this story is unlike anything you've read before.
So what is this second book going to be about, you ask? Rather than being a linear sequel to the first book in the series, Moon Witch, Spider King takes place at the same time as Black Leopard, Red Wolf, but this time, we're getting the story from a different perspective. While the first novel was told from the perspective of Tracker, this one is told by Sogolon the Moon Witch, who was Tracker's adversary in the first novel. Of course, this means she's going to see the story much differently. And it also means you can absolutely pick up this new novel and enjoy it before or after reading the first book in the series.
In fact, Marlon James encourages readers who haven't read Black Leopard, Red Wolf to try out this one first. In his interview with Gizmodo, James said, "Because this is not a linear trilogy, the reader who has not yet read Black Leopard, Red Wolf could absolutely start with Moon Witch, Spider King. In fact, I'm looking forward to hearing their take on the BLRW, having gotten to Sogolon first."
So now, basically, this means you have no excuse to not pick up this book when it comes out in February.
Literary Words of Wisdom
"People often felt the need to prepare a side of themselves to display to passers-by – as they might in a store window – and that such a display needn't be taken so seriously."
— Klara and the Sun by Kazuo Ishiguro
What's Up in the Bookish Community?
My iPhone is constantly telling me I spend too much time staring at my screen, which is honestly so rude. But this means I spend a lot of time scrolling around the online book community: BookTube, Bookstagram, BookTok, BookLinkedIn (JK. That's not a thing… I don't think). You get the idea. Don't have the time, energy, or the will to do all of that yourself? No problem. I got you. In this weekly section of Book Radar, we'll take a look at something cool, interesting, and/or newsy that's going on in the book community.
This week, I've got more of just a general recommendation to keep you informed while you wait for me to come back in a week. I know. What will you do without me? (since I'm new here, I want to clarify that this was sarcasm… but I do really have a general recommendation for you)
If you're wanting to keep up with all of the online book community gossip, Jess Owen's "Book CommuniTEA" YouTube videos are so informative and entertaining. Here's a link to the most recent episode. Or if you're looking to catch up on everything you've missed so far, here's a playlist of all the videos so far.
Other Things That Make Me Happy
No playlist for you this week, but here's an awesome music video, in honor of Beyoncé's birthday this weekend. Our girl is turning 40!
Let's keep Purrli going. What's your favorite purr setting at the moment? Right now, I'm into a sleepy but lively purr on the "purrfect" end of things. Around one meow every four minutes just to keep things interesting.
And Here's A Cat Picture!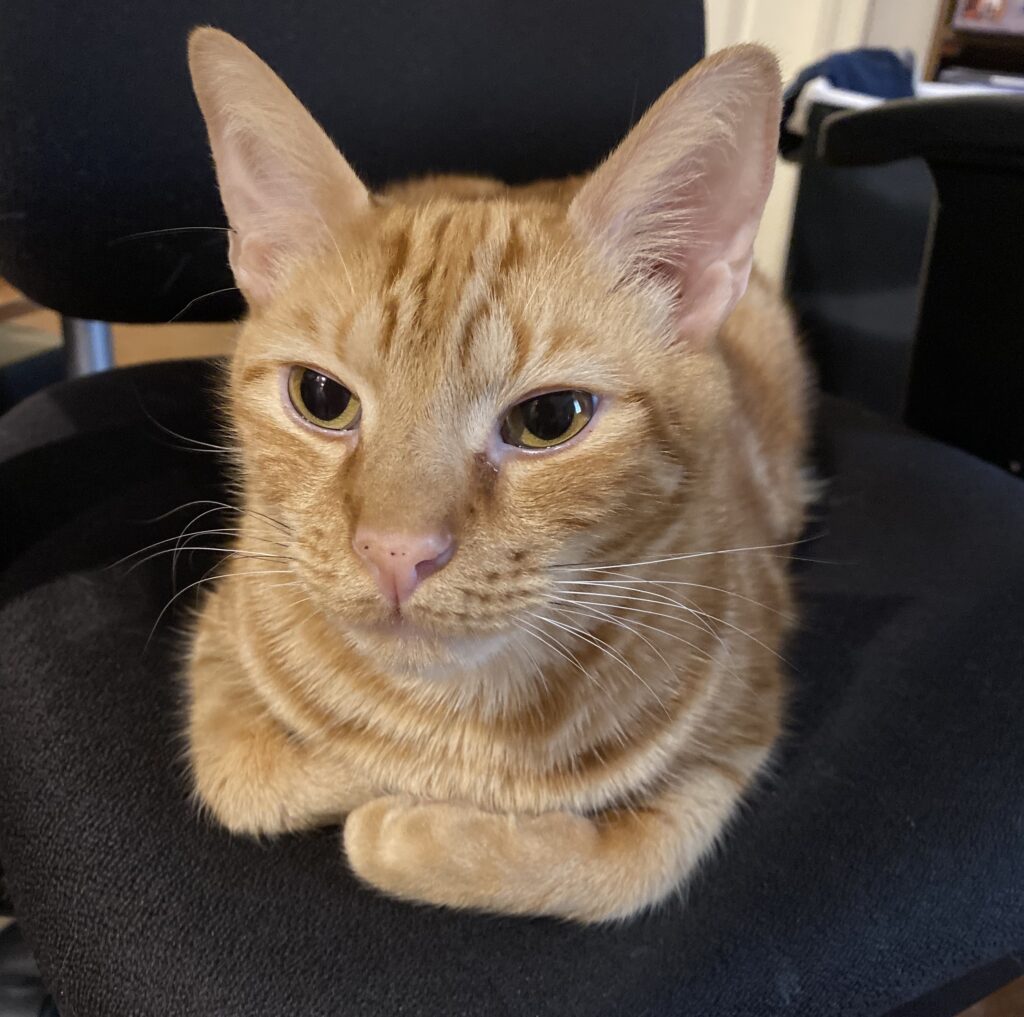 Murray is sending us off for a long weekend here in his favorite pose, with his cute little paws folded under his chest in the perfect cat loaf position.
Murray is having deep thoughts about all the toys he's going to play with this weekend and all the treats he's going to try to steal.
---
And that's this Thursday's Book Radar! I'm going to miss checking in with everyone on Monday, but I hope you have a wonderful holiday weekend. I hope you stay safe. And I hope you have a moment to rest and read. See you next Thursday!
❤️ Emily