Sponsored by Wattpad Books, publisher of Rest Easy.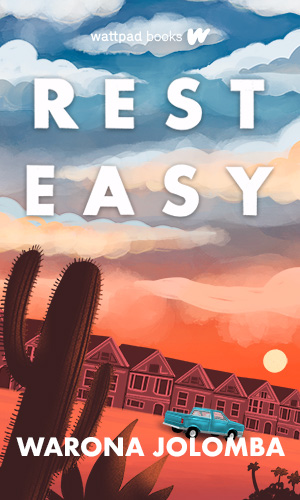 When heartsore Dee Warrington and eccentric Naya Stephens both find themselves volunteering at Salvation Hill Nursing Home, the sparks are sadly earthbound. But as they slowly unravel the history of a resident at the home together, they find that some friendships can withstand the test of time. Inspired by a true story, Warona Jolomba shares a tale of love and loss, and a bond that forms in the unlikeliest of places.
Welcome to Check Your Shelf. Our state has implemented a new mask mandate effective this week, and I've been designated as the second-in-command for enforcing masks with patrons. Now, we've gotten off pretty easily in terms of dealing with people refusing to wear a mask so far, but I feel like we're in uncharted territory now, and I've got to be honest, my stomach is sinking at the thought of what the next few weeks are going to be like. This is the kind of stuff they don't train you for in library school.
So let's distract ourselves with some book news, shall we?
---
Collection Development Corner
Publishing News
PRH announced that not only will Amanda Gorman's upcoming book be double its original length, but it will also increase in price.
What lies ahead for the publishing industry this fall.
New & Upcoming Titles
Penguin Classics launches a "new canon" of environmental literature in the UK.
C.L. Polk is writing a noir fantasy novella, Even Though I Knew the End, which is slated for a Fall 2022 release.
Representative Cori Bush has landed a book deal for The Cori Chronicles.
Here's a peek at Paul McCartney's upcoming book The Lyrics, which will include handwritten lyrics to an unrecorded and never-before-seen Beatles song from the early 60's.
Ruta Sepetys will be publishing a new book in February 2022, called I Must Betray You.
First look at Sabaa Tahir's new standalone novel, All My Rage.
And here's a first look at Four Aunties and a Wedding by Jessie Q. Sutanto.
Here's the cover reveal for Wendy Heard's upcoming Dead End Girls, which is described as Thelma & Louise meets Heathers and I am HERE. FOR. IT.
Here's the cover reveal for the third book in Nnedi Okorafor's Nsibidi Scripts series, Akata Woman.
These are the sexiest books of 2021.
10 new books written and translated by women.
Spellbinding new books about witches.
New novels to help you read across the 20th century.
Fall picks from Amazon (mysteries/thrillers), Brightly (picture books, middle grade, YA), CBC (poetry) Entertainment Weekly (memoirs), Goodreads (mysteries/thrillers), L.A. Times (general picks, thrillers, nonfiction), Publishers Weekly (cookbooks).
Weekly book picks from Bustle, Crime Reads, New York Times, and USA Today.
August picks from Crime Reads (debut novels, true crime).
September picks from Epic Reads (YA), and New York Times.
What Your Patrons Are Hearing About
Seeing Ghosts – Kat Chow (New York Times, NPR, Shondaland)
Real Estate: A Living Autobiography – Deborah Levy (L.A. Times, NPR, Washington Post)
The Women of Troy – Pat Barker (The Guardian, Washington Post)
The Guide – Peter Heller (New York Times, USA Today)
RA/Genre Resources
A beginner's guide to science fiction and fantasy.
Becoming the thing that haunts the house: Gothic fiction and the fear of change.
On the Riot
8 of the best horror novels to creep you out this fall.
It's okay to be an adventurous reader.
Please don't make me read in order.
All Things Comics
Here's the teaser trailer for Spider-Man: No Way Home.
25 graphic novels your kids will love reading.
On the Riot
Where to start reading Marvel comics.
Comic books don't count as reading, and other lies people tell you.
Light novels vs. manga: we can have both.
Under the sea comics for all ages.
20 of the best light novels.
11 emotional manga that will give you all the feels.
Audiophilia
7 great audiobooks to listen to this month.
3 audiobooks that explore family.
End-of-summer romance listening.
Book Lists, Book Lists, Book Lists
Children/Teens
24 YA mystery and thriller novels you'll consume in one sitting.
10 YA books that prove the ocean is a scary place.
10 of the best horror novels for teens.
Adults
Books that reimagine Greek mythology.
4 books to help understand Haiti.
The best books about islands.
10 great SFF novellas and novellettes.
6 books about women leaving strict religious communities and finding themselves.
7 vampire books for fans of What We Do in the Shadows.
Appalachian SFF recommendations.
6 books about reincarnation.
On the Riot
18 of the best books for autistic children.
9 books by women from Afghanistan to read right now.
8 remarkable Black lesbian fiction books to add to your TBR.
12 great Indigenous memoirs.
8 high-tech mysteries for when social media becomes deadly.
26 of the best cozy mystery series.
10 of the best horror novels featuring cults.
The most-translated books from every country in the world.
20 must-read books from university presses.
Level Up (Library Reads)
Do you take part in Library Reads, the monthly list of best books selected by librarians only? We've made it easy for you to find eligible diverse titles to nominate. Kelly Jensen created a database of upcoming diverse books that anyone can edit, and Nora Rawlins of Early Word is doing the same, as well as including information about series, vendors, and publisher buzz.
---
Keep wearing your masks, and take care of yourselves. I'll catch you on Friday.
—Katie McLain Horner, @kt_librarylady on Twitter.