Sponsored by Be Strong by Pat Zietlow Miller; illustrated by Jen Hill.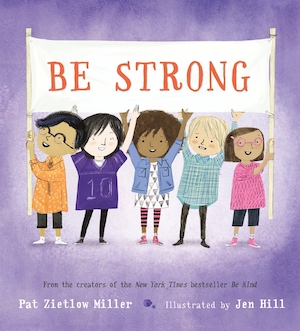 A picture book about finding strength in unlikely places from the team behind the hugely popular New York Times bestseller Be Kind.
Welcome to Check Your Shelf. My husband went in for planned surgery this week and is resting at home (doing fine), and somehow I thought I was going to get work done from home during all this. I stand seriously corrected. We'll try again next week. Meanwhile, hubby and I are re-watching The IT Crowd to get our Noel Fielding fix now that we've mostly caught up on Great British Baking Show.
---
Libraries & Librarians
News Updates
The Craighead County (AR) Library board voted "no" on two key policy changes that would have created board oversight on the creation of library displays, as well as all materials added to the children's collection.
If the library tax renewal fails in Lafayette Parish, only one or two libraries may be able to remain open in the entire parish.
Hawaii's public libraries are enforcing temporary closures due to high COVID rates.
Worth Reading
The critical role that Black librarians play.
During the height of segregation, Indiana's first Black librarian changed lives.
Can Maryland's new eBook law help change the marketplace?
Book Adaptations in the News
Jodie Comer talks about Killing Eve's bittersweet end. (My husband and I became similarly obsessed with Killing Eve this year, as well as with Jodie Comer. She is magnificent.)
Mindy Kaling is adapting Hana Khan Carries On by Uzma Jalaluddin for Amazon Studios.
Carol Leonnig's Zero Fail: The Rise and Fall of the Secret Service is being adapted for TV.
Vince Vaughn is starring in the Apple TV+ series Bad Monkey, based on the Carl Hiaasen book of the same name.
Anne Rice's Mayfair Witches series is being developed for TV at AMC.
The graphic novel Gun Honey is reportedly being adapted for TV.
John Lithgow joins the cast of Killers of the Flower Moon.
Jack Kerouac's estate is working to produce new podcasts based on his work.
24 book-to-screen adaptations that didn't disappoint.
Books & Authors in the News
Anthony Horowitz has become Japan's most-decorated foreign crime author.
Janet Dailey and the curious case of the missing author. This is a really interesting read…
The picture book fighting back against Russia's LGBTQ propaganda law.
Award News
The Shirley Jackson Award winners have been announced.
The 2021 Arthur C. Clarke Awards have been announced.
Bouchercon has been canceled due to COVID concerns.
Penguin Random House and Amanda Gorman launch a new creative writing award for poetry.
"Romance Writers of America was doing better with race – until a recent award choice." Was it, though?…
Pop Cultured
The best true crime documentaries streaming on Amazon Prime, Hulu, and HBO Max. (Brb, adding all of these to my watch list.)
Bookish Curiosities & Miscellaneous
Megan Rapinoe has a new book club with Literati.
Our connection to physical books during the pandemic.
On the Riot
The ethics of selling advanced reader copies.
Bookish hotels and BnBs for your next getaway.
How to enter a flow state while reading.
How to remember more of what you read.
---
Catch you next week, and we'll see what TV shows we've moved on to by then.
—Katie McLain Horner, @kt_librarylady on Twitter.